KEPASTIAN HUKUM WAKAF TANAH HAK MILIK
Keywords:
wakaf, hak milik, waqf, property right
Abstract
Dalam Hukum Tanah Nasional ditetapkan bahwa hak atas tanah yang dapat diwakafkan untuk kepentingan peribadatan, pendidikan, dan sosial adalah Hak Milik. Pihak yang mewakafkan tanah disebut wakif, sedangkan pihak yang diserahi tanah wakaf disebut nadzir. Wakaf tanah Hak Milik dibuktikan dengan Akta Ikrar Wakaf yang dibuat oleh Pejabat Pembuat Akta Ikrar Wakaf (PPAIW). Wakaf tanah Hak Milik wajib didaftarkan ke Kantor Pertanahan untuk diterbitkan Sertipikat Wakaf sebagai tanda bukti haknya.
The National Land Law stipulated that the rights which can waqf the sake of workship, education, and social are the property. Person who preferred waqf call wakif, while the waqf land assigned land called nadzir. Waqf property right evidenced by the deed of endowcement pledge made by the Deed of Pledge Endowcement Officer (PPAIW). Waqf property right must be registered to the Land Office for sign issued certificates as proof of waqf.
References
Buku:
Harsono, Boedi. 2003. Hukum Agraria Indonesia Sejarah Pembentukan Undang-Undang Pokok Agraria, Isi, dan Pelaksanaannya. Jakarta: Djambatan.
Hutagalung, Arie Sukanti. 2005. Tebaran Pemikiran Seputar Masalah Hukum Tanah. Jakarta: Lembaga Pemberdayaan Hukum Indonesia.
Lubis, Mhd. Yamin dan Abd. Rahim Lubis. 2008. Hukum Pendaftaran Tanah. Bandung: Mandar Maju.
Supriadi. Hukum Agraria. Jakarta: Sinar Grafika.
Peraturan Perundang-undangan:
Undang-Undang Nomor 5 Tahun 1960 tentang Peraturan Dasar Pokok-pokok Agraria.
Undang-Undang Nomor 41 Tahun 2004 tentang Wakaf.
Peraturan Pemerintah Nomor 28 Tahun 1977 tentang Perwakafan Tanah Milik.
Peraturan Pemerintah Nomor 24 Tahun 1997 tentang Pendaftaran Tanah.
Peraturan Menteri Dalam Negeri Nomor 6 Tahun 1977 tentang Tata Cara Pendaftaran Tanah Mengenai Perwakafan Tanah Milik.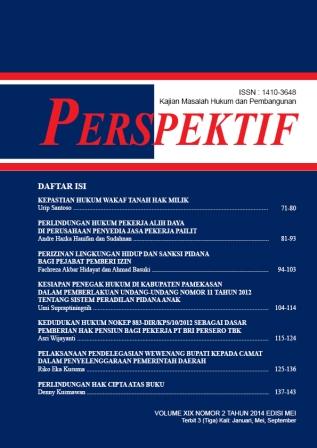 Downloads
License
Authors who publish with this journal agree to the following terms:
Authors retain copyright and grant the journal right of first publication with the work simultaneously licensed under a Attribution-ShareAlike 4.0 International (CC BY-SA 4.0) License that allows others to share the work with an acknowledgement of the work's authorship and initial publication in this journal.
Authors are able to enter into separate, additional contractual arrangements for the non-exclusive distribution of the journal's published version of the work (e.g., post it to an institutional repository or publish it in a book), with an acknowledgement of its initial publication in this journal.
Authors are permitted and encouraged to post their work online (e.g., in institutional repositories or on their website) prior to and during the submission process, as it can lead to productive exchanges, as well as earlier and greater citation of published work (See The Effect of Open Access).
The Authors submitting a manuscript do so on the understanding that if accepted for publication, copyright of the article shall be assigned to jurnal PERSPEKTIF and Research Institutions and Community Service, Wijaya Kusuma Surabaya University as publisher of the journal.