PENYELESAIAN PERJANJIAN BANK GARANSI DALAM HUKUM PERBANKAN
Keywords:
Bank Garansi, nasabah, penerima jaminan (beneficiary atau bouwheer), Bank, Bank Guarantee, guaranteed, customer, beneficiary, claim
Abstract
Salah satu jenis fasilitas kredit yang saat ini banyak digunakan oleh para pelaku usaha adalah bank garansi. Bentuk perjanjian bank garansi ada 3 (tiga) macam yaitu: garansi dalam bentuk warkat yang diterbitkan oleh bank, garansi dalam bentuk penandatanganan kedua dan seterusnya seperti aval dan endosemen dengan hak regres, garansi lainnya yang terjadi karena perjanjian bersyarat. Isi dari perjanjian bank garansi yaitu memuat tentang syarat-syarat minimum penerbitan bank garansi dan juga memuat jenis-jenis transaksi antara pihak yang dijamin (nasabah bank) dengan pihak penerima jaminan (beneficiary atau bouwheer). Apabila pihak yang dijamin (nasabah bank) melakukan wanprestasi, maka setelah pihak yang menerima jaminan (beneficiary atau bouwheer) mengajukan klaim kepada pihak bank, selanjutnya pihak bank akan melakukan pembayaran atas klaim tersebut. Dalam hal terjadinya tuntutan ganti rugi atau klaim berdasarkan jaminan bank harus tetap memperhatikan Pasal 1400 dan Pasal 1401 Burgerlijk Wetboek.
One of credit facilities type that commonly used by the enterpreneur is bank guarantee. Bank guarantee has 3 (three) kind: guarantee in a letter form published by bank, guarantee which is signed for the second time and so on like aval and endosemen withbregress rights, and also other guarantee that formed as the effect of a conditional agreement. The substance of bank guarantee consist of the minimum requirements for the bank guarantee to be issued, and also contains types of the transactions between guaranteed parties and the beneficiary. If the guaranteed parties does a default, then after the beneficiary claim to the bank, bank will do a payment to the related claim. In case claim does happened, it is a must to pay an attention to Article 1400 and 1401 of Burgerlijk Wetboek.
References
Buku:
Chatamarrasjid, 2006, Hukum Perbankan Nasional Indonesia, Jakarta: Kencana.
Daeng, Naja H.R., 2005, Hukum Kredit dan Bank Garansi, Bandung: Citra Aditya Bakti.
Djumhana, Muhamad, 1993, Hukum Perbankan di Indonesia, Cetakan Pertama, Bandung: Citra Aditya Bakti.
Ibrahim, Johannes, 2003, Pengimpasan Pinjaman (Kompensasi) dan Asas Kebebasan Berkontrak dalam Perjanjian Kredit Bank, Bandung: Utomo.
Muljono, Teguh Pudjo, 1993, Manajemen Perkreditan bagi Bank Komersiil, Yogyakarta: BPFE.
Subekti R., 1987, Hukum Perjanjian, cetakan kesebelas, Jakarta: Intermasa.
______, 1995, Aneka Perjanjian, cetakan kesepuluh, Bandung: Citra Aditya Bakti.
Taswan, 2005, Akuntansi Perbankan Transaksi dalam Valuta Rupiah, Yogyakarta: UPP AMYKPN.
Widjanarto, 1993, Hukum dan Ketentuan Perbankan Indonesia, Jakarta: Pusaka Utama Grafiti.
Peraturan Perundang-undangan:
Undang-Undang No. 7 Tahun 1992 tentang Perbankan (Lembaran Negara Republik Indonesia Tahun 1992 No. 31).
Undang-Undang No. 10 Tahun 1998 tentang Perubahan atas
Undang-Undang No. 7 Tahun 1992 tentang Perbankan (Lembaran Negara Republik Indonesia Tahun 1998 No. 182).
Kitab Undang-Undang Hukum Perdata (Burgerlijk Wetboek).
Peraturan Bank Indonesia:
Surat Edaran Bank Indonesia No. 23/7/UKU/1991 tertanggal 19 Maret 1991.
Surat Keputusan Direksi Bank Indonesia No. 23/88/KEP/DIR/1991 tentang Pemberian Garansi oleh Bank.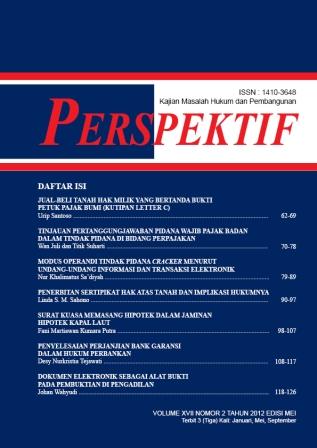 Downloads
License
Authors who publish with this journal agree to the following terms:
Authors retain copyright and grant the journal right of first publication with the work simultaneously licensed under a Attribution-ShareAlike 4.0 International (CC BY-SA 4.0) License that allows others to share the work with an acknowledgement of the work's authorship and initial publication in this journal.
Authors are able to enter into separate, additional contractual arrangements for the non-exclusive distribution of the journal's published version of the work (e.g., post it to an institutional repository or publish it in a book), with an acknowledgement of its initial publication in this journal.
Authors are permitted and encouraged to post their work online (e.g., in institutional repositories or on their website) prior to and during the submission process, as it can lead to productive exchanges, as well as earlier and greater citation of published work (See The Effect of Open Access).
The Authors submitting a manuscript do so on the understanding that if accepted for publication, copyright of the article shall be assigned to jurnal PERSPEKTIF and Research Institutions and Community Service, Wijaya Kusuma Surabaya University as publisher of the journal.