POTRET PEMENUHAN HAK-HAK SOSIAL RAKYAT MISKIN DI JAWA TIMUR
Keywords:
HAM, executive power, Jawa Timur, kemiskinan, kewenangan, human rights, east java, poverty, authority
Abstract
Penyelenggaraan pemerintahan yang seringkali disebut eksekutif, tidak cukup dinyatakan sebagai executive power yang diberi label pelaksana undang-undang. Executive di dalam pengertian yang luas justru memiliki kewenangan yang lebih dari sekedar pelaksana, executive power yang dalam terminologi lain disebut bestuur memiliki kewenangan hingga membuat aturan, mengikat personil, mengatur subsidi dan melaksanakan pengendalian dengan instrumen izin. Penggunaan kewenangan oleh penyelenggara pemerintahan harus diarahkan untuk tercukupinya perlindungan hukum bagi rakyat. Juga secara khusus untuk mampu memenuhi tugas-tugas yang harus dilakukan sebagai pemerintah. Pada dasarnya, tugas penyelenggara pemerintahan bukan saja menjaga kehidupan rakyat tetapi juga memenuhi kebutuhan hidup rakyatnya. Secara luas dinyatakan melindungi hak-hak rakyat sekaligus juga mencukupkan hak-hak rakyat. Dalam penyelenggaraan pemerintahan, khususnya di Jawa Timur telah dilakukan berbagai upaya terprogram untuk memenuhi prinsip-prinsip pemerintahan yang baik, khususnya dalam meningkatkan perlindungan HAM bagi warga miskin. Upaya tersebut dilakukan dengan tetap memperhatikan prinsip-prinsip penyelenggaraan pemerintahan yang akuntabel, transparan dan demokratis.
Government administrator are often called the executive, but its not quite enough to be declared as the executive power that were labeled law enforcement. Executive in broad sense has more authority than just an implementer, the executive power in another terms is called bestuur, it have the authority to make the rules, binding personnel, organize and implement the subsidy and also perform an instrument control. The use of authority by government administrators should be directed, in order to the insufficient of people legal protection. Also specifically able to fulfill the dutys that have to be done as a government. Essentially, the task of government administrators are not only to maintain their people life, but also makes their people meets their needs. It was broadly stated that protecting their people rights is as well as replenishing their people rights. Especially in East Java governance, has been done some programmed efforts to fulfill the good governance principle, this is related to human rights protection improvements. The efforts are made with due regard to the principles of accountable governance, transparent and democratic.
References
Awuy, Tommy F., Dinamika Hak Asasi Manusia, Volume 1, Nomor 01, Mei-Oktober 1997, Pusat Studi HAM Universitas Surabaya, h. 3-4.
Berge, J.B.J.M. ten, 1996, Besturen door de overhead, Devener: W.E.J. Tjeenk Willink.
Brent, Michele, 2011, Constitution-Making and Reform, Interpeace.
Buku Laporan Ringkas Capaian Kinerja Tahun 2011 Pemerintah Propinsi Jawa Timur.
Hadjon, Philipus M., 1987, Perlindungan Hukum bagi Rakyat di Indonesia, Surabaya: Bina Ilmu.
Henkin, Louis, 1978, The Rights of Man Today, Colorado: Westview Press, Boulder.
Jim, Szhultz, 2002, The Democracy Owners' Manual A Practical Guide to Changing The World", Rutgers University Press, New Brinswick, New Jersey, and London.
Laqueur, Walter and Barry Rubin, 1979, The Human Rights Reader, New York: New American Library.
McCoubrey, Hilaire dan Nigel D. White, 1996, Textbook on Jurisprudence, Second Edition, London: Blackstone Press Limited.
Perrot, D. L., 1976, The Logic of Fundamental Rights, dalam J.W. Bridge, Fundamental Rights, Sweet D Maxwell, London.
Pro Justitia, 1994, Nomor 2, 3, dan 4 tentang Teori Hukum, Filsafat Hukum dan Ilmu Hukum, Bandung: Majalah Hukum Universitas Parahyangan.
Syam, Mohammad Noor, 1998, Penjabaran Filsafat Pancasila dalam Filsafat Hukum, Malang: Laboratorium Pancasila IKIP.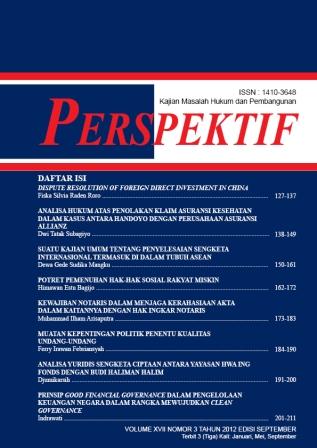 Downloads
License
Authors who publish with this journal agree to the following terms:
Authors retain copyright and grant the journal right of first publication with the work simultaneously licensed under a Attribution-ShareAlike 4.0 International (CC BY-SA 4.0) License that allows others to share the work with an acknowledgement of the work's authorship and initial publication in this journal.
Authors are able to enter into separate, additional contractual arrangements for the non-exclusive distribution of the journal's published version of the work (e.g., post it to an institutional repository or publish it in a book), with an acknowledgement of its initial publication in this journal.
Authors are permitted and encouraged to post their work online (e.g., in institutional repositories or on their website) prior to and during the submission process, as it can lead to productive exchanges, as well as earlier and greater citation of published work (See The Effect of Open Access).
The Authors submitting a manuscript do so on the understanding that if accepted for publication, copyright of the article shall be assigned to jurnal PERSPEKTIF and Research Institutions and Community Service, Wijaya Kusuma Surabaya University as publisher of the journal.