KEWAJIBAN NOTARIS DALAM MENJAGA KERAHASIAAN AKTA DALAM KAITANNYA DENGAN HAK INGKAR NOTARIS
Keywords:
notaris, hak ingkar, kepercayaan, notary, verschoningrecht, trust
Abstract
Jabatan yang dimiliki oleh seorang notaris adalah jabatan kepercayaan dimana seseorang bersedia mempercayakan sesuatu kepadanya. Sebagai seorang kepercayaan, notaris memiliki hak untuk merahasiakan semua yang diberitahukan kepadanya selaku notaris, sekalipun ada sebagian yang tidak dicantumkan dalam akta. Hal ini terkait dengan hak ingkar seorang notaris, hak dimana seorang notaris dapat mengingkari posisinya sebagai seorang saksi yang mana dibolehkan oleh undang-undang untuk membeberkan semua rahasia yang disimpannya, dalam keadaan tertentu. Dewasa ini, dalam praktek banyak notaris yang bilamana dipanggil untuk dimintai keterangannya atau dipanggil sebagai saksi dalam hubungannya dengan sesuatu perjanjian yang dibuat dengan akta di hadapan notaris bersangkutan, apakah itu disengaja atau karena tidak mengetahui tentang adanya peraturan perundang-undangan mengenai itu, seringkali seolah-olah menganggap tidak ada rahasia jabatan notaris, demikian juga tidak ada hak ingkar dari notaris. Seorang notaris yang tidak dapat membatasi dirinya akan berhadapan dengan konsekuensi kehilangan kepercayaan publik dan tidak lagi dianggap sebagai orang kepercayaan.
Position of a notary is a trusted position which anyone will be willing to entrust something to a notary. As a trusted one, notary has a rights to keep every information given by someone, though there are some that are not listed in the deed. It is associated with a notary verschoningsrecht, the right which a notary will be allowed to deny their position as a witness, because actually in certain circumtances, notary was permitted by law to disclose all the secrets they kept. Today, there were so many notary who when they summoned for questioning or called as a witness related to any agreement they made, they will go for it and they will tell every secrets related to that case, whether it was intentional or even worse, the notary doesn't know about the existence of a notary's verschoningsrecht. A notary who can not confine themself will deal with the consequences of losing the public's trust and will no longer be considered as a trusted one.
References
Adjie, Habib, 2008, Hukum Notaris Indonesia, Tafsir Tematik terhadap UU No. 30 Tahun 2004 tentang Jabatan Notaris.
Departemen Pendidikan, 2002, Kamus Besar Bahasa Indonesia, Edisi Ketiga, Jakarta: Balai Pustaka.
Kelsen, Hans, 2006. Teori Umum tentang Hukum dan Negara, Penerjemah Raisul Muttaqien, Bandung: Nusamedia dan Nuansa.
______, 2007, Teori Hukum Murni, Dasar-dasar Ilmu Hukum Normatif, Bandung: Nusamedia dan Nuansa.
______, 2008, Dasar-Dasar Hukum Normatif, Prinsip-Prinsip Teoritis untuk Mewujudkan Keadilan dalam Hukum dan Politik, Penerjemah Nurulita Yusron, Bandung: Nusamedia.
M. Nurung, 2006, Notaris Tidak Tepat Dijadikan Saksi Hukum Perdata, Majalah Renvoi 12 Edisi Mei.
Ranuhandoko, I.P.M., 2003, Terminologi Hukum. Jakarta: Sinar Grafika.
Tobing, G.H.S. Lumban, 1983, Peraturan Jabatan Notaris, Jakarta: Erlangga.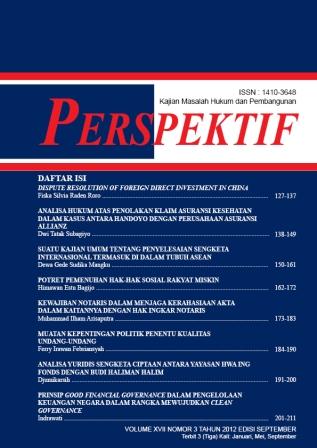 Downloads
License
Authors who publish with this journal agree to the following terms:
Authors retain copyright and grant the journal right of first publication with the work simultaneously licensed under a Attribution-ShareAlike 4.0 International (CC BY-SA 4.0) License that allows others to share the work with an acknowledgement of the work's authorship and initial publication in this journal.
Authors are able to enter into separate, additional contractual arrangements for the non-exclusive distribution of the journal's published version of the work (e.g., post it to an institutional repository or publish it in a book), with an acknowledgement of its initial publication in this journal.
Authors are permitted and encouraged to post their work online (e.g., in institutional repositories or on their website) prior to and during the submission process, as it can lead to productive exchanges, as well as earlier and greater citation of published work (See The Effect of Open Access).
The Authors submitting a manuscript do so on the understanding that if accepted for publication, copyright of the article shall be assigned to jurnal PERSPEKTIF and Research Institutions and Community Service, Wijaya Kusuma Surabaya University as publisher of the journal.