ANALISA YURIDIS SENGKETA CIPTAAN ANTARA YAYASAN HWA ING FONDS DENGAN BUDI HALIMAN HALIM
Keywords:
hak cipta, logo, pendaftaran, ciptaan, perlindungan hukum, creation, legal protection, registration, copyright
Abstract
Dalam penulisan ini akan dibahas bahwa hak cipta itu memberikan perlindungan hukum kepada pemiliknya sebagai pemegang hak cipta dari ciptaannya, yang berdasar pada ketentuan pada Pasal 12 ayat 1 Undang-Undang Hak Cipta, yang mana termasuk karya seni logo. Perlindungan hukum yang diberikan kepada pemegang hak cipta itu bukan untuk pendaftarannya, namun untuk ide-ide dan gagasan yang mana terealisasi dalam bentuk penciptaan, hal ini dikarenakan ciptaan itu terlahir dari gagasan yang kemudian terwujud dan memiliki ciri yang khas dan khusus. Berkenaan dengan kasus Yayasan Hwa Ing Fonds dengan Budi Haliman Halim, sebenarnya Yayasan Hwa Ing Fonds masih berhak atas logo ciptaannya yang berbentuk logo perisai dengan bentuk matahari bersinar di benteng kiri dan kanan yang bertuliskan Cina Hua dan Yuan, yang telah digunakan sejak tahun 1929. Sementara itu Budi Haliman Halim mendaftarakan logo yang sama karena dilihat belum ada pendaftaran, pendaftaran yang dilakukan Budi Haliman Halim ini tidak memperoleh perlindungan hukum dari Undang-Undang Hak Cipta, dan penciptaannya terdaftar tidak asli karena logo tersebut diciptakan oleh Yayasan Hwa Ing Fonds.
In this paper will be discussed about the copyright which is giving a legal protection to the owner as the copyright holder of the creation, and based on Article 12 (1) Copyright Law (UUHC) which also regulate about logo. Legal protection which is given to the copyright holder was not for the registration, but given for the ideas which are resulting into creation, this is because creations were born from ideas and has a distinctive and special traits. Related to Foundation Hwa Ing Fonds and Budi Haliman Halim case, actually Foundation Hwa Ing Fonds still has the copyright of the created shield-shaped logo background with the sun shining on the left and right castle and it says Cina Hua and Yuan has been used since 1929. Meanwhile, Budi Haliman Halim registered the same logo because he saw no registration done for the related logo, the registration done by Budi Haliman Halim did not obtain legal protection from UUHC, and the logo registered as fake because the logo was created by the idea of Foundation Hwa Ing Fonds.
References
Buku:
Adisumarto, Harsono, 1989, Hak Milik Intelektual Khususnya Hak Cipta, Jakarta: Akademika Pressindo.
Bintang, Sanusi, 1998, Hukum Hak Cipta, Bandung: Citra Aditya Bakti.
Damian, Eddy, 1999, Hukum Hak Cipta menurut Beberapa Konvensi Internasional, Undang-Undang Hak Cipta 1997 dan Perlindungan terhadap Buku serta Perjanjian Penerbitnya, Bandung: Alumni.
Djumhana, Muhamad dan Djubaedillah, 1997, Hak Milik Intelektual, Sejarah, Teori dan Prakteknya Di Indonesia, Bandung: Citra Aditya Bakti.
Hutauruk, 1982, Peraturan Hak Cipta Nasional, Jakarta: Erlangga.
Khairandy, Ridwan, et. All., 1999, Pengantar Hukum Dagang Indonesia 1, Jakarta: Gama Media.
Kinter, Earl W. dan Jack Lahr, 1993, An Intellectual Property Law Primer, Clark Boardman, New York. Dikutip dari Rahmi Jened, 2001, Perlindungan Hak Cipta Pasca Persetujuan Trips, Surabaya: Yuridika Press Fakultas Hukum Universitas Airlangga Surabaya.
Riswandi, Budi Agus dan M. Syamsudin, 2004, Hak Kekayaan Intelektual dan Budaya Hukum, Jakarta: Raja Grafindo Persada.
Saidin, 2004, Aspek Hukum Hak Kekayaan Intelektual (Intellectual Property Rights), Jakarta: Raja Grafindo Persada.
Usman, Rachmadi, 2003, Hukum Hak atas Kekayaan Intelektual, Bandung: Alumni.
Peraturan Perundang-undangan:
Kitab Undang-Undang Hukum Perdata.
Undang-Undang No. 19 Tahun 2002 tentang Hak Cipta.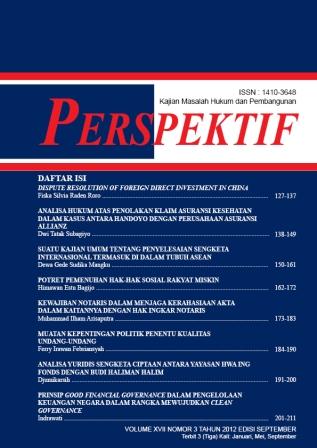 Downloads
License
Authors who publish with this journal agree to the following terms:
Authors retain copyright and grant the journal right of first publication with the work simultaneously licensed under a Attribution-ShareAlike 4.0 International (CC BY-SA 4.0) License that allows others to share the work with an acknowledgement of the work's authorship and initial publication in this journal.
Authors are able to enter into separate, additional contractual arrangements for the non-exclusive distribution of the journal's published version of the work (e.g., post it to an institutional repository or publish it in a book), with an acknowledgement of its initial publication in this journal.
Authors are permitted and encouraged to post their work online (e.g., in institutional repositories or on their website) prior to and during the submission process, as it can lead to productive exchanges, as well as earlier and greater citation of published work (See The Effect of Open Access).
The Authors submitting a manuscript do so on the understanding that if accepted for publication, copyright of the article shall be assigned to jurnal PERSPEKTIF and Research Institutions and Community Service, Wijaya Kusuma Surabaya University as publisher of the journal.