PENGARUH CHILD ABUSE TERHADAP REGULASI PENETAPAN TARAKAN SEBAGAI KOTA LAYAK ANAK
Keywords:
kota layak anak, hak anak, pelecehan anak, children's rights, child abuse and child friendly cities
Abstract
Berbicara mengenai problema akan Kota Layak Anak yang terdapat di Tarakan, maka itu akan menyangkut pemenuhan akan pengaturan hak-hak anak di wilayah yang bersangkutan. Penelitian ini terfokus pada daerah perbatasan, khusnya Tarakan, dengan mengetahui peran pemerintah daerahnya dalam mewujudkan daerahnya sebagai daerah layak anak. Pelecehan anak sangatlah berpengaruh dalam hal penentuan kota Tarakan sebagai kota layak anak, maka dari itu diperlukan secara teratur dan berkesinambungan usaha untuk meminimalkan hal itu, dan juga dibutuhkan partisipasi masyarakat dan peran pemerintah secara keseluruhan diwujudkan dalam ketersediaan alokasi dana untuk menyediakan perlindungan terhadap hak-hak anak. Ini adalah tantangan besar, khususnya untuk mengoptimalkan pelaksanaan hak-hak anak-anak dari orangtua, masyarakat, kabupaten atau kota, propinsi, dan tingkat nasional di masa sekarang dan di masa depan. Bila kita tidak segera mengambil tindakan inisiatif dan juga kepedulian dari kepentingan pengabaian anak, hak anak khususnya tumbuh dan berkembang, akan menjadi sangat tidak optimal, lebih buruk lagi itu akan berakibat hilangnya generasi.
Talking about Child Friendly Cities (KLA) problem, it will intersect with the regulatory fulfillment of children's rights in the related region. This research focused on the border areas particularly in Tarakan, by knowing the role of Local Government in realizing the region as a Child Friendly Cities. Child abuse is very influential in determining Tarakan city as a Child Friendly City (KLA), and therefore required a regular and continuous efforts to minimize it, and it also required the participation of the community and also the role of government which is manifested in the availability of the funds allocation to provide the protection of the children's rights. This is a big challenge in particular to accelerate the implementation of the children's rights at their parents, community, regency/city, provincial, and national levels in the present and future. If we do not immediately take the initiative and concern for the best interests of the child neglect, children's rights especially growing and developing will be unoptimal, worse it will lead to the loss of a great generation.
References
Buku:
Bentham, Jeremy, 2006, Teori Perundang-undangan Prinsip-Prinsip Legislasi, Hukum Perdata dan Hukum Pidana, Bandung: Nusamedia dan Nuansa.
Hadi Supeno Ketua KPAI (periode 2007-2010), http://www.gugustugastrafficking.org/, diakses pada 10 Oktober 2012 pukul 11.00 WITA.
Mansur, Dikdik M. Arief, 2007, Urgensi Perlidungan Korban Kejahatan Antara Norma dan Realita, Jakarta: Raja Grafindo Persada.
Muhammad, Abdul Kadir, 2004, Hukum dan Penelitian Hukum, Cet. 1, Bandung: Citra Aditya Bakti.
UNHCR, Departemen Kehakiman dan HAM, dan Polri, Instrumen Pokok Hak Asasi Manusia bagi Aparatur Penegak Hukum, Jakarta, Juni 2002.
Peraturan Perundang-undangan:
Undang-Undang Dasar 1945.
Undang-Undang No. 23 Tahun 2002 tentang Perlindungan Anak.
Undang-Undang No. 13 Tahun 2006 tentang Perlindungan Saksi dan Korban.
Peraturan Menteri Pemberdayaan Perempuan dan Perlindungan Anak No. 12 Tahun 2011 tentang Indikator Kabupaten atau Kota Layak Anak.
Website:
Kaltim Urutan 5 Pemakai Narkoba, http://m.koran kaltim.co.id, diakses pada 10 Oktober 2012 pukul 10.00 WITA.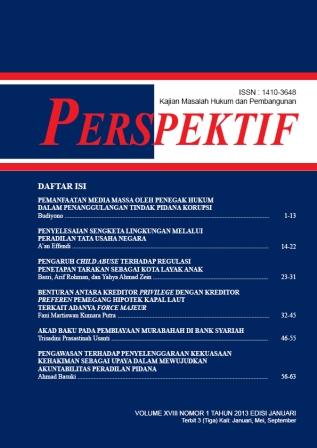 Downloads
License
Authors who publish with this journal agree to the following terms:
Authors retain copyright and grant the journal right of first publication with the work simultaneously licensed under a Attribution-ShareAlike 4.0 International (CC BY-SA 4.0) License that allows others to share the work with an acknowledgement of the work's authorship and initial publication in this journal.
Authors are able to enter into separate, additional contractual arrangements for the non-exclusive distribution of the journal's published version of the work (e.g., post it to an institutional repository or publish it in a book), with an acknowledgement of its initial publication in this journal.
Authors are permitted and encouraged to post their work online (e.g., in institutional repositories or on their website) prior to and during the submission process, as it can lead to productive exchanges, as well as earlier and greater citation of published work (See The Effect of Open Access).
The Authors submitting a manuscript do so on the understanding that if accepted for publication, copyright of the article shall be assigned to jurnal PERSPEKTIF and Research Institutions and Community Service, Wijaya Kusuma Surabaya University as publisher of the journal.