PERLINDUNGAN HUKUM PEMEGANG SAHAM MINORITAS AKIBAT PERBUATAN MELAWAN HUKUM DIREKSI MENURUT UNDANG-UNDANG PERSEROAN TERBATAS
Keywords:
Perseroan Terbatas, Pemegang Saham Minoritas, Direksi, Perbuatan Melawan Hukum, Limited Company Liability, Minority Shareholders, Director, Unlawful Deeds
Abstract
Penelitian ini bertujuan untuk memahami dan menganalisa perlindungan hukum pemegang saham minoritas, akibat hukum bagi Direksi Perseroan yang melakukan perbuatan melawan hukum serta upaya hukum pemegang saham minoritas menurut Undang-Undang Nomor 40 Tahun 2007 tentang Perseroan Terbatas. Berdasarkan hasil penelitian dapat disimpulkan  bahwa perlindungan hukum bagi pemegang saham minoritas, antara lain diberikan dalam bentuk penerapan prinsip Good Corporate Governance (pengelolaan perusahaan yang baik). Akibat perbuatan melawan hukum Direksi harus bertanggungjawab mengganti kerugian (Pasal 1365 KUHPerdata) dan apabila terpenuhi unsur pidana, maka Direksi dikenai pidana penjara maupun pidana denda yaitu penggelapan uang dan penipuan (Pasal 372 dan Pasal 378 Kitab Undang-Undang Hukum Pidana) bahkan Direksi dapat bertanggungjawab sampai harta pribadinya (Pasal 97 ayat (3) Undang-Undang Nomor 40 Tahun 2007 tentang Perseroan Terbatas).
This research was intended to review and analyze the legal protection of minority shareholders, the legal consequences for Director which committed an unlawful act and legal efforts to minority shareholders under the Limited Liability Corporation Act Based on this research, this paper concludes that the legal protection for minority shareholders of the Company can be achieved by applying the principles of Good Corporate Governance (Management of Good Company). As a result of tort law must be held accountable indemnify Director (Article 1365 of the Civil Law Code) and therefore fulfilled criminal element, then the Board of Directors may be subject to imprisonment or criminal fines are wiping money and fraud (Article 372 and Article 378 of the Criminal Law Code) may be responsible to the  Director even his private property (Article 97 paragraph (3) of the Limited Liability Corporation Act).
References
Peraturan Perundang-undangan:
Kitab Undang-Undang Hukum Perdata (Burgerlik van Wetboek/BW).
Kitab Undang-Undang Hukum Pidana (Wetboek van Staafrecht/WvS).
Undang-Undang Nomor 40 Tahun 2007 tentang Perseroan Terbatas, Lembaran Negara Republik Indonesia Tahun 2007 Nomor 106, Tambahan Lembaran Negara Republik Indonesia Nomor 4756.
Buku:
Badrulzaman, Mariam Darus, Sutan Remy Sjahdeini, Heru Soepraptomo, Faturrahman Djamil, dan Taryana Soenandar. 2001. Kompilasi Hukum Perikatan, Dalam Rangka Memperingati Memasuki Masa Purna Bakti Usia 70 Tahun. Bandung: Citra Aditya Bakti.
Chatamarrasjid, 1990. Menyingkap Tabir Perseroan (Piercing The Corporate Veil) Kapita Selekta Hukum Perusahaan. Bandung: Citra Aditya Bakti.
Hadi, Zarman. 2011. Karakteristik Tanggung Jawab Pribadi Pemegang Saham, Komisaris dan Direksi dalam Perseroan Terbatas. Malang: Universitas Brawijaya Press (UB Press).
Harahap, Yahya. 2009. Hukum Perseroan Terbatas. Jakarta: Sinar Grafika.
Soesilo. 1995. RIB/HIR dengan Penjelasan. Bogor: Politeia.
Usman, Rachmadi. 2004. Dimensi Hukum Perusahaan Perseroan Terbatas. Bandung: Alumni.
Website:
http://id.wikipedia.org/wiki/Pemegang_saham, diunduh pada hari Rabu tanggal 16 April 2014 pukul 20.50 WIB.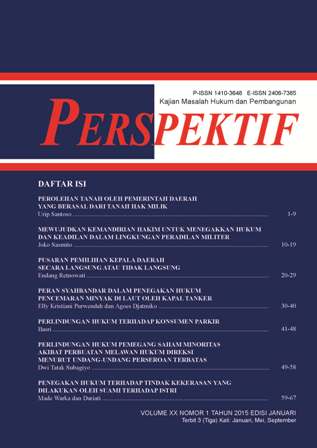 Downloads
License
Authors who publish with this journal agree to the following terms:
Authors retain copyright and grant the journal right of first publication with the work simultaneously licensed under a Attribution-ShareAlike 4.0 International (CC BY-SA 4.0) License that allows others to share the work with an acknowledgement of the work's authorship and initial publication in this journal.
Authors are able to enter into separate, additional contractual arrangements for the non-exclusive distribution of the journal's published version of the work (e.g., post it to an institutional repository or publish it in a book), with an acknowledgement of its initial publication in this journal.
Authors are permitted and encouraged to post their work online (e.g., in institutional repositories or on their website) prior to and during the submission process, as it can lead to productive exchanges, as well as earlier and greater citation of published work (See The Effect of Open Access).
The Authors submitting a manuscript do so on the understanding that if accepted for publication, copyright of the article shall be assigned to jurnal PERSPEKTIF and Research Institutions and Community Service, Wijaya Kusuma Surabaya University as publisher of the journal.