PERLINDUNGAN HUKUM TERHADAP KONSUMEN PARKIR
Keywords:
hukum, perlindungan, konsumen, law, protection, consumer
Abstract
Perilaku dan kehidupan masyarakat selalu dinamis sesuai dengan kebutuhan hidup sebagai sarana penunjang dalam melakukan aktifitas keseharian. Karena faktor pelayanan publik yang berkaitan dengan angkutan umum tidak jelas akan rute dan trayeknya, maka mayoritas masyarakat lebih memanfaatkan kendaraan pribadi, keadaan ini selaras dengan intensitas penjualan kendaraan. Tempat parkir kendaraan bermotor menjadi kebutuhan bagi pemilik kendaraan, karenanya parkir harus mendapat perhatian yang serius, terutama mengenai pengaturannya. Salah satu hal yang penting dalam pengelolaan parkir adalah mengenai masalah perlindungan bagi konsumen pengguna jasa parkir mengenai keamanan kendaraan yang diparkir di tempat parkir. Pengguna jasa parkir tentunya tidak menginginkan kendaraan yang diparkir mengalami kerusakan atau kehilangan kendaraan yang diparkir. Namun tentu saja kemungkinan tersebut sering terjadi, sehubungan dengan hal tersebut maka timbullah pertanyaan, siapa yang bertanggungjawab terhadap kehilangan atau kerusakan kendaraan bermotor yang di parkir di tempat parkir.
People's lives and behavior are always dynamic in accordance with the necessities of life as a supportive media in performing daily activities. Because of public services related to public transport is unclear and unsure, major people take better advantage of private vehicles, where the fact is the state is in line with the intensity of vehicle sales. Motorbike vehicle parking space is needed, hence the parking should receive serious attention. One thing that is important in the management of the parking is on the issue of protection of parking service consumer that parked in the parking lot. Parking service users certainly do not want a parked vehicle got damaged or lost. But of course the possibility that often occur in connection with the matter, the question arises, who is responsible for the lost or damage to motor vehicles parked in the parking lot.
References
Undang-Undang Nomor 22 Tahun 2009 tentang Lalu Lintas dan Angkutan Jalan, Lembaran Negara Nomor 96 Tahun 2009, Tambahan Lembaran Negara Nomor 5025.
Undang-Undang Nomor 8 Tahun 1999 tentang Perlindungan Konsumen, Lembaran Negara Nomor 42 Tahun 1999, Tambahan Lembaran Negara Nomor 3821.
Putusan Mahkamah Agung Nomor 2078K/Pdt/2009 Perkara PT. Securindo Packatama Indonesia vs Sumito Y. Viansyah.
Buku:
Keaton, W. Page. 1984. Prosses and keeton on Torts. 5th edition. West Group.
Marzuki, Peter Mahmud. 2009. Penelitian Hukum. Cetakan Kelima. Jakarta: Kencana.
Satrio J. 2008. Hukum Perjanjian. Cetakan ke-22. Jakarta: Intermasa.
Soebekti, R. dan R. Tjitrosudibio. 1976. Kitab Undang-Undang Hukum Perdata (Burgerlijk Wetboek). Terjemahan Cet. B. Jakarta: Pradnya Paramita.
Website dan Surat Kabar:
Badan Pusat Statistik. Perkembangan Jumlah Kendaraan Bermotor Menurut Jenis tahun 1987-2011. http://www.bps.go.id/tab_sub/view.php?tabel=1&daftar=1&id_subyek=17&notab=12 (Akses Jum'at 08 Maret 2013 jam 11:33).
Kaltara Raya. Radar Tarakan. 20 September 2013.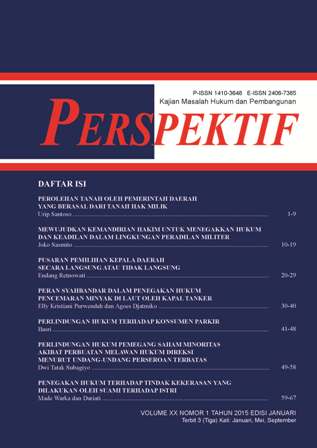 Downloads
License
Authors who publish with this journal agree to the following terms:
Authors retain copyright and grant the journal right of first publication with the work simultaneously licensed under a Attribution-ShareAlike 4.0 International (CC BY-SA 4.0) License that allows others to share the work with an acknowledgement of the work's authorship and initial publication in this journal.
Authors are able to enter into separate, additional contractual arrangements for the non-exclusive distribution of the journal's published version of the work (e.g., post it to an institutional repository or publish it in a book), with an acknowledgement of its initial publication in this journal.
Authors are permitted and encouraged to post their work online (e.g., in institutional repositories or on their website) prior to and during the submission process, as it can lead to productive exchanges, as well as earlier and greater citation of published work (See The Effect of Open Access).
The Authors submitting a manuscript do so on the understanding that if accepted for publication, copyright of the article shall be assigned to jurnal PERSPEKTIF and Research Institutions and Community Service, Wijaya Kusuma Surabaya University as publisher of the journal.