ASURANSI DALAM REKSADANA SAHAM DENGAN BENTUK KONTRAK INVESTASI KOLEKTIF YANG BERSIFAT TERBUKA
Keywords:
reksadana, bursa efek, resiko, perjanjian pertanggungan, mutual fund, market, risk, assured agreement
Abstract
Reksadana merupakan suatu efek dalam Pasar Modal memiliki resiko yang rendah. Dengan Kontrak Investasi Kolektif, maka pengelolaannya dapat dilakukan oleh Manajer Investasi yang telah berpengalaman, sehingga sesuai untuk investor pemula. Modal yang dibutuhkan tidak terlalu tinggi. Reksadana juga memiliki beberapa resiko, diantaranya tidak terbayarnya Dividen, Capital Loss, serta terjadinya likuidasi dan pailit. Sedangkan lembaga yang dapat mengatasi hal tersebut hanyalah lembaga penjaminan saja, hal ini berarti hanya berlaku pada satu produk saja. Sehingga perlu untuk dilakukan Perjanjian Pertanggungan untuk semua produk Reksadana dengan persetujuan investor untuk mengalihkan resiko bukan mengurangi.
Mutual fund is an effect in the capital market that has a low risk. With the collective Investment Contract, then the management can be done by experienced investment managers, making it suitable for novice investors. The required capital is not too high. Mutual fund also has some risks, such as Dividends can't get paid, Capital Losses, as well as liquidation and bankruptcy. While the only institutions that can address the matter is merely guarantee institution, it applies only to one product only. So it is necessary to do the Assured Agreement for all fund products with the approval of investors to shift risk instead of reducing it.
References
Peraturan Perundang-undangan:
Undang-Undang Nomor 8 Tahun 1995 tentang Pasar Modal.
Kitab Undang-Undang Hukum Dagang.
Burgerlijk Weetbook.
Keputusan Ketua Badan Pengawas Pasar Modal dan Lembaga Keuangan Nomor: KEP-429-BI/2007.
Buku:
Atmadjaja, Djoko Imbawani. 2012. Hukum Dagang Indonesia. Malang: Setara Press.
_______. 2012. Hukum Dagang. Malang: Setara Press.
Clarke, Malcolm A., A. Burling, M. Julian, dan Robert L. Purves. 2002. The Law of Insurance Contract. 4th edition. LLP.
Dolzer, Rudolf dan Chistoph Schreuer. 2008. Principles of International Investment Law, 1st Ed. New York: Oxford University Press.
Halim, Abdul. 2005. Analisis Investasi. Edisi ke 2. Jakarta: Salemba Empat.
Hartono, Sri Rejeki. 1995. Hukum Asuransi dan Perusahaan Asuransi. Cetakan ke-2. Jakarta: Sinar Grafika.
Kairupan, David. 2013. Aspek Hukum Penanaman Modal Asing di Indonesia. Jakarta: Kencana Prenada Media Group.
Mowbray, Albert H. and Ralph Blanchard. 1995. Insurance, It's Theory and Practice The United States. 5th edtion. New York: McGraw Hill.
Muhammad, Abdulkadir. 2011. Hukum Asuransi Indonesia. Bandung: Citra Aditya Bakti.
Rudiyanto. 2015. Sukses Finansial dengan Reksadana. Jakarta: Elex Media Komputindo.
Siamat, Dahlan. Manajemen Lembaga Keuangan. Jakarta: Lembaga Penerbit Fakultas Ekonomi Universitas Indonesia, Jakarta.
Vaughan, Emmet J. dan Therese Vaughan. 2003. Fundamentals of Risk and Insurance 9th Edition. John Wiley & Sons Inc.
Willet, Allan H. 1955. The Economic Theory of Risk and Insurance. University of Pensylvania Press.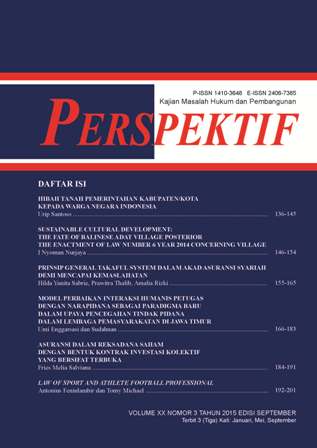 Downloads
License
Authors who publish with this journal agree to the following terms:
Authors retain copyright and grant the journal right of first publication with the work simultaneously licensed under a Attribution-ShareAlike 4.0 International (CC BY-SA 4.0) License that allows others to share the work with an acknowledgement of the work's authorship and initial publication in this journal.
Authors are able to enter into separate, additional contractual arrangements for the non-exclusive distribution of the journal's published version of the work (e.g., post it to an institutional repository or publish it in a book), with an acknowledgement of its initial publication in this journal.
Authors are permitted and encouraged to post their work online (e.g., in institutional repositories or on their website) prior to and during the submission process, as it can lead to productive exchanges, as well as earlier and greater citation of published work (See The Effect of Open Access).
The Authors submitting a manuscript do so on the understanding that if accepted for publication, copyright of the article shall be assigned to jurnal PERSPEKTIF and Research Institutions and Community Service, Wijaya Kusuma Surabaya University as publisher of the journal.