IMPLEMENTASI PRINSIP NEGARA HUKUM DALAM MEMBERIKAN PERLINDUNGAN HUKUM TERHADAP NOTARIS
Keywords:
prinsip negara hukum, perlidungan hukum, Notaris, principle of constitutional state, legal protection, Notary
Abstract
Prinsip dari negara hukum (rechtstaat) adalah adanya jaminan kepastian, ketertiban dan perlindungan hukum yang berdasarkan pada kebenaran dan keadilan tersebut memberikan kewajiban kepada negara, untuk memberikan pengakuan, jaminan, perlindungan, dan kepastian hukum, yang adil serta perlakuan yang sama dihadapan hukum kepada warga negara. Salah satu bentuk pelayanan negara kepada rakyatnya yaitu negara memberikan kesempatan kepada rakyat untuk memperoleh tanda bukti atau dokumen hukum yang berkaitan dalam hukum perdata, untuk keperluan tersebut diberikan kepada Pejabat Umum yang dijabat oleh Notaris. Minuta atas akta tersebut menjadi milik negara yang harus disimpan sampai batas waktu yang tidak ditentukan. Dalam melaksanakan tugas jabatannya, terkadang seorang Notaris berhadapan dengan permasalahan hukum, walaupun telah berhati-hati dan sesuai dengan peraturan perundang-undangan. Permasalahan hukum tersebut dapat membawanya sampai pada tahap pemeriksaan oleh aparat penegak hukum, baik pihak penyidik, penuntut umum, atau hakim, dimana hal tersebut dibutuhkan untuk kepentingan proses peradilan. UUJN telah menempatkan Notaris sebagai pejabat umum yang menjalankan profesi hukum, karena itu perlu mendapatkan perlindungan hukum adalah Notaris sebagai suatu profesi bukan Notaris sebagai pribadi.
The existence of assurance, order and legal protection that is based on truth and justice has been the principle of constitutional state (rechtstaat). It requires the state to provide fair recognition, security, protection, legal certainty and equal treatment of law to its citizens. One of state services to its people is providing them opportunity to obtain proof or legal documents pertaining to civil law. For those purposes, officials known as public notary handles the proof or documents. Minuta of the deed establishment belongs to state that must be kept until the unspecified time limit. A notary sometimes deals with legal issues in carrying out his duties although has been cautious with legislation. The legal issues may bring the notary to stage of investigation by law enforcement officials, whether dealing with investigator, prosecutor, or judge, where it is necessary for the judicial process. UUJN has regarded notary as a public official who runs the legal profession and they should get legal protection because notary is regarded as professional job not as personal.
References
Peraturan Perundang-undangan:
Kitab Undang-Undang Hukum Perdata.
Kitab Undang-Undang Hukum Pidana.
Kitab Undang-Undang Hukum Acara Pidana.
Undang-Undang No. 51 Tahun 2009 tentang Peradilan Tata Usaha Negara.
Undang-Undang No. 2 Tahun 2014 tentang Perubahan Atas Undang-Undang No. 30 Tahun 2004 tentang Jabatan Notaris.
Buku:
Adjie, Habib, 2008, Hukum Notaris Indonesia, Tafsir Tematik terhadap UU No. 30 Tahun 2004 tentang Jabatan Notaris, Bandung: Refika Aditama.
_______, 2011, Aspek Pertanggungjawaban Notaris dalam Pembuatan Akta, Bandung: Mandar Maju.
_______, 2013, Kebatalan dan Pembatalan akta Notaris, Cetakan Kedua, Bandung: Refika Aditama.
Ali, Achmad dan Wiwie Heryani, 2012, Asas-Asas Hukum Pembuktian Perdata, Jakarta: Kencana Prenada Group.
Anand, Ghansham, 2014, Karakteristik Jabatan Notaris di Indonesia, Sidoarjo: Zifatama Publisher.
Hadjon, Philipus M., "Tentang Wewenang", Yuridika, Fakultas Hukum Universitas Airlangga, No. 6 Th. XII Desember 1997.
Harjono, 2008, Konstitusi sebagai Rumah Bangsa, Sekretariat Jenderal dan Kepaniteraan Mahkamah Konstitusi, Jakarta.
Jansen, F.M.J., 1987, Executie-en Beslagrecht, W.E.J. Tjeenk Willlink-Zwolle.
Kie, Tan Thong, 2000, Studi Notariat, Serba Serbi Praktek Notaris, Buku I, Jakarta: Ichtiar Baru.
Notodisoerjo, Soegondo, 1993, Hukum Notariat di Indonesia, Suatu Penjelasan, Jakarta: RajaGrafindo Persada.
Subekti, R., 2008, Hukum Pembuktian, Jakarta: Pradnya Paramita.
Tobing, G.H.S. Lumban, 1983, Peraturan Jabatan Notaris, Jakarta: Erlangga.
Utami, Fitrizki, 2007, "Penegakan Hukum terhadap Tanggung Jawab Notaris atas Pelaksanaan Tugas Pelayanan Publik (Law Enforcement on Notary's Responsibility in Providing Public Services), Disertasi, Makasar, Pascasarjana Universitas Hasanudin.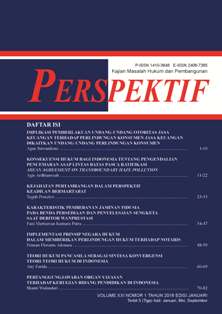 Downloads
License
Authors who publish with this journal agree to the following terms:
Authors retain copyright and grant the journal right of first publication with the work simultaneously licensed under a Attribution-ShareAlike 4.0 International (CC BY-SA 4.0) License that allows others to share the work with an acknowledgement of the work's authorship and initial publication in this journal.
Authors are able to enter into separate, additional contractual arrangements for the non-exclusive distribution of the journal's published version of the work (e.g., post it to an institutional repository or publish it in a book), with an acknowledgement of its initial publication in this journal.
Authors are permitted and encouraged to post their work online (e.g., in institutional repositories or on their website) prior to and during the submission process, as it can lead to productive exchanges, as well as earlier and greater citation of published work (See The Effect of Open Access).
The Authors submitting a manuscript do so on the understanding that if accepted for publication, copyright of the article shall be assigned to jurnal PERSPEKTIF and Research Institutions and Community Service, Wijaya Kusuma Surabaya University as publisher of the journal.