ACCESS REFORM DALAM KERANGKA REFORMA AGRARIA UNTUK MEWUJUDKAN KEADILAN SOSIAL
Keywords:
access reform, reforma agraria, keadilan sosial, agrarian reform, social justice
Abstract
Pada hakekatnya, tujuan dilaksanakannya reformasi agraria adalah untuk meningkatkan kesejahteraan kaum tani miskin. Reforma agraria tidak hanya dipahami sebagai kebijakan untuk redistribusi tanah, tetapi juga sebagai proses yang lebih luas seperti akses ke sumber daya alam, keuangan/modal, teknologi, pasar barang dan tenaga kerja, dan juga distribusi kekuatan politik. Pemerataan penguasaan tanah di pedesaan sebagai hasil dari reformasi agraria akan menghasilkan peningkatan kesejahteraan warga desa yang pada umumnya petani gurem atau buruh tani. Reforma agraria memainkan peran penting dalam perang melawan kemiskinan pedesaan. Sasaran utama reforma agraria adalah terciptanya keadilan sosial yang ditandai dengan adanya keadilan agraria.
In essence, the purpose of the implementation of agrarian reformis to improve the welfare of the poor peasants. Agrarian reformis not only understood as a policy for there distribution of land, but also as abroader process such as access to natural resources, financial/capital, technology, goods and labor markets, and also the distribution of political power. Equitable distribution of land tenureinrural areas as a result of agrarian reform will result in an increase in the welfare of the villagers who are generally small farmers or farm laborers. Agrarian reform plays an important role in the fight against ruralpoverty. The main target of the agrarian reformis the creation of social justice that is characterized by the presence of agrarian justice.
References
Peraturan Perundang-undangan:
Undang-Undang Dasar Negara Republik Indonesia Tahun 1945.
Undang-Undang Nomor 5 Tahun 1960 tentang Peraturan Dasar Pokok Agraria.
Undang-Undang Nomor 11 Tahun 2005 tentang Pengesahan International Convenant on Economic, Social, and Cultural Rights.
Undang-Undang Nomor 12 Tahun 2005 tentang Pengesahan International Convenant on Civil and Political Rights.
Ketetapan MPR RI Nomor IX/MPR/2001 tentang Pembaruan Agraria dan Pengelolaan Sumber Daya Alam.
Ketetapan MPR RI Nomor 1/MPR/2003 tentang Peninjauan terhadap Materi dan Status Hukum Ketetapan Majelis Permusyawaratan Rakyat Sementara dan Ketetapan Majelis Permusyawaratan Rakyat Republik Indonesia Tahun 1960-2002.
Buku:
Saleng, Abrar, 2013, Kapita Selekta Hukum Sumberdaya Alam, Makassar: Membumi Publishing.
Sodiki, Achmad, 2013, Politik Hukum Agraria, Jakarta: Konstitusi Press.
Swift, Adam, 2006, Political Philosophy: A Beginner's Guide for Student and Politicians, Cambridge: Polity.
Badan Pertanahan Nasional Republik Indonesia, 2010, Tanah untuk Keadilan dan Kesejahteraan Rakyat, Jakarta: BPN RI.
Garner, Bryan A., 2004, Black's Law Dictionary, Eight Edition, A Thompson Business: West, St. Paul.
Limbong, Bernhard, 2012, Konflik Pertanahan, Jakarta: Margaretha Pustaka.
_______, 2012, Reforma Agraria, Jakarta: Margaretha Pustaka.
Syarief, Elza, 2012, Menuntaskan Sengketa Tanah melalui Pengadilan Khusus Pertanahan, Jakarta: Gramedia.
Wiradi, Gunawan, 2000, Reformasi Agraria; Perjalanan yang Belum Berakhir, Yogyakarta: INSIST Press.
Nurlinda, Ida, 2009, Prinsip-Prinsip Pembaruan Agraria Perspektif Hukum, Jakarta: RajaGrafindo Persada.
Komisi Nasional Hak Asasi Manusia, 2001, Keadilan dalam Masa Transisi, Jakarta: Komisi Nasional Hak Asasi Manusia.
Santoso, Urip, 2012, Hukum Agraria; Kajian Komprehensif, Jakarta: Kencana Penada Media Group.
Purwadi, Y. Slamet, et.al., 2007, Pendidikan Nilai Pancasila, Bandung: Unpar Press.
Tulisan Lain:
Dianto Bachriadi, Reforma Agraria untuk Indonesia; Pandangan Kritis tentang Program Pembaruan Agraria Nasional (PPAN) atau Redistribusi Tanah ala Pemerintahan SBY, Tulisan untuk bahan diskusi dalam Pertemuan Organisasi-organisasi Rakyat se-Jawa di Magelang tanggal 6-7 Juni 2007.
Konsorsium Pembaruan Agraria, Laporan Akhir Tahun 2012, Dirilis dalam Konferensi Pers Akhir Tahun Konsorsium Pembaruan Agraria pada tanggal 28 Desember 2012 di Sekretariat KPA, Jakarta.
Website:
Darmayana, Hiski, Hakekat Reformasi Agraria, Sumber: http://www.berdikarionline.com/opini/20111231/hakekat-reformasi-agraria.html#ixzz2waAPoLi8
Fraser, Nancy, Social Justice in The Age of Identity Politics: Redistribution, Recognition, and Participation, Sumber: www.intelligenceispower.com/important%20E-mails%20sent%20attachment/Social%20Justice%20in%20The%20Age%20of%20Identity%20Politics.pdf
Ghimire, Krishna, Hakekat Reformasi Agraria, Sumber: http://www.berdikarionline.com/opini/20111231/hakekat-reformasi-agraria.html#ixzz2JY1hdWzT
Musa, Ali Masykur, 70 Persen Tambang Migas RI Dikuasai Asing, sumber: http://ekbis.rmol.co/read/2013/08/05/120963/Duh,-70-Persen-Tambang-Migas-RI-Dikuasai-Asing-
Sumardjono, Maria S.W., Penyempurnaan UUPA dan Sinkronisasi Kebijakan, Sumber: http://www.kompas.com/kompas-cetak/0309/24/opini/576798.htm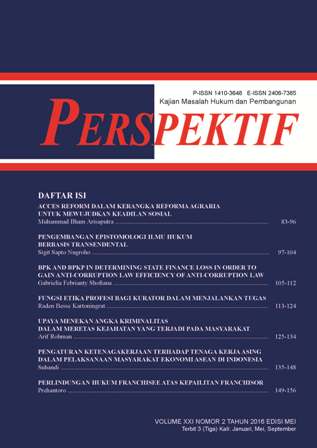 Downloads
License
Authors who publish with this journal agree to the following terms:
Authors retain copyright and grant the journal right of first publication with the work simultaneously licensed under a Attribution-ShareAlike 4.0 International (CC BY-SA 4.0) License that allows others to share the work with an acknowledgement of the work's authorship and initial publication in this journal.
Authors are able to enter into separate, additional contractual arrangements for the non-exclusive distribution of the journal's published version of the work (e.g., post it to an institutional repository or publish it in a book), with an acknowledgement of its initial publication in this journal.
Authors are permitted and encouraged to post their work online (e.g., in institutional repositories or on their website) prior to and during the submission process, as it can lead to productive exchanges, as well as earlier and greater citation of published work (See The Effect of Open Access).
The Authors submitting a manuscript do so on the understanding that if accepted for publication, copyright of the article shall be assigned to jurnal PERSPEKTIF and Research Institutions and Community Service, Wijaya Kusuma Surabaya University as publisher of the journal.