KEDUDUKAN ANAK LUAR KAWIN DALAM PEWARISAN DITINJAU DARI SISTEM HUKUM KEKERABATAN ADAT
Keywords:
waris, perlindungan hukum, anak, inherit, law protection, children
Abstract
Kedudukan anak luar kawin dapat didasarkan pada ketiga sistem kekerabatan yang ada, yaitu pada sistem kekerabatan patrilineal, kekerabatan matrilineal dan sistem kekerabatan parental. Kedudukan anak luar kawin dalam hukum adat bukan sebagai ahli waris dan bukan sebagai penerus keturunan dari bapaknya secara biologis. Anak luar kawin hanya mempunyai hubungan dengan ibunya dan kerabat ibunya. Namun terkait dengan Yurisprudensi Mahkamah Agung dan Putusan MK Nomor 46/PUU-VIII/2010, maka telah membuka peluang bagi anak luar kawin untuk mendapatkan harta warisan dan perlindungan hukum dengan orang yang diduga sebagai bapaknya biologis dari anak luar kawin tersebut.
The position of children born out of wedlock can be based on the three kinship systems which are patrilineal kinship system (based on kinship with the father or the male line), matrilineal kinship system and parental kinship system. The position of children born out of wedlock in customary law is not as the beneficiary of their parents or is not the descendant of their fathers, biologically. Children born out of wedlock are only has relationship with the mothers or mothers' relatives. Therefore, by the Jurisprudence of Supreme Court and Constitutional Court Number 46/PUU-VIII/2010, there will be chances for children born out of wedlock to get law protection and inherit from a person who is assumed as the father of the children.
References
Haar, Ter. 1999. Asas-Asas dan Susunan Hukum Adat. Terjemahan K. Ng. Soebakti Poesponoto. Jakarta: Pradnya Paramita.
Hadikusuma, Hilman. 1987. Hukum Kekerabatan. Jakarta: Citra Aditya Bakti.
_______. 1995. Hukum Perkawinan Adat. Cet. V. Bandung: Citra Aditya Bakti.
_______. 1999. Hukum Waris Adat. Bandung: Citra Aditia Bakti.
_______. 2007. Hukum Perkawinan Indonesia menurut Pandangan Hukum Adat dan Hukum Agama. Bandung: Mandar Maju.
Muhammad, Bushar. 1997. Asas-asas Hukum Adat Suatu Pengantar. Jakarta: Pradnya Paramita.
Roro, Fiska Silvia Raden, Erni Agustin dan Ellyne Dwi Poespasari. 2013. Kedudukan Ahli Waris dan Praktik Penghitungan Harta Waris Anak Luar Kawin Pasca Putusan Mahkamah Konstitusi Nomor 46/PUU-VIII/2010. Surabaya: Revka Petra Media.
Wahyuni, Sri. 2006. Kedudukan Anak Luar Kawin menurut Hukum Waris Adat di Kecamatan Boyolali Kabupaten Boyolali. Tesis. Semarang: Program Studi Magister Kenotariatan Universitas Diponegoro.
Wignjodipoera, Soerojo. 1994. Pengantar dan Asas-Asas Hukum Adat. Jakarta: Haji Masagung.
Peraturan Perundang-undangan:
Undang-Undang Nomor 1 Tahun 1974 tentang Perkawinan (Lembaran Negara Republik Indonesia Tahun 1974 Nomor 1).
Putusan Mahkamah Agung RI Nomor 82K/SIP/1957.
Putusan Mahkamah Agung RI Nomor 216K/SIP/1958.
Putusan Mahkamah Konstitusi Nomor 46/PUU-VIII/2010 tentang Anak Luar Kawin.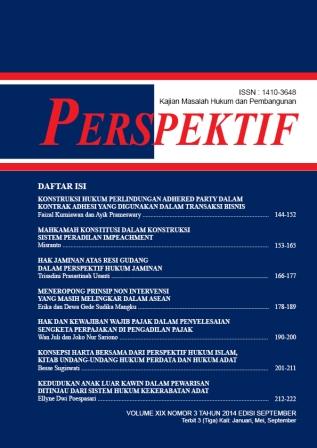 Downloads
License
Authors who publish with this journal agree to the following terms:
Authors retain copyright and grant the journal right of first publication with the work simultaneously licensed under a Attribution-ShareAlike 4.0 International (CC BY-SA 4.0) License that allows others to share the work with an acknowledgement of the work's authorship and initial publication in this journal.
Authors are able to enter into separate, additional contractual arrangements for the non-exclusive distribution of the journal's published version of the work (e.g., post it to an institutional repository or publish it in a book), with an acknowledgement of its initial publication in this journal.
Authors are permitted and encouraged to post their work online (e.g., in institutional repositories or on their website) prior to and during the submission process, as it can lead to productive exchanges, as well as earlier and greater citation of published work (See The Effect of Open Access).
The Authors submitting a manuscript do so on the understanding that if accepted for publication, copyright of the article shall be assigned to jurnal PERSPEKTIF and Research Institutions and Community Service, Wijaya Kusuma Surabaya University as publisher of the journal.