PEMANFAATAN MEDIA MASSA OLEH PENEGAK HUKUM DALAM PENANGGULANGAN TINDAK PIDANA KORUPSI
Keywords:
korupsi, penal, non-penal, corruption, non penal
Abstract
Seiring dengan menguatnya isu korupsi, berbagai upaya atau langkah telah dilakukan pemerintah baik dari aspek substantif peraturan perundang-undangan korupsi, aspek struktur institusi penegak hukum yang melakukan pemberantasan korupsi maupun dari aspek kultur masyarakat yang dibangun dalam rangka menanamkan nilai-nilai anti korupsi. Berbagai upaya pembaharuan produk hukum dalam rangka penanggulangan atau pemberantasan tindak pidana korupsi tersebut belum juga menunjukkan hasil yang maksimal. Dewasa ini kian banyak elit politik yang terjerat kasus korupsi. Melihat fenomena di atas tampak adanya keterbatasan kemampuan hukum pidana untuk penanggulangan dan pemberantasan tindak pidana korupsi. Untuk itu diperlukan sarana lain (non-penal) selain sarana pidana (penal) dalam penanggulangan dan pemberantasan tindak pidana korupsi.
Along with the continuously rising of the corruption issue, various actions or steps has been taken by the government whether from the corruption aspect of substantive aspects, aspects of the structure of corruption eradication and cultural aspects of the community that was built in order to inculcate the values of anti-corruption. Various efforts to reform the legal product in order to control or perform an eradication of corruption, but it was not showing the maximum results. Today, a large number of political elites are entangled in corruption cases. This phenomenon shows an appearance of the limited ability of the law to prevent and eradicate the corruption. Thats why it required another means (non-penal) besides the criminal (penal) means, in the prevention of corruption.
References
Buku:
Arief, Barda Nawawi, 1996, Bunga Rampai Kebijakan Hukum Pidana, Bandung: Citra Aditya Bakti.
Hamzah, Andi, 1991, Korupsi Indonesia Masalah dan Pemecahannya, Jakarta: Gramedia Pustaka Utama.
Isra, Saldi, 2005, Peran Pers dalam Pemberantasan Korupsi: Makalah disampaikan dalam Pelatihan Jurnalistik dan Wawasan jajaran Harian Umum Lampung Post, di Hotel Papandayan Bandung, 18-21 Juli 2005.
Morissan, 2004, Jurnalistik Televisi Mutakhir, (Risman F. Sikumbangk, Ed.), Ciawi-Bogor Selatan: Ghalia Indonesia.
Mulyana, Deddy, 2008, Komunikasi Massa Kontroversi, Teori, dan Aplikasi, Bandung: Widya Padjadjaran.
Peter, Hoefnagels G., 1969, The Other Side of Criminology. An Inversion of the Concept of Crime, Kluwer-Deventer: Professor of Criminologi Roterdam University.
Rahardjo, Satjipto, 1980, Hukum dan Masyarakat, Bandung: Angkasa.
Seidman, Robert B., 1972, Law and development: A General Model dalam Law and society review, Jilid VII, Madison: University of Wisconsin.
Wahidin, Samsul, 2006, Hukum Pers, Yogyakarta: Pustaka Pelajar.
Surat Kabar:
Kompas, 10 Oktober 1997.
Suara Merdeka, 13 Januari 2010.
Suara Merdeka, 13 Desember 2010.
Internet:
Mangkoesapoetra, Arief A., 2010, Pemanfaatan Media Massa Sebagai Sumber Pembelajaran IPS di Tingkat Persekolahan, http://re-searchengines.com/mangkoes6-04-2.html diakses tanggal 31 Agustus 2010.
http/antikorupsi.ong/indo/consent/view/8007/6/
www.subscrib.com diakses tanggal 9 Oktober 2010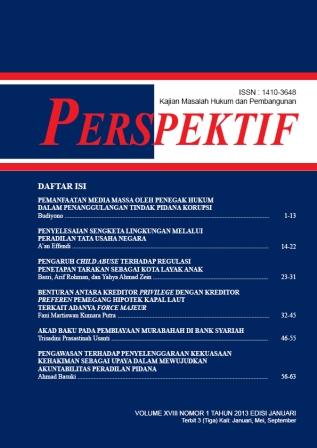 Downloads
License
Authors who publish with this journal agree to the following terms:
Authors retain copyright and grant the journal right of first publication with the work simultaneously licensed under a Attribution-ShareAlike 4.0 International (CC BY-SA 4.0) License that allows others to share the work with an acknowledgement of the work's authorship and initial publication in this journal.
Authors are able to enter into separate, additional contractual arrangements for the non-exclusive distribution of the journal's published version of the work (e.g., post it to an institutional repository or publish it in a book), with an acknowledgement of its initial publication in this journal.
Authors are permitted and encouraged to post their work online (e.g., in institutional repositories or on their website) prior to and during the submission process, as it can lead to productive exchanges, as well as earlier and greater citation of published work (See The Effect of Open Access).
The Authors submitting a manuscript do so on the understanding that if accepted for publication, copyright of the article shall be assigned to jurnal PERSPEKTIF and Research Institutions and Community Service, Wijaya Kusuma Surabaya University as publisher of the journal.