PAKTA INTEGRITAS DI TENGAH SURAMNYA PEMBERANTASAN TINDAK PIDANA KORUPSI DI INDONESIA
Keywords:
Pakta Integritas, Korupsi, Integrity Pact, Corruption
Abstract
Korupsi di Indonesia saat ini mengindikasikan sistemik, endemik, dan dianggap  mengancam terhadap kepercayaan publik (public trust) terhadap kinerja pemerintahan, sehingga upaya pemberantasannya telah dilakukan melalui cara-cara yang istimewa (extra-ordinary measures). Belum optimalnya perbaikan komponen legal substance dan legal structure mendorong Presiden untuk mengintervensi perbaikan legal culture terhadap aspek perilaku dan performen pejabat publik dalam bentuk Pakta integritas dengan digulirkannya Instruksi Presiden Nomor 5 Tahun 2004. Namun demikian kebijakan Presiden yang terkesan sporadis, dan tidak konsisten dalam penerapan dan penegakannya telah memperpanjang problem pemberantasan korupsi di Indonesia.
Corruption in Indonesia is currently systemic, endemic, and considered threatening to public trust (public trust) on the performance of government, so that eradication efforts have been made through special ways (extra-ordinary measures.) Component repair is not optimum legal structure and legal substance to encourage the President to intervene in the improvement of legal culture and performen behavioral aspects of public officials in the form of integrity pact with Instruki No. 5 of 2004. The policies of President who impressed sporadic, and inconsistent in application and enforcement has extended the problem of combating corruption in Indonesia.
References
Ahmad Basuki, (2007). Kebijakan Rektroaktif dalam Penegakan Hukum terhadap Pelanggaran Hak Asasi Manusia yang Berat, Majalah PERSPEKTF Keadilan (Vol. XII No. 2 Edisi Mei 2007).
Bahsan Mustafa, (1990). Pokok-pokok Hukum Administrasi Negara, Bandung, Citra Aditya Bakti.
Indriyanto Seno Adji, (2009). Korupsi, Kebijakan Aparatur Negara dan Hukum Pidana, Jakarta, Kantor Konsltas Hukum Oemar Seno Adji & Rekan.
Marbun SF dan Moh. Mahfud, (1987). Pokok-pokok Hukum Administrasi Negara, Yogyakarta.
Marcus Lukman, (1996). Eksistensi Peraturan Kebijaksanaan dalam Bidang Perencanaan terhadap Pembangunan di Daerah serta Dampaknya terhadap Pembangunan Materi Hukum Tertulis Nasional, Disertasi, Universitas Padjadjaran, Bandung.
Muhsan, (1982). Beberapa Catatan tentang Hukum Administrasi Negara Indonesia, Yogyakarta.
Muladi, (2010). Tindak Pidana Suap sebagai Core Crime Mafia Peradilan dan Penanggulangannya, Makalah Seminar "Suap, Mafia Peradilan, Penegakan Hukum dan Pembaharuan Hukum Pidana (Kerjasama FH UNDIP dan Komisi Yudisial RI).
Muhammad Ali, Kamus Lengkap Bahasa Indonesia Modern, Jakarta, Pustaka Amani.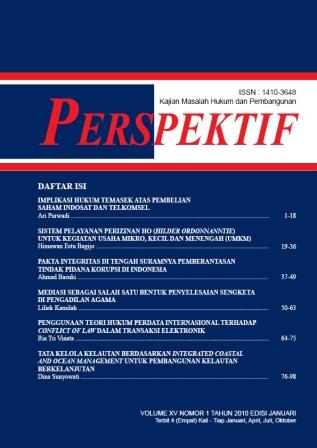 Downloads
License
Authors who publish with this journal agree to the following terms:
Authors retain copyright and grant the journal right of first publication with the work simultaneously licensed under a Attribution-ShareAlike 4.0 International (CC BY-SA 4.0) License that allows others to share the work with an acknowledgement of the work's authorship and initial publication in this journal.
Authors are able to enter into separate, additional contractual arrangements for the non-exclusive distribution of the journal's published version of the work (e.g., post it to an institutional repository or publish it in a book), with an acknowledgement of its initial publication in this journal.
Authors are permitted and encouraged to post their work online (e.g., in institutional repositories or on their website) prior to and during the submission process, as it can lead to productive exchanges, as well as earlier and greater citation of published work (See The Effect of Open Access).
The Authors submitting a manuscript do so on the understanding that if accepted for publication, copyright of the article shall be assigned to jurnal PERSPEKTIF and Research Institutions and Community Service, Wijaya Kusuma Surabaya University as publisher of the journal.