SISTEM PELAYANAN PERIJINAN HO (HINDER ORDONNANNNTIE) UNTUK KEGIATAN USAHA MIKRO, KECIL DAN MENENGAH (UMKM)
Keywords:
kegiatan ekonomi, sistem lisensi, perlindungan lingkungan, economic activities, license system, environmental protection
Abstract
Kegiatan ekonomi yang penting berpikir untuk mendukung pembangunan. Bagi mereka sistem perizinan tujuan adalah salah satu masalah membuat penghalang untuk mempromosikan pertumbuhan ekonomi pada Kegiatan Ekonomi Mikro, Kecil dan Menengah. Berdasarkan masalah ini artikel ini akan membahas dan menemukan cara terbaik untuk memecahkan hubungan antara sistem lisensi dan kegiatan ekonomi. Relasi ini untuk melindungi lingkungan dengan lisensi di sisi lain dan untuk mempromosikan pertumbuhan ekonomi untuk bisnis kecil.
Economic activities are an important think to support development. For those purpose licensing system is one issues make barrier to promote economic growth relay on Micro, Small and Middle Economic Activities. Base on this problem this article will discuss and find the best way to solve the relationship between licensing system and economic activities. The relation is to protect an environmental by license on the other hand and to promote economic growth for a small business.
References
Basah, Sjachran, (1996). Sistem Perizinan sebagai Instrumen Pengendalian Lingkungan Dalam Butir-Butir Gagasan tentang Penyelenggaraan Hukum dan Pemerintahan yang Layak, Citra Aditya Bakti, Bandung.
Bruggink, (1994). Refleksi tentang Hukum, terjemahan Arief Sidharta, Citra Aditya Bhakti, Bandung.
David Ray, (2003). Desentralisasi, Reformasi Peraturan dan Iklim Usaha, Makalah, Jakarta.
ELIPS, (2001). Penyusunan Rancangan Undang-undang dalam Perubahan Masyarakat yang Demokratis, Business Advisory Indonesia University of San Francisco Scholl of Law indonesia Program.
Forum Kajian Ambtenaar Provinsi Jawa Timur, (2006). Pelayanan Publik, dari Dominasi ke Partisipasi, Airlangga University Press.
Hadjon, P. M. (1994). Pengantar Hukum Perizinan, Cetakan i Yuridika, Surabaya, 1993, dikutip dari Berge ten B.J.B.M. dan Spelt, N.M. InleidingVergunningen recht, Utrecht.
_______, (1995). Pengantar Hukum Administrasi di Indonesia, Gajah Mada University Press, Yogyakarta.
_______, (1990). Perlindungan Hukum bagi Rakyat di Indonesia, Bina Ilmu, Surabaya.
_______, (1999). Pengkajian Ilmu Hukum Dogmatik (Normatif), Yuridika No. 6. Thn. IX November – Desember Tahun 1999.
Rohman Taufiq, (2007). 368 Perda Jawa Timur Hambat Investasi, Tempo Interaktif.
Rangkuti, Siti Sundari, (2005). Hukum Lingkungan dan Kebijaksanaan Hukum Lingkungan Nasional, Airlangga University Press, Surabaya.
Rodney Austin dalam Peter Leyland and Terry Woods, (1997). Administrative Law Facing the Future: Old Contrains and New Horizons, Blackstone Press Limited, London.
Sobana, (1996). Adaptasi Pelayanan Izin Investasi terhadap Perubahan Lingkungan dalam Butir-Butir Gagasan tentang Penyelenggaraan Hukum dan Pemerintahan yang Layak, Citra Aditya Bakti, Bandung.
Tatik Sri Djatmiati, (2004). Prinsip Izin Usaha Industri di Indonesia, Disertasi, Program Pascasarjana Universitas Airlangga.
Winarno Surakhmad, (1997). Pengantar Penelitian Ilmiah, Dasar, Metode, dan Teknik Penelitian, Transito, Bandung.
Peraturan Perundang-undangan:
Undang-Undang Nomor 10 Tahun 2004 tentang Pembentukan Peraturan Perundang-undangan.
Undang-Undang Nomor 32 Tahun 2004 tentang Pemerintahan Daerah.
Undang-Undang Nomor 25 Tahun 2007 tentang Penanaman Modal.
Undang-Undang Nomor 14 Tahun 2008 tentang Keterbukaan Informasi Publik.
Undang-Undang Nomor 37 Tahun 2008 tentang Ombudsman.
Peraturan Pemerintah Nomor 41 Tahun 2007 tentang Organisasi Perangkat Daerah.
Peraturan Pemerintah Nomor 66 Tahun 2001 tentang Retribusi Daerah.
Peraturan Menteri Dalam Negeri Nomor 53 Tahun 2007 tentang Pengawasan Peraturan Daerah dan Peraturan Kepala Daerah.
Peraturan Daerah Kota Surabaya.
Peraturan Daerah Kabupaten Sidoarjo.
Peraturan Daerah Kota Mojokerto Nomor 7 Tahun 2009 tentang Pemberdayaan Usaha Mikro Kecil dan Menengah.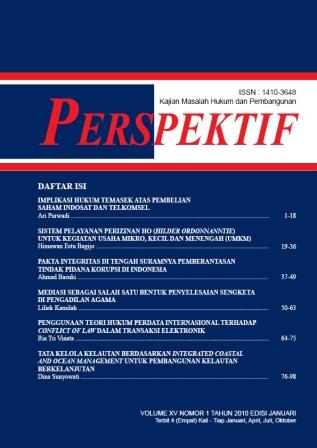 Downloads
License
Authors who publish with this journal agree to the following terms:
Authors retain copyright and grant the journal right of first publication with the work simultaneously licensed under a Attribution-ShareAlike 4.0 International (CC BY-SA 4.0) License that allows others to share the work with an acknowledgement of the work's authorship and initial publication in this journal.
Authors are able to enter into separate, additional contractual arrangements for the non-exclusive distribution of the journal's published version of the work (e.g., post it to an institutional repository or publish it in a book), with an acknowledgement of its initial publication in this journal.
Authors are permitted and encouraged to post their work online (e.g., in institutional repositories or on their website) prior to and during the submission process, as it can lead to productive exchanges, as well as earlier and greater citation of published work (See The Effect of Open Access).
The Authors submitting a manuscript do so on the understanding that if accepted for publication, copyright of the article shall be assigned to jurnal PERSPEKTIF and Research Institutions and Community Service, Wijaya Kusuma Surabaya University as publisher of the journal.