PENGGUNAAN TEORI HUKUM PERDATA INTERNASIONAL TERHADAP CONFLICT OF LAW DALAM TRANSAKSI ELEKTRONIK
Keywords:
Konflik Hukum, Hukum Perdata, Transaksi Elektronik, Conflict of law, privat law, electronic transaction
Abstract
Kegiatan sipil bisa lewat transaksi elektronik dalam bentuk keberadaan kontrak elektronik dan tort perkelahian. Karakter kaya transaksi elektronik tanpa batas (borderless), dapat menghasilkan hukum konflik. Konflik terjadi jika hukum tunduk pada hukum yang berbeda dalam domisili atau kebangsaan, perbuatan hukum yang dilakukan di negara asing, dan konsekuensi hukum yang terjadi di negara-negara asing. Menjelang konflik hukum, Undang-Undang Informasi dan Transaksi Elektronik 2008 mengatur konflik hukum. Statuta pertama memberikan pihak kebebasan untuk membuat pilihan yang baik dari hukum dan juga forumnya. Kedua, jika pilihan hukum tidak dibuat oleh aturan yang diterapkan dan forum yang bertanggung jawab yang disampaikan pada Teori Hukum Perdata Internasional.
Civil activity can pass transaction of electronic in the form of existence of electronic contract and deed fights against law. Transaction of The electronic haves the character of without bound of state (borderless), hence can generate conflik of law. Conflik of law happened if law subject to differ in domicile or civic, deed of law is done in foreign state, and legal consequences happened in foreign state. Toward conflict of law, Information and electronic transaction Act 2008 arranges about conflict of law. Firstly the statuta gives freedom of the parties to do choice of law either and also its the forum. Second, if choice of law is not done by the parties hences, rule applied and forum in charge delivered at the International Private Law Theory.
References
Ahmad M. Ramli, (2004), Cyber Law dan HAKI dalam Sistem Hukum Indonesia, Refika Aditama, Bandung.
Gautama, Sudargo,(1997), Pengantar Hukum Perdata Internasional, Bina Cipta, Bandung
_______, (1992), Hukum Perdata Internasional, Jilid II Bagian 4 Buku ke 5, Alumni, Bandung.
_______, Rancangan Undang Hukum Perdata Internasional Indonesia, tanpa tahun.
Gani, Abdullah A., (2005), Pandangan Yuridis Conflict of Law dan Choice of Law dalam Kontrak Bisnis Internasional, Buletin Perbankan dan Kebanksentralan, Volume 3 Nomor 3 Tahun 2005.
Makarim, Edmund, (2004), Kompilasi Hukum Telematika, Rajawali Press, Jakarta.
Riswandi, Budi Agus, (2003), Hukum dan Internet di Indonesia, UII Press, Yogyakarta.
Suherman, Ade Maman, (2002), Aspek Hukum dalam Ekonomi Global, Ghalia Indonesia, Jakarta.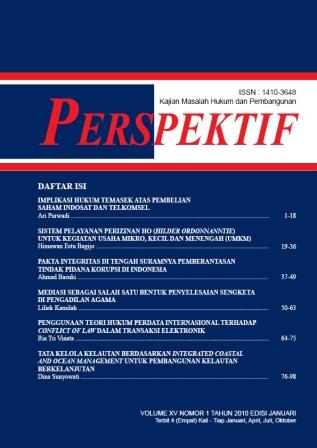 Downloads
License
Authors who publish with this journal agree to the following terms:
Authors retain copyright and grant the journal right of first publication with the work simultaneously licensed under a Attribution-ShareAlike 4.0 International (CC BY-SA 4.0) License that allows others to share the work with an acknowledgement of the work's authorship and initial publication in this journal.
Authors are able to enter into separate, additional contractual arrangements for the non-exclusive distribution of the journal's published version of the work (e.g., post it to an institutional repository or publish it in a book), with an acknowledgement of its initial publication in this journal.
Authors are permitted and encouraged to post their work online (e.g., in institutional repositories or on their website) prior to and during the submission process, as it can lead to productive exchanges, as well as earlier and greater citation of published work (See The Effect of Open Access).
The Authors submitting a manuscript do so on the understanding that if accepted for publication, copyright of the article shall be assigned to jurnal PERSPEKTIF and Research Institutions and Community Service, Wijaya Kusuma Surabaya University as publisher of the journal.