PERTANGGUNGJAWABAN PIDANA SEORANG IBU MENJUAL ANAK DALAM KANDUNGAN (TINJAUAN UNDANG-UNDANG NOMOR 23 TAHUN 2002)
Keywords:
perdagangan orang, perlindungan anak, pertanggungjawaban pidana, human trafficking, child protection, criminal liability
Abstract
Di era globalisasi, perkembangan kejahatan semakin terus meningkat. Perdagangan orang merupakan bentuk perbudakan secara modern, bahkan seorang ibu sebagai orangtua tega menjual anak dalam kandungan karena kebutuhan materi. Atas peristiwa tersebut, penulis tertarik untuk meneliti, dengan tujuan untuk mengetahui bagaimanakah bentuk pertanggungjawaban pidana seorang ibu yang menjual anak dalam kandungan. Penelitian ini menggunakan metode yuridis normatif, dengan pendekatan statute approach dan conseptual approach. Kemudian sumber bahan hukum yang diperoleh dari undang-undang, buku-buku hukum, internet, dan pendapat para pakar hukum. Proses berpikir deduktif, dan dianalisis secara kualitatif, yaitu kaedah dan teknik untuk keingintahuan penulis pada suatu gejala yuridis atau cara untuk menemukan kebenaran dalam pengetahuan. Hasil penelitian dimana seorang ibu yang menjual anak dalam kandungan, akibat perbuatan yang telah lalai dan pelanggaran melanggar ibu dimintai pertanggungjawaban dengan pidana penjara dan denda sesuai dengan Undang-Undang Perlindungan Anak.
In the era of globalization, the development of crime keeps on increasing. Trafficking in persons is a modern form of slavery, even a mother as a parent have the heart to sell her unborn child because of material needs. Of the event, the authors are interested in researching, in order to determine how the form of criminal liability of a mother who sells her unborn child. This study uses a normative juridical method, by using statute approach and conseptual approach. Then the material source of law derived from the law, law books, the internet, and the opinions of legal experts. The process of reasoning is deductive one, and it is analyzed qualitatively, that is the utility and techniques for author's curiosity on a juridical symptoms or how to find the truth in knowledge. Results of studies in which a mother who sells her unborn child, due to negligent acts and violations will has to be accountable, and will put into the prison and receive a fine in accordance with the Child Protection Act.
References
Buku:
Farhana, 2010, Aspek Hukum Perdagangan Orang di Indonesia, Cetakan pertama, Jakarta: Sinar Grafika.
Moeljatno, 2008, Asas-asas Hukum Pidana, Cetakan Kedelapan, Jakarta: Rineka Cipta.
Saraswati, Rika, 2009, Hukum Perlindungan Anak di Indonesia, Cetakan Pertama, Bandung: Citra Aditya Bakti.
Peraturan Perundang-undangan:
Kitab Undang-Undang Hukum Pidana.
Undang-Undang Republik Indonesia Nomor 39 Tahun 1999 tentang Hak Asasi Manusia.
Undang-Undang Republik Indonesia Nomor 23 Tahun 2002 tentang Perlindungan Anak.
Undang-Undang Republik Indonesia Nomor 21 Tahun 2007 tentang Pemberantasan Tindak Pidana Perdagangan Orang.
Website:
http://komnaspa.wordpress.com/2011/12/21/catatan-akhir-tahun-2011-komisi-nasional-perlindungan-anak/
http://megapolitan.kompas.com/read/2010/02/12/08391384/bayi.dalam.Kandungan.pun.Dijual.Rp.1,Juta
http://uripsantoso.wordpress.com/2009/04/26/kewajiban-orang-tua-terhadap-anak/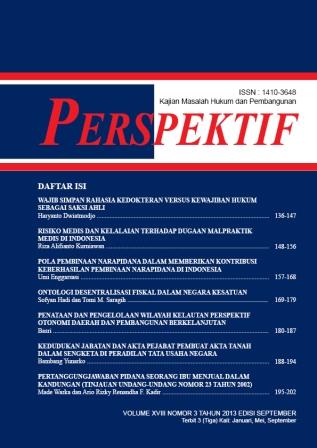 Downloads
License
Authors who publish with this journal agree to the following terms:
Authors retain copyright and grant the journal right of first publication with the work simultaneously licensed under a Attribution-ShareAlike 4.0 International (CC BY-SA 4.0) License that allows others to share the work with an acknowledgement of the work's authorship and initial publication in this journal.
Authors are able to enter into separate, additional contractual arrangements for the non-exclusive distribution of the journal's published version of the work (e.g., post it to an institutional repository or publish it in a book), with an acknowledgement of its initial publication in this journal.
Authors are permitted and encouraged to post their work online (e.g., in institutional repositories or on their website) prior to and during the submission process, as it can lead to productive exchanges, as well as earlier and greater citation of published work (See The Effect of Open Access).
The Authors submitting a manuscript do so on the understanding that if accepted for publication, copyright of the article shall be assigned to jurnal PERSPEKTIF and Research Institutions and Community Service, Wijaya Kusuma Surabaya University as publisher of the journal.