DINAMISASI PENORMAAN HUKUM ISLAM
Keywords:
Dinamisasi, Penormaan, Hukum Islam, dynamic, norm, Islamic Law
Abstract
Dinamisasi penormaan dalam hukum Islam tergantung pada perbedaan dalam penerapan dan perkembangan Islam. Hal ini juga dipengaruhi oleh kondisi perkembangan hukum Islam di berbagai Negara. Hukum Islam merupakan hukum yang hidup yang inherion dalam kehidupan umat Islam. Oleh karena itu Norma Islam tidak lagi dirasakan sebagai norma yang dipaksakan dari luar oleh umatnya. Perkembangan hukum Islam di Indonesia, ditandai perbedaan seru yang melakukan dua teori Receptio in competen dan teori receptive.
Dynamic naming dependent differences in Islamic law for the implementation and development of Islam. It is also influenced by the development of Islamic law in various countries. Islamic law is the law of life that inherion in the lives of Muslims. Therefore the Islamic norms are no longer perceived as the norm imposed from the outside by his people. The development of Islamic law inIndonesia, marked differences which make the two theories exciting receptio in compten and receptive theory.
References
A Fyzee, (1955). Outlines of Muhammedan Law, Oxford University Press, London.
A Mukti Ali, (1970). Kuliah Agama Islam di Sekolah Staf dan Komando Angkatan Udara di Lembang, Nida, Yogyakarta.
A Azis Mashuri, Kuliah Ushul Fiqh, Unhasy, Jombang.
Abdul Mutholib, (1984). Kedudukan Hukum Islam Dewasa Ini di Indonesia, Bina Ilmu, Surabaya.
Abdul Qahir Al-Bagdadi, (1973). Al Farq Bayr Al Firaq, Dsr Al-Ataq Al-Jaddah, Beirut.
Abdul Wahhab Khallaf, Ilmu Ushulil Fiqh, Al Majlisl A'al Al Indonesia lil Dakwatil Islamiyah.
Abdul Wahhab Khallaf, (1985). Kaidah-Kaidah Hukum Islam, Vol.I, terjemahan Tolchah Mansoer dkk, Risalah, Bandung.
Abu A'la Al Maududi, (1986). Dasar-dasar Aqidah Islam, terjemahan, Elwin Siregar, Media da'wah, Jakarta.
Ahmad Hasan, (1984). Pintu Ijtihad sebelum Tertutup, terjemahan Agah Garnadi, Pustaka, Bandung.
Ahmad Rofiq, (1998). Hukum Islam di Indonesia, Raja Grafindo Persada, Jakarta.
Ali hasbullah, Ushulut vTasyri" al Islamiy, terjemahan Muhammad Thalib, Fak Syariah UII, Yogyakarta.
Charles Himawan, (1995) "Menerapkan Temuan Ilmiah untuk Mengikis Kemiskinan Peran Hukum dalam Pembangunan Ekonomi, Hukum dan Pembangunan", No5 Tahun XXV.
Edgar Bodenheimer, John Bilyev Odleley, Jean C. Love, (1988). An Introduction to the Anglo- American Legal System, Reading and Cases, 2 nd ed, West Publishing, Minn.
Edward Said, (1979). Orientalisme,Vartage Books, Random House, N.Y.
Frank E. Vogel and Samuel L. Hayes, III, Islamie Law and Finance: Religion, Risk and Retevasi, Kluwen Law International Nederland, 500 P, Chapter G.P.
H.A.R. Gibb, (1955). Mohammedanisn, The New American Library, New York.
Harun Nasution, (1986). Theology Islam, Aliran-aliran Sejarah Analisa Perbandingan, UI Press, Jakarta.
Hazairin, (1990). Hukum Kewarisan Bilateral menurut Qur'an dan Hadith, Tintamas, Jakarta.
Humaidi Tatapangarsa, (1979). Pengantar Kuliah Akhlak, Bina Ilmu, Surabaya.
Iggi H. Achsiern, (2000). Investasi Syariah di Pasar Modal, Gramedia, Jakarta.
JND Anderson, (1976). Law Reform in the Muslim World, Athlone, London.
Joesoef Soeyb, (1982). Peranan Aliran Iktizal dalam Perkembangan Aliran Pikiran Islam, Pustaka Al Husna, Jakarta.
Mahmood Shehabi, (1958). "SHIA", dalam Kenneth W. Morgan, Islam- The Straight Path, the Ronald Press.
Mahmud Hambali Zaqzaq, (1984). Orientalisme dan Latar Belakang Penulisannya, terjemahan Luthfie Abdullah Ismail, Al Muslimin, Bangil.
Mardjono Reksodipoetro, (1995). "Pembinaan Pendidikan Tinggi Hukum Dalam Pembangunan Jangka Panjang Kedua (PJPT II), Hukum dan Pembangunan, No.3 tahun XXV.
Mohammad Aud Ali, (1984). Kedudukan Hukum Isalam dalam Sistem Hukum Indonesia, Risalah, Jakarta.
Muchtar Adam, (1991) "Perbandingan Madzab dalam Islam Permasalahannya", Dalam Tjun Suryaman (ed), Hukum Islam di Indonesia, Pemikiran dan Praktek, Remaja Posdakarya, Bandung.
Muhammad Muslehuddin, (1999). Menggugat Asuranasi Modern: Mengajukan Suatu Alternatif Baru dalam Perspektif Hukum Islam, terjemahan Burhan Wirasubrata, Lentera, Jakarta.
Nasruddin Razak, (1972). Dienul Islam, Almaarif, Bandung.
Rachmat Djatnika, (1991). "Perkembangan Ilmu Fiqh di Dunia Islam", dalam Hukum Islam di Indonesia, Perkembangan dan pembentukan., Reamaja Rosdakarya, Bandung.
Rene David and Jhon C. Brierly, (1978). Mayor Legal System in the World Today, Steven & Sons, London.
Sahilun A. Nasir, (1980). Ilmu Kalam, Pengertian, Sejarah dan Perkembangannya, Bina Ilmu, Surabaya.
Satria Effendi M. Zein, et.al. (1994). Arbitrase Islam di Indonesia, BAMUI-BMI, Jakarta.
Sayyid Sabiq, (1986). Aqidah Islam, terjemahan Moh. Abdai Rathony, Diponegoro, Bandung.
Steven Vago, (1994). Law and Society, Prentice Hall, N.Y.
Sudirman Tebba, (1993) Perkembangan Mutakhiri Hukum Islam di Asia Tenggara: Studi Kasus Hukum Keluarga dan Pengkodikasiannya, Cet. I, Mizan, Bandung.
Sultan Reny Sjahdeini, (2002) "Perbankan Syariah suatu Alternatif Kebutuhan Pembiayaan Masyarakat," Jurnal Hukum Bisnis, vol 20.
Syaidus Syahar, (1986). Asas-asas Hukum Islam, Alumni, Bandung.
Syaikh Mahmoud Syaltout, (1967). Islam sebagai Aqidah dan Syariah, terjemahan Bustani A.Gani dan B. Hamdany Ali, Bulan Bintang, Jakarta.
Syibli Nu'man, (1981). Al Farooq, Life of Omar The Great, Secon Caliph of Islam, terjemahan Karsidjo Djojosuwarno, Pustaka, Bandung.
T.M. Hasbi Ash-Shiddieqy, (1973) Fungsi Aqidah dalam Kehidupan Manusia dan Perpautannya dengan Ibadah, IAIN Sunan Kalijaga, Yogyakarta.
T.M. Hasbi Ash-Shiddieqy, (1381 H). Syariat Islam Menjawab Tantangan Zaman, Pidato Dies Natalis IAIN Sunan Kalijaga Yogyakarta.
T.M.Hasbi Ash Shiddieqy, (1985). Pengantar Ilmu Fiqh, Bulan Bintang.
Timur Kuran, The Genesis of Islamic Ekonomics: A Chapter in the Politics of Muslim Identity, Social Research, Vol. 64, Summer, 1997.
W. Montgomery Watt, Muhammad: Prophet and Stateman , (1964). Oxford University Press, Oxford.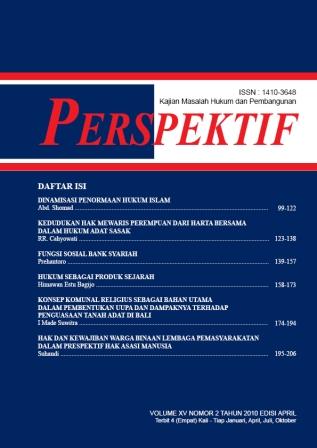 Downloads
License
Authors who publish with this journal agree to the following terms:
Authors retain copyright and grant the journal right of first publication with the work simultaneously licensed under a Attribution-ShareAlike 4.0 International (CC BY-SA 4.0) License that allows others to share the work with an acknowledgement of the work's authorship and initial publication in this journal.
Authors are able to enter into separate, additional contractual arrangements for the non-exclusive distribution of the journal's published version of the work (e.g., post it to an institutional repository or publish it in a book), with an acknowledgement of its initial publication in this journal.
Authors are permitted and encouraged to post their work online (e.g., in institutional repositories or on their website) prior to and during the submission process, as it can lead to productive exchanges, as well as earlier and greater citation of published work (See The Effect of Open Access).
The Authors submitting a manuscript do so on the understanding that if accepted for publication, copyright of the article shall be assigned to jurnal PERSPEKTIF and Research Institutions and Community Service, Wijaya Kusuma Surabaya University as publisher of the journal.