HUKUM SEBAGAI PRODUK SEJARAH
Keywords:
proses pembentukan hukum, aturan hukum, substansi law making proses, substance of rules
Abstract
Aturan hukum merupakan produk penyelenggara Negara yang diharapkan dapat menyelesaikan permasalahan, menciptakan keadaan tertentu yang diinginkan oleh pembentuknya. Dalam kerangka berfikir yang demikian, maka situsai dan kondisi yang melatarbelakangi proses terbentuknya aturan hukum mempunyai pengaruh besar atas substansi pengaturannya. Pemikiran tersebut dapat dibuktikan, dengan mengungkapkan berbagai aturan yang pernah ada dalam sistem hukum Indonesia sejak masa kemerdekaan hingga saat reformasi telah digulirkan.
The purpose of the rules that compose by the state organ is to solve the problem and create definite situation trough the creator idea. Base on the reason, the background (situation and condition) of law making process will be influence the substance of the output (rules). This idea can be proof by description most of the rules form the beginning of the Indonesian independence till the reformation.
References
Abdulgani, Ilmu Hukum dalam Revolusi, Badan Penerbit Prapanca, tt.
Ahmad Sodiki, (20001). Pembaharuan Hukum Pertanahan Nasional, dalam Rangka Penguatan Agenda Landreform, dalam kumpulan tulisan Prinsip-prinsip Reforma Agraria, Jalan Penghidupan dan Kemakmuran Rakyat, Cet. I., Lapera Pustaka Utama, Yogyakarta.
Ball, John, (1982). Indonesian Legal History 1602-1848, Oughtershaw, Sydney.
_______, (1984). Indonesian Legal History British West Sumatra, 1685-1825, Oughtershaw, Sydney.
Berman, J. Harold, (1995). Law and Revolution, The Formation of the Western Legal Tradition, Harvard University Press, Cambridge, Massachusetts.
Bruggink, J.J.H. (1999). Refleksi Tentang Hukum, alih bahasa, Bernard Arief Sidharta, Citra Aditya Bakti, Bandung.
Charles Sampford, (1989). The Disorder of Law, A Critique of Legal Theory, Basil Blackwell Inc. New York.
Freeman, Lloyd, (1985). Introduction to Jurisprudence, Lord Lloyd Hampstead Oc, University of London.
Friedmann, W, (1990). Teori dan Filsafat Hukum, alih bahasa oleh Muhamad Arifin, Buku II, Raja Grafindo Persada.
Hadjon, M. Phlipus, (1996). Prospek Hukum dalam Era Globalisasi, Surabaya.
Indria Samego et.al, (1998). Bila ABRI Menghendaki, Mizan Pustaka, Bandung.
Nisbit, John, Megatern 2000, edisi revisi, Warta Ekonomi, No. 01/1990.
Paton, G.W. (1972). A Tex book of Juris-prudence, Fourth Edition.
Philippe Nonet dan Philip Selznick, (1978). Law and Society in Tradi-tion, Toward Responsive Law, Harper & Row, Publishers, New York.
Rahardjo, Satjipto, (1986). Hukum dalam Prespektif Sejarah dan Perubahan Sosial, dalam Pembangunan Hukum dalam Prespektif Politik Hukum Nasional, Editor Artidjo Alkostar dan Soleh Amin, Rajawali, Jakarta.
Santos, Boaventura De Sousa, (1995). Toward A New Common Sense, Law Science and Politics in the Paradig-matic Transition, Routledge, Newyork.
Sidharta, Arief, Bernard, (2000). Refleksi tentang Struktur Ilmu Hukum, Mandar Maju, Bandung.
Simanjuntak, (1997). Marsilam, Pandangan Negara Integralistik, Cet II, Pustaka Utama Grafiti, Jakarta.
Suwoto Mulyosudarmo, "Refleksi Hukum tentang Putusan Sidang Umum MPR 1999 dan Sidang Tahunan MPR 2000", Makalah, tanpa tahun, halaman 3.
Soetandyo Wignjosoebroto, (1998). Dari Hukum Kolonial ke Hukum Nasional, Raja Grafindo Persada, Ed. I., Cet. I, Jakarta.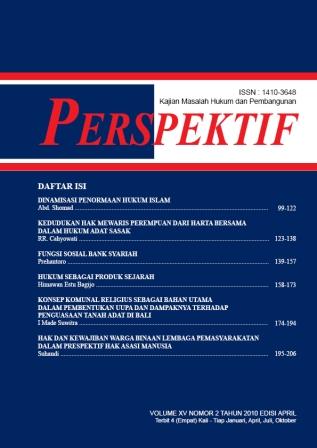 Downloads
License
Authors who publish with this journal agree to the following terms:
Authors retain copyright and grant the journal right of first publication with the work simultaneously licensed under a Attribution-ShareAlike 4.0 International (CC BY-SA 4.0) License that allows others to share the work with an acknowledgement of the work's authorship and initial publication in this journal.
Authors are able to enter into separate, additional contractual arrangements for the non-exclusive distribution of the journal's published version of the work (e.g., post it to an institutional repository or publish it in a book), with an acknowledgement of its initial publication in this journal.
Authors are permitted and encouraged to post their work online (e.g., in institutional repositories or on their website) prior to and during the submission process, as it can lead to productive exchanges, as well as earlier and greater citation of published work (See The Effect of Open Access).
The Authors submitting a manuscript do so on the understanding that if accepted for publication, copyright of the article shall be assigned to jurnal PERSPEKTIF and Research Institutions and Community Service, Wijaya Kusuma Surabaya University as publisher of the journal.