PELANGGARAN TERHADAP HAK KEKEBALAN DIPLOMATIK (STUDI KASUS PENYADAPAN KEDUTAAN BESAR REPUBLIK INDONESIA (KBRI) DI YANGON MYANMAR BERDASARKAN KONVENSI WINA 1961)
Keywords:
kekebalan diplomatik, tanggung jawab negara dan penyelesaian sengketa, diplomatic immunity, state responsibility and dispute settlement
Abstract
Kekebalan dan keistimewaan yang dimiliki seorang wakil diplomatik didasarkan pada pemberian kesempatan seluas-luasnya kepada wakil diplomatik dalam melakukan tugasnya dengan sempurna. Hal tersebut merupakan bentuk perlindungan terhadap perwakilan diplomatik beserta fasilitas-fasilitasnya termasuk di dalamnya gedung perwakilan diplomatik asing. Tanggung jawab negara lahir apabila negara melakukan perbuatan yang bertentangan dengan hukum karena kesalahan atau kelalaiannya sehingga menimbulkan pelanggaran kewajiban hukum internasional. Dalam hal terjadi pelanggaran terhadap kekebalan dan keistimewaan wakil diplomatik, maka negara penerima dapat dikatakan tidak dapat memberikan perlindungan dan kenyaman terhadap para diplomatik dalam menjalankan fungsi dan misi-misinya.
Penyelesaian sengketa Internasional antara Indonesia dengan Myanmar dalam kasus penyadapan gedung diplomatik dapat ditempuh dalam berbagai cara diantaranya melalui prosedur penyelesaian secara politik, hukum (yuridis) maupun dalam kerangka kerjasama ASEAN. Namun menggunakan jalur diplomatik atau jalur negosiasi yang didasarkan pada itikad baik dari kedua negara yang merupakan langkah awal yang paling baik dalam penyelesaian sengketa. Bila kesepakatan gagal diambil dalam jalur diplomasi, maka dapat ditempuh cara-cara penyelesaian sengketa secara hukum dan membawanya ke Mahkamah Internasional.
The immunities and privileges owned by a diplomatic representative is based on providing greater opportunities to the diplomatic representatives in performing their duties perfectly. This is a form of protection to the diplomatic mission and its facilities-related facilities including the building of foreign diplomatic representative. Responsibility of the state of birth if the state committed acts contrary to law because of mistakes or negligence resulting in violations of international legal obligations. In case of violation of diplomatic immunities and privileges of the vice, then the recipient country can not be said to provide protection and comfort against the run function and diplomatic missions.
Settlement of international disputes between Indonesia and Myanmar in diplomatic buildings wiretapping case can be achieved in various ways such as through a political settlement procedures, legal (juridical) and within the framework of ASEAN cooperation. But use diplomatic channels or channels of negotiation that is based on good faith from both countries who are the best first step in dispute resolution. When the deal failed to be taken in diplomacy, it can be done in ways legal dispute resolution and bring it to the International Court of Justice.
References
Adolf, Huala, (1990). Aspek-aspek Negara Dalam Hukum Internasional, Rajawali Pers, Jakarta.
Effendi, A. Masyhur, (1994). Hukum Konsuler-Hukum Diplomatik Serta Hak dan Kewajiban Wakil-wakil Organisasi Internasional/Negara,IKIP Malang, Malang.
Mauna, Boer, Hukum Internasional Pengertian Peranan dan Fungsi dalam Era Dinamika Global, edisi ke-2, Alumni, Bandung.
Deplu, (1969). Pedoman tertib diplomatik dan Protokol II, Bp. 03-D, Jakarta.
Direktorat Jenderal Kerjasama ASEAN Departemen Luar Negeri Republik Indonesia. (2005). ASEAN Selayang Pandang, Jakarta.
Suryono, Edy, (1991). Hukum Diplomatik Kekebalan dan Keistimewaannya, Angkasa, Bandung
Hermawan Ps. Notodipoero, (1992). Diktat Hukum Diplomatik
Starke, J. G. (1997). Pengantar Hukum Internasional 1, Sinar Grafika, Jakarta
Merrills, J. G. (1986). Penyelesaian Sengketa Internasional, Penyadur : Achmad Fauzan, S. H., Transito, Bandung
Suryokusumo, (1995). Sumaryo, Hukum Diplomatik Teori dan Praktek, Alumni, Bandung.
Wasito, (1984). Konvensi Konvensi Wina tentang Hubungan Diplomatik, Hubungan Konsuler dan Hukum Perjanjian/Traktat, Andi Offset, Yogyakarta.
Konvensi:
Konvensi Wina 1961 Tentang Hubungan Diplomatik.
Perundang-undangan:
Undang-Undang nomor 37 tahun 1999 tentang Hubungan Luar Negeri.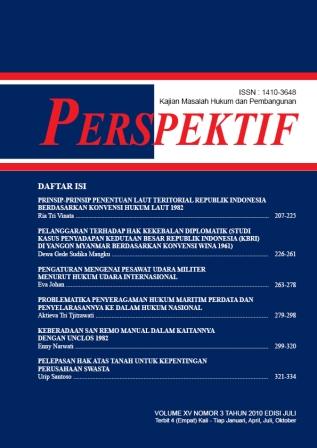 Downloads
License
Authors who publish with this journal agree to the following terms:
Authors retain copyright and grant the journal right of first publication with the work simultaneously licensed under a Attribution-ShareAlike 4.0 International (CC BY-SA 4.0) License that allows others to share the work with an acknowledgement of the work's authorship and initial publication in this journal.
Authors are able to enter into separate, additional contractual arrangements for the non-exclusive distribution of the journal's published version of the work (e.g., post it to an institutional repository or publish it in a book), with an acknowledgement of its initial publication in this journal.
Authors are permitted and encouraged to post their work online (e.g., in institutional repositories or on their website) prior to and during the submission process, as it can lead to productive exchanges, as well as earlier and greater citation of published work (See The Effect of Open Access).
The Authors submitting a manuscript do so on the understanding that if accepted for publication, copyright of the article shall be assigned to jurnal PERSPEKTIF and Research Institutions and Community Service, Wijaya Kusuma Surabaya University as publisher of the journal.