PERLINDUNGAN HUKUM FRANCHISEE ATAS KEPAILITAN FRANCHISOR
Keywords:
Perjanjian Franchise, franchisee, franchisor, Franchise Agreement
Abstract
Sita umum atas harta kekayaan debitor selaku franchisor karena kepailitan tidak membatalkan perjanjian franchise ketika dalam perjanjian tersebut dimuat klausula keberlanjutan perjanjian franchise. Apabila klausula tersebut tidak dicantumkan, maka perlindungan hukum franchisee didapatkan melalui pengajuan permohonan untuk melanjutkan perjanjian franchise kepada kurator dari franchisor, atau dengan meminta ganti kerugian sebagai kreditor konkuren.
Common seizure of debtors wealth, as a Franchisor that caused of bankrupt will not have an implication of Franchise contract cancellation, if in the related contract has a clause that the Franchise contract will be continued even if debtors is bankrupt. If that clause was not written in the related Franchise contract, then the Franchisee law protection shall born through application to the curator from Franchisor, to continue the Franchisee contract. Otherwise the Franchisee might ask for compensation as a concurrent creditor.
References
Peraturan Perundang-undangan:
Burgerlijk Wetboek.
Undang-Undang Nomor 37 Tahun 2004 tentang Kepailitan dan dan Penundaan Kewajiban Pembayaran.
PP Nomor 42 Tahun 2007 tentang Waralaba.
Peraturan Menteri Perdagangan Republik Indonesia Nomor 53/M-DAG/PER/8/2012 tentang Penyelenggaraan Waralaba.
Buku:
H.S, Salim, 2010, Perkembangan Hukum Kontrak Innominaat di Indonesia, Jakarta: Sinar Grafika.
_______, 2005, Perkembangan Hukum Kontrak di Indonesia, Jakarta: Sinar Grafika.
Hasan, Djuhaendah, Lembaga Jaminan Kebendaan bagi Tanah dan Benda Lain yang Melekat pada Tanah dalam Konsepsi Penerapan atas Pemisahan Horizontal pada Tanah dalam Konsepsi Penerapan atas Pemisahan Horizontal (Suatu Konsep dalam Menyongsong Lahirnya Lembaga Hak Tanggungan), Bandung: Citra Aditya Bakti.
Margono, Suyud, 2010, Aspek Hukum Komersialisasi Aset Intelektual, Bandung: Nuansa Aulia.
Marzuki, Peter Mahmud, 2015, Pengantar Ilmu Hukum, Jakarta: Prenadanamedia Group.
Mendelson, Martin, 1997, Franchising, Petunjuk Praktis Bagi Martin Mendelson, Franchising, Petunjuk Praktis Bagi Franchisor dan Franchisee, Jakarta: Pustaka Binaman Pressindo.
Saliman, Abdul R. dkk., 2005, Hukum Bisnis untuk Perusahaan, Jakarta: Kencana.
Subekti, R., 2001, Hukum Pembuktian, Jakarta: Pradnya Paramita.
Shubhan, Hadi, Hukum Kepailitan, Prinsip, Norma dan Praktik di Peradilan, Kencana Prenadamedia Group, Jakarta.
Sumarsono, Sonny, 2009, Manajemen Bisnis Waralaba, Yogyakarta: Graha Ilmu.
Usman, Rachmadi, 2003, Hukum Hak atas Kekayaan Intelektual: Perlindungan dan Dimensi Hukumnya di Indonesia.
Internet:
CSBisnisUKM, Bagaimana Cara Menghadapi Persaingan Pasar?,http://bisnisukam.com/Bagaimana-Cara-Menghadapi-Persaingan-Pasar.html, diakses pada tanggal 4 Oktober 2015.
Administrator, Bisnis Waralaba Diproyeksikan naik 15-20% Tahun ini, http://bisniskeuangankompas.co/read/ diakses pada tanggal 10 September 2014.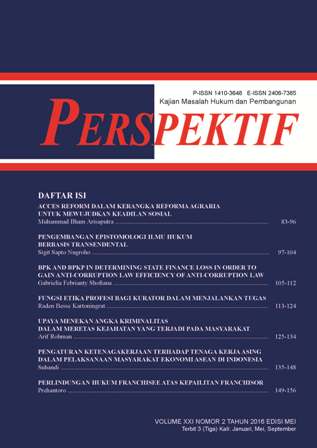 Downloads
License
Authors who publish with this journal agree to the following terms:
Authors retain copyright and grant the journal right of first publication with the work simultaneously licensed under a Attribution-ShareAlike 4.0 International (CC BY-SA 4.0) License that allows others to share the work with an acknowledgement of the work's authorship and initial publication in this journal.
Authors are able to enter into separate, additional contractual arrangements for the non-exclusive distribution of the journal's published version of the work (e.g., post it to an institutional repository or publish it in a book), with an acknowledgement of its initial publication in this journal.
Authors are permitted and encouraged to post their work online (e.g., in institutional repositories or on their website) prior to and during the submission process, as it can lead to productive exchanges, as well as earlier and greater citation of published work (See The Effect of Open Access).
The Authors submitting a manuscript do so on the understanding that if accepted for publication, copyright of the article shall be assigned to jurnal PERSPEKTIF and Research Institutions and Community Service, Wijaya Kusuma Surabaya University as publisher of the journal.