PELEPASAN HAK ATAS TANAH UNTUK KEPENTINGAN PERUSAHAAN SWASTA
Keywords:
Pelepasan hak, hak atas tanah, perusahaan swasta, Release of rights, land rights, private enterprise
Abstract
Perolehan tanah oleh perusahaan swasta dapat ditempuh melalui pelepasan hak atas tanah. Pelepasan hak atas tanah dapat dilakukan setelah ada kesepakatan dalam musyawarah mengenai bentuk dan besarnya ganti rugi. Pelepasan hak atas tanah oleh pemegang haknya dibuat dengan akta Notaris. Dengan pelepasan hak atas tanah tidak berakibat hak atas tanah berpindah kepada perusahaan swasta, akan tetapi hak atas tanah menjadi hapus dan kembali menjadi tanah Negara.
Acquisition of land by a private company can be reached through the release of land rights. Disposal of land rights can be done after there is agreement in the deliberations about the form and amount of indemnification. Disposal of land rights by the right holder is made by notarial deed. With the release of land rights does not result in land rights was transferred to private companies, but the right to remove and return the land to be State land.
References
Harsono, Boedi, (1971). Undang-undang Pokok Agraria Sedjarah Penjusunan, Isi, dan Pelaksanaan-nya, Djambatan, Djakarta.
_______, (1990). "Aspek Yuridis Penyediaan Tanah", Majalah HUKUM dan PEMBANGUNAN, Nomor 2 Tahun XX, Fakultas Hukum Universitas Indonesia, Jakarta.
_______, (2007). "PPAT Sejarah, Tugas dan Kewenangannya", Majalah RENVOI, No. 8.44. IV, Jakarta
Hutagalung, Arie S, (2005). Tebaran Pemikiran Seputar Masalah Hukum Tanah, Lembaga Pemberdayaan Hukum Indonesia, Jakarta.
Murad, Rusmadi, (1997). Administrasi Pertanahan Pelaksanaannya dalam Praktek, Mandar Maju, Bandung.
Rubaie, Achmad, (2007). Hukum Pengadaan Tanah untuk Kepentingan Umum, Bayumedia, Malang.
Soebekti dan R. Tjitrosoedibjo, (1985). Kitab Undang-undang Hukum Perdata Burgerlijk Wetboek, Pradnja Paramita, Jakarta
Soerodjo, Irawan, (2003). Kepastian Hukum Hak Atas Tanah di Indonesia, Arkola.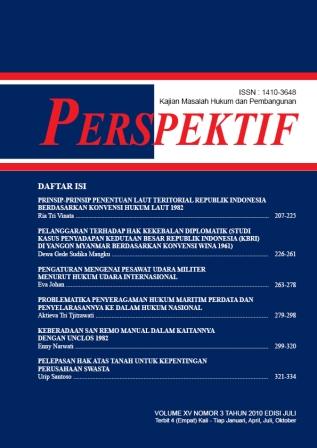 Downloads
License
Authors who publish with this journal agree to the following terms:
Authors retain copyright and grant the journal right of first publication with the work simultaneously licensed under a Attribution-ShareAlike 4.0 International (CC BY-SA 4.0) License that allows others to share the work with an acknowledgement of the work's authorship and initial publication in this journal.
Authors are able to enter into separate, additional contractual arrangements for the non-exclusive distribution of the journal's published version of the work (e.g., post it to an institutional repository or publish it in a book), with an acknowledgement of its initial publication in this journal.
Authors are permitted and encouraged to post their work online (e.g., in institutional repositories or on their website) prior to and during the submission process, as it can lead to productive exchanges, as well as earlier and greater citation of published work (See The Effect of Open Access).
The Authors submitting a manuscript do so on the understanding that if accepted for publication, copyright of the article shall be assigned to jurnal PERSPEKTIF and Research Institutions and Community Service, Wijaya Kusuma Surabaya University as publisher of the journal.