SANKSI ADAT DELIK PERZINAHAN (UMOAPI) DALAM PERSPEKTIF HUKUM PIDANA ADAT TOLAKI
Keywords:
sanksi, adat, perzinahan, sanction, custom, adultery
Abstract
Persetubuhan atau perzinahan baik menurut hukum pidana dan hukum adat Tolaki memiliki pandangan yang sama di mana persetubuhan atau perzinahan merupakan perbuatan melawan hukum dan patut untuk diberikan sanksi pidana atas perbuatan pidana tersebut. Namun demikian, hukum adat Tolaki dalam konsep klasifikasi persetubuhan lebih mengatur secara komprehensif tentang perzinahan, di mana perbuatan zina tidak hanya terbatas pada mereka yang telah terikat dengan perkawinan sebagaimana dimaksud dalam Pasal 27 BW tetapi mengikat pula bagi mereka yang belum terikat perkawinan dengan penerapan sanksi adat Tolaki yang berbeda-beda berdasarkan klasifikasi jenis perzinahannya atau umoapi.
Promiscuity or adultery either according to the criminal law and the Tolaki customary law, have the same view where promiscuity or adultery is against the law and so it is worth to be given criminal sanctions upon the criminal act. Nevertheless, Tolaki customary law regulated about promiscuity comprehensively about adultery, where the Act of adultery is not just limited to those who had been marriage as stipulated in article 27 BW but also bind those who are not marriage yet, with the application of Tolaki different customs sanctions based on classification type of the fornication or umoapi.
References
Peraturan Perundang-undangan:
Kitab Undang-Undang Hukum Pidana.
Kitab Undang-Undang Hukum Perdata.
Undang-Undang Nomor 1 Tahun 1946 tentang Peraturan Hukum Pidana.
Buku:
Departemen Pendidikan dan Kebudayaan, 1989, Kamus Besar Bahasa Indonesia. Jakarta: Balai Pustaka.
Hatubi, Abd. Latif Parase, 2006, Buku Panduan Adat Tolaki Kabupaten Konawe, Isi Lokakarya Univikasi Hukum Adat Sarano Tolaki, Kendari.
Marpaung, Leden, 2004, Kejahatan terhadap Kesusilaan dan Masalah Prevensinya, Jakarta: Sinar Grafika.
Muhammad, Bushar, 2006, Asas-asas Hukum Adat Suatu Pengantar, Jakarta: Pradnya Paramita.
Moeljatno, 2008, Asas-Asas Hukum Pidana Edisi Revisi, Jakarta: Rineka Cipta.
Poeponoto, Soebekti, 1980, Bab-bab tentang Hukum Adat, Jakarta: Djambatan.
Poernomo, Bambang, 1994, Seri Hukum Pidana 1 Asas-asas Hukum Pidana, Jakarta: Ghalia Indonesia.
Prodjodikoro, Wirjono, 2003, Azas-Azas Hukum Pidana Indonesia, Bandung: Refika Aditama.
Pujosewojo, Kusumadi, 1971, Hukum Adat, Jakarta: Sinar Grafika.
Sa'abah, Marzuki Umar, 1997, Seks & Kita, Jakarta: Gema Insani Press.
Sihombing, 2007, Pengantar Hukum Adat Indonesia, Jakarta: Toko Gunung Agung.
Soedjono, Dirdjosisworo, 1991, Hukum Pidana Indonesia dan Gelagat Kriminalitas Masyarakat Pasca Industri, Jakarta: Sinar Grafika.
Soegandhi, 2000, Kejahatan terhadap Kesusilaan, Jakarta: Bina Aksara.
Soekanto, Soerjono, 2005, Hukum Adat Indonesia, Jakarta: Raja Grafindo Persada.
Tarimana, Abdul Rauf, 1989, Kebudayaan Tolaki, Jakarta: Balai Pustaka.
Tongat, 2009, Asas-asas Hukum Adat, Jakarta: Pembangunan.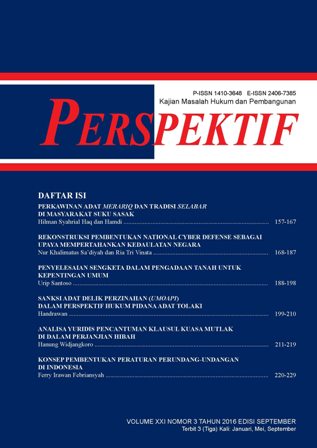 Downloads
License
Authors who publish with this journal agree to the following terms:
Authors retain copyright and grant the journal right of first publication with the work simultaneously licensed under a Attribution-ShareAlike 4.0 International (CC BY-SA 4.0) License that allows others to share the work with an acknowledgement of the work's authorship and initial publication in this journal.
Authors are able to enter into separate, additional contractual arrangements for the non-exclusive distribution of the journal's published version of the work (e.g., post it to an institutional repository or publish it in a book), with an acknowledgement of its initial publication in this journal.
Authors are permitted and encouraged to post their work online (e.g., in institutional repositories or on their website) prior to and during the submission process, as it can lead to productive exchanges, as well as earlier and greater citation of published work (See The Effect of Open Access).
The Authors submitting a manuscript do so on the understanding that if accepted for publication, copyright of the article shall be assigned to jurnal PERSPEKTIF and Research Institutions and Community Service, Wijaya Kusuma Surabaya University as publisher of the journal.