KONSEP PEMBENTUKAN PERATURAN PERUNDANG-UNDANGAN DI INDONESIA
Keywords:
konsep, peraturan perundang-undangan, concept, legislation
Abstract
Pembentukan peraturan perundang-undangan merupakan syarat dalam rangka pembangunan hukum nasional yang hanya dapat terwujud apabila didukung oleh metode yang baik, yang mengikat semua lembaga yang berwenang membuat peraturan perundang-undangan. Indonesia merupakan negara hukum yang mempunyai kewajiban melaksanakan pembangunan hukum nasional yang baik, yang dilakukan secara terencana, terpadu dan berkelanjutan dalam sistem hukum nasional. Konsep pembentukan peraturan perundang-undangan di Indonesia meliputi beberapa konsep yaitu konsep pembentukan peraturan perundang-undangan harus sesuai dengan konsep negara hukum Pancasila. Selain itu, konsep pembentukan peraturan perundang-undangan yang baik harus mengedepankan perlindungan Hak Asasi Manusia. Konsep pembentukan peraturan perundang-undangan yang baik harus mengedepankan asas equality before the law. Konsep pembentukan peraturan perundang-undangan yang baik harus sesuai dengan asas-asas pembentukan peraturan perundang-undangan yang telah ditetapkan sebelumnya oleh undang-undang. Untuk selanjutnya, konsep pembentukan perundang-undangan dibentuk oleh pemegang kekuasaan yang sah, yang dipilih oleh rakyat secara demokrasi.
Formation of the legislation is a requirement in the development of national law which can only be achieved if supported by a good method, which is binding on all institutions authorized to make Regulations. Indonesia is a country that has a legal obligation to carry out the development of a good national law, which is done in a planned, sustainable, and integrated into the national legal system. The concept of the establishment of laws and regulations in Indonesia includes several concepts, namely the concept of the establishment of legislation must be in accordance with State law concept of Pancasila. In addition, the concept of the establishment of legislation that either must prioritize the protection of Human Rights. The concept of the establishment of legislation that both must put forward the principle of equality before the law. The concept of the establishment of legislation that either should be in accordance with the principles of the formation of legislation predetermined by law. Henceforth, the concept of the establishment of law established by legal authority, elected by the people in a democracy.
References
Perundang-Undangan:
Undang-Undang Nomor 12 Tahun 2011 tentang Pembentukan Peraturan Perundang-undangan.
Buku:
Asshiddiqie, Jimly dan M. Ali Safaat, 2006, Teori Hans Kelsen tentang Hukum, Jakarta: Sekretariat Jenderal dan Kepaniteraan Mahkamah Konstitusi RI.
Attamimi, A. Hamid S., 1990, "Peranan Keputusan Presiden Republik Indonesia dalam Penyelenggaraan Pemerintahan Negara: Studi Analisis mengenai Keputusan Presiden yang Berfungsi Pengaturan dalam Kurun Waktu PELITA I-PELITA IV", Disertasi Doktor, Jakarta, Universitas Indonesia.
Kusumaatmadja, Mochtar, 2000, Pengantar Ilmu Hukum: Suatu Pengenalan Pertama Ruang Lingkup Berlakunya Ilmu Hukum, Buku I, Bandung: Alumni.
Mahmutarom HR., tanpa tahun, Rekontruksi Konsep Keadilan, Semarang: Badan Penerbit Undip.
Rahardjo, Sajipto, 2006, Sisi-Sisi Lain dari Hukum di Indonesia, Jakarta: Penerbit Buku Kompas.
Rasjidi, Lili dan Ira Thania Rasjidi, 2002, Pengantar Filsafat Hukum, Bandung: Mandar Maju.
Sidharta, Bernard Arief, 2010, Ilmu Hukum Indonesia, Bandung: FH Unika Parahyangan.
Sjarif, Amiroedin, 1997, Perundang-undangan Dasar: Jenis dan Teknik Membuatnya, Jakarta: Rineka Cipta.
Soekanto, Soerjono dan Purnadi Purbacaraka, 1993, Perihal Kaidah Hukum, Bandung: Citra Aditya Bakti.
Soeprapto, Maria Farida Indrati, 2010, Ilmu Perundang-Undangan: Jenis, Fungsi, dan Materi Muatan, Yogyakarta: Kanisius.
Vlies, Van de, 1987, Handboek Wetgeving, Zwolle: Tjeenk Willink.
Jurnal:
Baldwin, Robert & Martin Cave, 1999, Understanding Regulation: Theory, Strategi and Practice, UK: Oxford University Press, dalam Luky Djani, "Efektivitas-Biaya dalam Pembuatan Legislasi", Jurnal Hukum Jentera, Jakarta, Oktober 2005.
Wibowo, Basuki Rekso, "Peranan Hakim dalam Pembangunan Hukum", artikel dimuat dalam Pro Justitia, Fakultas Hukum Universitas Parahyangan, Tahun XV, Nomor 4, Oktober 1997.
Internet:
biroorganisasi.jogjaprov.go.id/index.php?option=com_content&view=article&id=221:pembentukan-peraturan-perundang-undangan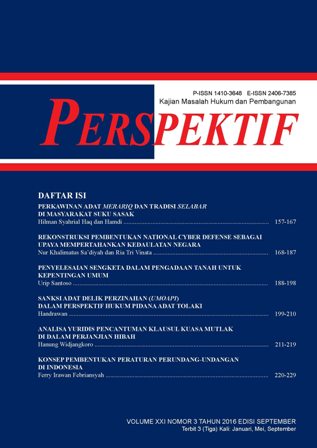 Downloads
License
Authors who publish with this journal agree to the following terms:
Authors retain copyright and grant the journal right of first publication with the work simultaneously licensed under a Attribution-ShareAlike 4.0 International (CC BY-SA 4.0) License that allows others to share the work with an acknowledgement of the work's authorship and initial publication in this journal.
Authors are able to enter into separate, additional contractual arrangements for the non-exclusive distribution of the journal's published version of the work (e.g., post it to an institutional repository or publish it in a book), with an acknowledgement of its initial publication in this journal.
Authors are permitted and encouraged to post their work online (e.g., in institutional repositories or on their website) prior to and during the submission process, as it can lead to productive exchanges, as well as earlier and greater citation of published work (See The Effect of Open Access).
The Authors submitting a manuscript do so on the understanding that if accepted for publication, copyright of the article shall be assigned to jurnal PERSPEKTIF and Research Institutions and Community Service, Wijaya Kusuma Surabaya University as publisher of the journal.