REKONSTRUKSI PEMBENTUKAN NATIONAL CYBER DEFENSE SEBAGAI UPAYA MEMPERTAHANKAN KEDAULATAN NEGARA
Keywords:
pembentukan, cyber defense, kedaulatan negara, formation, sovereignty
Abstract
Kecemasan terhadap cyber crime telah menjadi perhatian dunia, namun tidak semua negara di dunia ini memberikan perhatian yang lebih besar terhadap masalah cyber crime dan memiliki peraturannya kecuali negara-negara maju dan beberapa negara berkembang. Tujuan penelitian ini adalah dalam rangka menemukan, mengkaji dan menganalisa upaya pemerintah Indonesia dalam perlindungan terhadap data informasi rahasia negara dan meneliti tentang bentuk-bentuk perlawanan pemerintahan Indonesia terhadap cyber war. Menemukan rekonstruksi pembentukan national cyber defense atau cyber army dalam upaya mempertahankan kedaulatan negara. Dalam UU No. 3 Tahun 2002 tentang Pertahanan Negara, telah ditetapkan bahwa ancaman dalam sistem pertahanan negara terdiri dari ancaman militer dan ancaman non militer, termasuk diantaranya ancaman siber. Salah satu efek samping negatif dari perkembangan dunia siber melalui internet antara lain adalah kejahatan dalam bentuk pelanggaran hukum atau cyber crime, di mana bila eskalasinya lebih meluas dapat mengancam kedaulatan negara, keutuhan wilayah maupun keselamatan bangsa. Sebagai upaya penanggulangan terhadap serangan-serangan di dunia maya ini, diperlukanlah sebuah lembaga yang bertugas menjadi benteng pertahanan dunia siber atau cyber defense.
Anxiety against cybercrime has become the world's attention, but not all countries in the world is giving greater attention to the problem of cybercrime by having the rule and unless the developed countries and some developing countries. The purpose of this research is in order to find, examine and analyze the efforts of the Indonesia Government in the protection of State secrets information and data, also to research the forms of Indonesia Government resistance against cyber war. Find a reconstruction of national cyber defense formation or cyber army in an attempt to defend the sovereignty of the country. In Act No. 3 of 2002 on State Defense, it has been established that the threat in the country's defense system consists of a military threat and non-military threat, which is including cyber threats. One of the negative effects of the cyber world development via the internet among other things is a crime in violation of the law cybercrime, where when the escalation widely spread, it could have threatened the country's sovereignty, territorial integrity or the safety of the nation. In an effort to combat against the attacks in this virtual world, will require an agency that is in charge of being the world's bulwark cyber or cyber defense.
References
Peraturan Perundang-undangan:
Undang-Undang Republik Indonesia Nomor 3 Tahun 2002 tentang Pertahanan Negara.
Undang-Undang Republik Indonesia Nomor 34 Tahun 2004 tentang Tentara Nasional Indonesia.
Undang-Undang Republik Indonesia Nomor 17 Tahun 2007 tentang Rencana Pembangunan Jangka Panjang Nasional (RPJPN) Tahun 2005-2025.
Peraturan Presiden Republik Indonesia Nomor 5 Tahun 2010 tanggal 20 Januari 2010 tentang Rencana Pembangunan Jangka Menengah Nasional (RPJMN) Tahun 2010-2014.
Peraturan Presiden Republik Indonesia Nomor 41 Tahun 2010 tanggal 17 Juni 2010 tentang Kebijakan Umum Pertahanan Negara Tahun 2010-2014.
Peraturan Menteri Pertahanan Republik Indonesia Nomor 27 Tahun 2013 tanggal 12 September 2013 tentang Kebijakan Penyelenggaraan Pertahanan Negara tahun 2010-2014.
Peraturan Menteri Pertahanan Nomor 03 Tahun 2010 tanggal 29 Maret 2010 tentang Rencana Strategis Pertahanan Negara Tahun 2010-2014.
Peraturan Presiden Republik Indonesia Nomor 41 Tahun 2010 tanggal 17 Juni 2010 tentang Kebijakan Umum Pertahanan Negara Tahun 2010-2014
Peraturan Menteri Pertahanan Nomor 27 Tahun 2013 tentang Kebijakan Penyelenggaraan Pertahanan Negara Tahun 2010-2014
Buku:
Aji, Supriyanto, 2007, Pengantar Tehnologi Informasi, Semarang: Penerbit Salemba Infotek.
Arquilla, John dan David Rondfelt, 2001, Networks and Netwars, The Future of Terror, Crime, and Militancy, Rand Corporation.
Buzan, Barry, 1991, People, State, and Fear: An Agenda for International Security Studies in the Post-Cold War Era, Hempstead: Harvester Wheatsheaf.
Frank G. Hoffman, Conflict in the 21st Century, The Rise of Hybrid Wars, Patomatic Institute, Virginia USA, Desember 2007.
Fred, Isjwara, 1980, Pengantar Ilmu Politik, Bandung: Binacipta.
Hadjon, Philipus M., 1987, Perlindungan Hukum bagi Rakyat di Indonesia, Jakarta: Bina Ilmu.
Iwama, Yoko, International Donors and the Reform of Indonesian National Police, Workshop 2010: Organizing Police Forces in Post-Conflict Peace-Support Operations, January 27-28th, 2010.
Jessup, Philip C., A Modern Law of Nation, Pengantar Hukum Antar Bangsa, Bandung: Nuansa.
Kelsen, Hans, 1971, General Theory of Law and State, New York: Russel and Russeu, diterjemahkan oleh Raisul Muttaqien, Teori Umum Tentang Hukum dan Negara, 2014, Bandung: Nusa Media Ujung Berung.
Liang, Qiao and Wang Xiangsui, 1999, Unrestricted Warfare, Beijing: PLA Literature and Arts Publishing House.
Mahayana, Dimitri, 2000, Menjemput Masa Depan, Futuristik dan Rekayasa Masyarakat Menuju Era Global, Bandung: Rosda.
Manthovani, Reda, 2006, Problematika dan Solusi Penanganan Kejahatan CYBER di Indonesia, Jakarta: Malibu.
Nasibitt, John Nana Naisbitt dan Douglas Philips, 2001, High Tech, High Touch, Pencarian Makna di Tengah Perkembangan Pesat Teknologi, Bandung: Mizan.
Noorhaidi, Hasan dan Bertus Hendriks, Counter­Terrorism Strategies in Indonesia Algeria and Saudi Arabia, Netherlands Institute of International Relations 'Clingendae".
Petri, Huovinen, Hybrid warfare-Just a twist of compound warfare, views on warfare from the United States Armed Forces perspective.
Reksoprodjo, Yono, 2014, Kesiapan Nasional Bidang Pertahanan dalam Menghadapi Ancaman Siber, Bahan Kuliah dalam bentuk power point, yang dipresentasikan di Sespim Polri, Lembang, 11 September.
Suhieno, 1986, Ilmu Negara, Yogyakarta: Liberty.
Jurnal:
Budiman, Ignatius, "Pesiapan Menghadapi Perang Hibrida", Jurnal Yudhagama, Volume 33 No. 2 Bulan Juni 2013.
Gollese, Petrus Reinhart, "Perkembangan Cybercrime dan Upaya Penanganannya di Indonesia oleh Polri", Buletin Hukum Perbankan, Volume 4 Nomor 2, Agustus 2006.
Hovel, Devika, 2004, "Chinks in the Armour: International Law, Terrorism, and The Use of Force", UNSW Journal.
Jumadi, "Negara Hukum Demokratis Konstitusi Baru Indonesia", Al-Risalah, Vol. 11 No. 1 Mei 2011.
Muntoha, "Demokrasi dan Negara Hukum", Jurnal Hukum, No. 3 Vol. 16 Juli 2009.
Narande, Alva A.G., "Perang Hibrida di Dunia", Jurnal Yudhagama, Volume 33 No. 2 Bulan Juni 2013.
Purwanto, Adi Joko, "Peningkatan Anggaran Militer Cina dan
Implikasinya terhadap Keamanan di Asia Timur", SPEKTRUM Jurnal Ilmu Politik Hubungan Internasional, Vol. 7, Juni 2010 .
Rumekso, Teguh Pudjo, "Hybrid Warfare dan Implikasinya Bagi Indonesia", Jurnal Yudhagama, Volume 33 No 2 Bulan Juni 2013.
Sefriani, "Ketaatan Masyarakat Internasional terhadap Hukum Internasional dalam Perspekti Filsafat Hukum", Jurnal Hukum, No. 3 Vol. 18, Juli 2011.
Sudarwanto, Al Sentot, "Cyber Bullying: Kejahatan Dunia Maya yang Terlupakan", Jurnal Hukum Pro Justitia, April 2009, Volume 27 No. 1.
Website:
Agus Subagyo, "Sinergi dalam Menghadapi Ancaman Cyber Warfare Synergy on The Facing of Cyber Warfare Threat", diunduh https://agussubagyo1978.files.com/2015/08/sinergi-dalam-menghadapi-ancaman-cyber-warfare.pdf
Elizabeth Montabalno, Auditor Find Dod Hasn't Defined Cyber Warfare, September 2010, http://www. informationweek.com/government/security/auditorsfind-dod-hasnt-defined-cyber-wa/227400359
J. Aioro, Defense Lacks Doctrine to guide it through Cyberwarfare, 13 September 2010, http:// www.nextgov.com/defense/2010/09/defense-lacksdoctrine-to-guide-it-through-cyberwarfare/47575/
M. Akbar Marwan, Ancaman Cyber Insider, http://akbar.staff.gunadarma.ac.id
Manuel W. Wik, Revolution in information affairs Tactical and strategic implication of information warfare and information operation, Defence Materiel Administration, diakses 12 Juni 2016, pada < mawik@fmv.se>
Rosdiana, Deky, "Cyber Warfare menjadi Ancaman NKRI di Masa Kini dan Masa Depan", dalam http://hankam.kompasiana.com/2013/09/23/cyber-warfaremenjadi-ancaman-nkri-dimasa-kini-dan-masa-depan-592343.html, diunduh pada 11 Maret 2015.
William S. Lind, "Understanding Fourth Generation War", Military Review September-October 2004, http:// www.au.af.mil/au/awc/awcgate/milreview/lind.pdf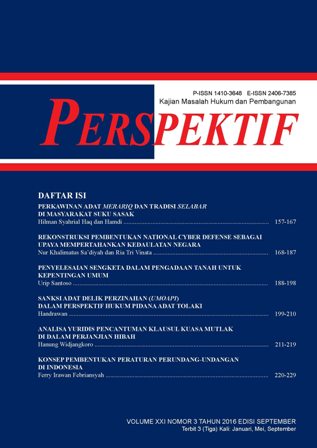 Downloads
License
Authors who publish with this journal agree to the following terms:
Authors retain copyright and grant the journal right of first publication with the work simultaneously licensed under a Attribution-ShareAlike 4.0 International (CC BY-SA 4.0) License that allows others to share the work with an acknowledgement of the work's authorship and initial publication in this journal.
Authors are able to enter into separate, additional contractual arrangements for the non-exclusive distribution of the journal's published version of the work (e.g., post it to an institutional repository or publish it in a book), with an acknowledgement of its initial publication in this journal.
Authors are permitted and encouraged to post their work online (e.g., in institutional repositories or on their website) prior to and during the submission process, as it can lead to productive exchanges, as well as earlier and greater citation of published work (See The Effect of Open Access).
The Authors submitting a manuscript do so on the understanding that if accepted for publication, copyright of the article shall be assigned to jurnal PERSPEKTIF and Research Institutions and Community Service, Wijaya Kusuma Surabaya University as publisher of the journal.