PELA GANDONG SEBAGAI SARANA PENYELESAIAN KONFLIK
Keywords:
konflik sosial, pela gandong, penyelesaian konflik sosial, social conflict, social conflict resolution
Abstract
Penelitian yang berjudul Pela Gandong Sebagai Sarana Penyelesaian Konflik Di Maluku, bertujuan Pertama, untuk mengetahui dan menganalisa peran Pela Gandong dalam tradisi masyarakat Maluku. Kedua, untuk mengetahui dan menganalisa Pela Gandong dilihat dalam konteks Undang-Undang Nomor 7 Tahun 2012. Berdasarkan hasil penelitian dapat disimpulkan bahwa Pertama, konflik merupakan perseteruan dan atau benturan fisik dengan kekerasan antara dua kelompok masyarakat atau lebih, yang berlangsung dalam waktu tertentu dan berdampak luas, yang mengakibatkan ketidakamanan dan disintegrasi sosial sehingga mengganggu stabilitas nasional dan menghambat pembangunan nasional. Ketiga, Pela berarti suatu ikatan, sedangkan Gandong berarti bersaudara, jadi Pela Gandong adalah suatu ikatan persatuan dan saling mengangkat saudara. Ketiga, penyelesaian konflik yang terjadi di Maluku menurut Undang-Undang Nomor 7 Tahun 2012 memberikan porsi bagi pranata adat untuk menyelesaikan konflik tersebut, hasil kesepakatan penyelesaian konflik melalui pranata adat memiliki kekuatan yang mengikat bagi kelompok masyarakat yang terlibat dalam konflik.
The research, entitled "Pela Gandong as a Conflict Resolution Tool in Maluku" aims First to know and analyze the role of Pela Gandong in Maluku society tradition. Secondly, to know and analyze Pela Gandong in the context of Law Number 7 Year 2012. Based on the research result, it can be concluded that First, conflict is a feud and/or physical clash with violence between two or more community groups that take place within a certain time and have a wide impact, resulting in insecurity and social disintegration that disrupts national stability and impedes national development. Secondly, Pela means a bond, while Gandong means siblings, so Pela Gandong is a bond of unity and raising one another. Third, the resolution of the conflict in Maluku according to Law No. 7 of 2012 provides a portion for customary institutions to resolve the conflict, the result of the settlement of the conflict through customary institutions has a binding force for the community groups involved in the conflict. 
References
Peraturan Perundang-undangan:
Undang-Undang Dasar 1945.
Undang-Undang Nomor 4 Tahun 1974 tentang Pokok-Pokok Pemerintahan Daerah.
Undang-Undang Nomor 5 Tahun 1979 tentang Sistem Pemerintahan Desa.
Undang-Undang Nomor 7 Tahun 2012 tentang Penanganan Konflik Sosial.
Buku:
Cooley, F.L., 1902, Altar and Thome in Central Mollucan Societies, Yale University.
Manuputty, J., 2004, "Konflik Maluku" dalam Lambang Trijono (ed), Potret Retak Nusantara, Studi Kasus terhadap Konflik di Indonesia, Yogyakarta: CSPS Books.
Marasabessy, Suedy (ed), 2002, Maluku Baru, Jakarta.
Marzuki, Peter Mahmud, 2008, Pengantar Ilmu Hukum, Jakarta: Kencana.
Pide, A. Suriyaman Mustari, 2014, Hukum Adat Dahulu, Kini, dan Akan Datang, Jakarta: Kencana.
Pieris, John, 2004, Tragedi Maluku Sebuah Krisis Peradaban, Jakarta: Yayasan Obor.
Piris, John, 2004, Tragedi Maluku: Sebuah Krisis Peradaban, Jakarta: Yayasan Obor Indonesia.
Ruhulessin, John Chr., 2007, Etika Publik Menggali dari Tradisi Pela di Maluku, Salatiga: Satya Wacana University Press.
Stokhof dan Murni Jamal (ed), 2003, Konflik Komunal di Indonesia Saat ini, Jakarta: INIS.
Triyono, Bdk. Lambang, 2001, Keluar dari Kemelut Maluku, Yogyakarta: Pustaka Pelajar.
Waileruny, Semuel, 2010, Membongkar Konspirasi di Balik Konflik Maluku, Jakarta: Yayasan Pustaka Obor.
Wulansari, C. Dewi, 2010, Hukum Adat Indonesia Suatu Pengantar, Bandung: Refika Aditama.
Website:
Angel, 2010, "Asal Usul Negeri Porto dan Nenek Moyang Talakua", https://willn094.wordpress.com, diakses pada tanggal 25 Nopember 2015.
Magda, Renny, 2013, "Dasar Perundang-Undangan Berlakunya Hukum Adat", http://rennymagdawiharnani.wordpress.com, diakses pada tanggal 15 Januari 2016.
Sedubun, Nicodemus, 2014, "Pela di Maluku Tengah", http://ohoi-ra.wordpress.com/2014/05/pela-di-maluku-tengah.com, diakses pada tanggal 01 Desember 2015.
Siwalette, Ricky Yuliam, 2012, "Sejarah Pela Gandong", http://allangforsamua.wordpress.com, (diakses pada tanggal 15 Januari 2016).
Ubbe, Ahmad, 2011, "Laporan Pengkajian Hukum Tentang Mekanisme Penanganan Konflik Sosial", www.bphn.go.id/data/pkj-2011-10.pdf, diakses pada tanggal 29 Mei 2015.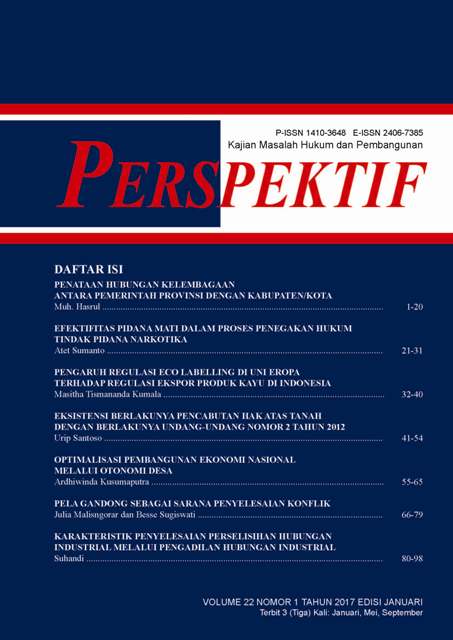 Downloads
License
Authors who publish with this journal agree to the following terms:
Authors retain copyright and grant the journal right of first publication with the work simultaneously licensed under a Attribution-ShareAlike 4.0 International (CC BY-SA 4.0) License that allows others to share the work with an acknowledgement of the work's authorship and initial publication in this journal.
Authors are able to enter into separate, additional contractual arrangements for the non-exclusive distribution of the journal's published version of the work (e.g., post it to an institutional repository or publish it in a book), with an acknowledgement of its initial publication in this journal.
Authors are permitted and encouraged to post their work online (e.g., in institutional repositories or on their website) prior to and during the submission process, as it can lead to productive exchanges, as well as earlier and greater citation of published work (See The Effect of Open Access).
The Authors submitting a manuscript do so on the understanding that if accepted for publication, copyright of the article shall be assigned to jurnal PERSPEKTIF and Research Institutions and Community Service, Wijaya Kusuma Surabaya University as publisher of the journal.