PERKAWINAN ADAT MERARIQ DAN TRADISI SELABAR DI MASYARAKAT SUKU SASAK
Keywords:
Suku Sasak, Merariq, Selabar
Abstract
Merariq sebagai tradisi perkawinan adat di masyarakat suku Sasak ternyata menyimpan potensi konflik yang tidak jarang berakhir dengan sengketa, karena diawali dengan peristiwa memaling atau mencuri atas dasar persetujuan si gadis dari kekuasaan orangtuanya, sebagai wujud sikap ksatria sekaligus bentuk keseriusan si laki-laki untuk menikahi si gadis. Namun di tengah kelemahannya ternyata sistem merariq telah menyediakan sarana alternatif penyelesaian berupa pelaksanaan negosiasi antara perwakilan pihak calon mempelai laki-laki dengan keluarga calon mempelai perempuan yang diistilahkan dengan selabar untuk menyepakati pembayaran ajikrame dan pisuke guna menuju perdamaian para pihak.

Merariq is a customary law of marriage in Sasak society, this Merariq turned out to potentially create conflict that is commonly ended up with a dispute. The reason is because it begins with the events of rob (steal) on the consent of the girl approval from the power of her parents. The rob (steal) be done as a form of chivalry of the man's seriousness marrying the girl. But amid that weakness, Merariq has provided an alternative dispute settlement by the process of negotiation between the representatives of the prospective groom to the bride family, which are termed selabar to agree on payment ajikrame and pisuke towards peaceful relationship between the parties.
References
Buku:
Basyir, Ahmad Azhar, 2004, Hukum Perkawinan Islam, Yogyakarta: UII Press.
Bartholomew, Jhon Ryan, 2001, Alif Lam Mim: Recording Islam, Modernity and Traditional in an Indonesia Kampung, alih bahasa, Imron Rosyidi, Alif Lam Mim:Kearifan Masyarakat Sasak, Yogyakarta: Tiara Wacana.
Budiwanti, Erni, 2000, Islam Sasak Wetu Telu Versus Waktu Lima, Yogyakarta: LKIS.
Kaharudin, 2007, "Perkawinan Adat Merariq (Kawin Lari) Pada Masyarakat Sasak dalam Prespektif Hukum Perkawinan Islam di Nusa Tenggara Barat", Media Hukum, Vol. 19.
Darmawan, Lalu, 2006, Sistem Perkawinan Masyarakat Sasak (Interpretasi atas Dialetika Agama dengan Tradisi Merarik Masyarakat Lombok Nusa Tenggara Barat), Yogyakarta: Skripsi UIN Sunan Kalijaga.
Wacana, Lalu, dkk., 1991, Sejarah Kebangkitan Nasional Daerah Nusa Tenggara Barat, Mataram: Departemen Pendidikan dan Kebudayaan.
Soemiyati, 1986, Hukum Perkawinan Islam dan Undang-Undang Perkawinan (Undang-Undang Nomor 1 Tahun 1974 tentang Perkawinan), Yogyakarta: Liberty.
Sudirman, 2007, Gumi Sasak dalam Sejarah, Lombok Timur: Yayasan Budaya Sasak Lestari.
Tim Peneliti Depdikbud, 1978/1979, Adat dan Upacara Perkawinan Daerah Nusa Tenggara Barat, Departemen Pendidikan dan Kebudayaan Pusat Penelitian Sejarah dan Budaya Proyek Penelitian dan Catatan Kebudayaan Daerah.
Saputro, Widodo Dwi dkk., 2000, Balai Mediasi Desa, Perluasan Akses Hukum dan Keadilan untuk Rakyat, Jakarta: LP3ES & NZAID.
Hidayah, Zulyani, 1996, Ensiklopedi Suku Bangsa Indonesia, Jakarta: LP3ES.
Subekti, 2008, Kitab Undang-Undang Hukum Perdata, Jakarta: Paradya Paramita.
Website:
www.badilag.net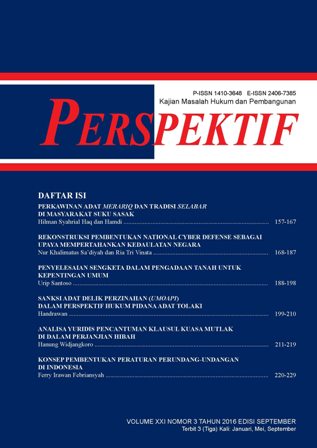 Downloads
License
Authors who publish with this journal agree to the following terms:
Authors retain copyright and grant the journal right of first publication with the work simultaneously licensed under a Attribution-ShareAlike 4.0 International (CC BY-SA 4.0) License that allows others to share the work with an acknowledgement of the work's authorship and initial publication in this journal.
Authors are able to enter into separate, additional contractual arrangements for the non-exclusive distribution of the journal's published version of the work (e.g., post it to an institutional repository or publish it in a book), with an acknowledgement of its initial publication in this journal.
Authors are permitted and encouraged to post their work online (e.g., in institutional repositories or on their website) prior to and during the submission process, as it can lead to productive exchanges, as well as earlier and greater citation of published work (See The Effect of Open Access).
The Authors submitting a manuscript do so on the understanding that if accepted for publication, copyright of the article shall be assigned to jurnal PERSPEKTIF and Research Institutions and Community Service, Wijaya Kusuma Surabaya University as publisher of the journal.