PENATAAN HUBUNGAN KELEMBAGAAN ANTARA PEMERINTAH PROVINSI DENGAN PEMERINTAH KABUPATEN/KOTA
Keywords:
hubungan, pemerintah, provinsi, kabupaten/kota, relationship, government, province, district
Abstract
Penataan hubungan antara Gubernur dengan Bupati/Walikota dalam pelaksanaan tata pemerintahan yang baik dan penataan kelembagaan yang dapat mensinergikan hubungan kewenangan pemerintahan yang efektif antara Pemerintah Provinsi dengan Pemerintah Kabupaten/Kota. Pola hubungan antara Gubernur dengan Bupati/Walikota dalam kaitannya dengan pelaksanaan tata pemerintahan yang baik dalam pelaksanaan peran Gubernur sebagai wakil pemerintah pusat, maka hubungan antara Gubernur dengan Bupati/Walikota bersifat bertingkat di mana Gubernur dapat melakukan peran pembinaan dan pengawasan terhadap penyelenggaraan pemerintahan daerah. Sebaliknya Bupati/Walikota harus senantiasa berkoordinasi dalam penyelenggaraan pemerintahan di daerah, termasuk dalam hubungan antar kabupaten/kota dengan provinsi.
This Article are trying to find the relationship pattern between the governor and regent/majors, in the field of government management, also to find out managing form that may show a sinergical inter relationship between province and regency government. Based on the research, we found that the relation pattern between governor and regents related to the implementation of good governance in governor enforcement as the representative of the central government is that inter relation between governor and regents/majors are in the gradual level, which governors can do a form of mentoring and supervising. In other hands, regents should always perform coordination in region governance enforcement, including the relationship between regency and province government.
References
Peraturan Perundang-undangan:
Undang-Undang Dasar 1945.
Undang-Undang Nomor 22 Tahun 1999 tentang Otonomi Daerah.
Undang-Undang Nomor 28 Tahun 1999 tentang Penyelenggara Negara Yang Bersih dan Bebas Dari Kolusi, Korupsi, dan Nepotisme.
Undang-Undang Nomor 32 Tahun 2004 tentang Pemerintahan Daerah.
Peraturan Pemerintah Nomor 23 Tahun 2011 tentang Perubahan atas Peraturan Pemerintah Nomor 19 Tahun 2010 tentang Tatacara Pelaksanaan Tugas dan Wewenang Serta Kedudukan Keuangan Gubernur Sebagai Wakil Pemerintah di Wilayah Provinsi.
Buku:
Asshiddiqie, Jimly, 2005, Format Kelembagaan Negara dan Pergeseran Kekuasaan Dalam UUD 1945, Yogyakarta: FH UII Press.
Bovens, M.A.P. (et.all), 1987, Rechts Staaten Sturing, Zwolle: W.E.J. Tjeenk Willing.
Effendi, Lutfi, 2004, Pokok-Pokok Hukum Administrasi, Malang: Bayumedia Publishing.
Halim, Hamzah, 2009, Persekongkolan Rezim Politik Lokal, Study Atas Relasi Antara Eksekutif dan Legislatif, Makassar: Pukap Indonesia.
Huda, Ni'matul, 2007, Pengawasan Pusat Terhadap Daerah dalam penyelenggaraan Pemerintahan Daerah, Yogyakarta: FH UII Press.
Kaloh, J., 2002, Mencari Bentuk Otonomi Daerah, Jakarta: Rineka Cipta.
Lubis, M. Solly, 2002, Hukum Tata Negara, Bandung: Mandar Maju.
Marbun, S.F. dan Moh. Mahfud, 2000, Pokok-Pokok Hukum Administrasi Negara, Yogyakarta: Liberty.
Marbun, S.F. dkk., 2001, Dimensi-Dimensi Pemikiran Hukum Administrasi Negara, Yogyakarta: UII Press.
Moeliono, Anton dkk., 1989, Kamus Besar Bahasa Indonesia, Jakarta: Balai Pustaka.
Ridwan H.R., 2002, Hukum Administrasi Negara, Yogyakarta: UII Press.
Sedarmayanti, 2004, Good Governance (Kepemerintahan Yang Baik), Bagian Kedua, Bandung: Mandar Maju.
Thoha, Miftah, 2004, Birokrasi dan Politik di Indonesia. Jakarta: Raja Grafindo Persada.
Utrech, E., 1990, Pengantar Hukum Administrasi Negara Indonesia, Jakarta: Ichtiar Baru.
Jurnal:
Abdullah, Kasman, "Penyelenggaraan Pemerintahan Dalam Konsep Good Governance", Jurnal Meritokrasi, Vol. 1 No. 1, Makassar, 2002.
Hoessein, Bhenyamin, "Kebijakan Desentralisasi", Jurnal Administrasi Negara, Vol. 1 No. 02 Tahun 2002.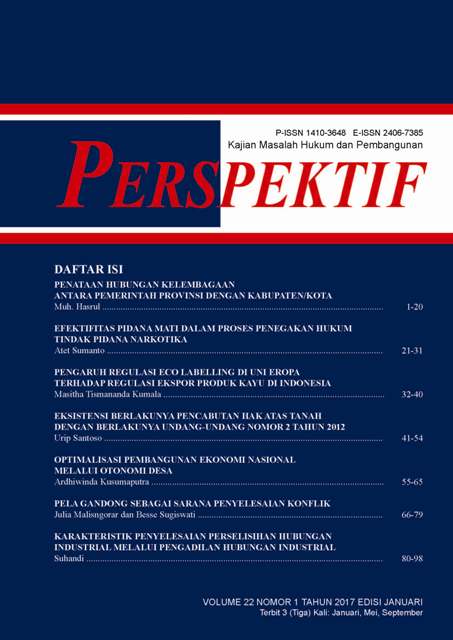 Downloads
License
Authors who publish with this journal agree to the following terms:
Authors retain copyright and grant the journal right of first publication with the work simultaneously licensed under a Attribution-ShareAlike 4.0 International (CC BY-SA 4.0) License that allows others to share the work with an acknowledgement of the work's authorship and initial publication in this journal.
Authors are able to enter into separate, additional contractual arrangements for the non-exclusive distribution of the journal's published version of the work (e.g., post it to an institutional repository or publish it in a book), with an acknowledgement of its initial publication in this journal.
Authors are permitted and encouraged to post their work online (e.g., in institutional repositories or on their website) prior to and during the submission process, as it can lead to productive exchanges, as well as earlier and greater citation of published work (See The Effect of Open Access).
The Authors submitting a manuscript do so on the understanding that if accepted for publication, copyright of the article shall be assigned to jurnal PERSPEKTIF and Research Institutions and Community Service, Wijaya Kusuma Surabaya University as publisher of the journal.