KEPASTIAN HUKUM OTORITAS JASA KEUANGAN DALAM PROSES KEPAILITAN PERUSAHAAN EFEK
Keywords:
Kepailitan, Otoritas Jasa Keuangan (OJK), Perusahaan Efek, Bankruptcy, Financial Services Authority (FSA), Securities Company
Abstract
Otoritas Jasa Keuangan yang diatur dalam Undang-Undang Nomor 21 Tahun 2011 merupakan suatu lembaga baru yang mempunyai fungsi, tugas, dan wewenang dalam hal pengaturan dan pengawasan dalam kegiatan jasa keuangan yang salah satunya adalah Pasar Modal. Namun, dalam proses kepailitan Perusahaan Efek yang merupakan bagian dari jasa keuangan Pasar Modal tersebut belum diatur secara tegas di dalam undang-undang tersebut. Permasalahan yang ingin dibahas dalam penelitian ini adalah dasar hukum pengajuan pailit kepada perusahaan efek oleh Otoritas Jasa Keuangan (OJK) dan bentuk dari konsep Wewenang Pengaturan ataukah konsep Wewenang Pengawasan dalam hal fungsi, tugas dan wewenang OJK pada Proses Kepailitan Perusahaan Efek. Penelitian ini merupakan penelitian normatif dengan menggunakan metode pendekatan perundang-undangan, pendekatan konseptual, dan pendekatan sejarah. Hasil dari penelitian ini adalah bahwa dasar hukum untuk pengajuan kepailitan kepada Perusahaan Efek oleh OJK masihlah belum ada, sehingga OJK segera mungkin harus mengeluarkan peraturan pelaksana untuk kepailitan Perusahaan Efek tersebut agar tidak ada kekosongan hukum dalam hal tersebut.
Financial Services Authority regulated in Law Number 21 in 2011, is a new institution which has the functions, duties and authority in terms of regulation and supervision in the financial services activities, one of which is the capital market. However, in bankruptcy proceedings securities company that is part of the Capital Markets financial services have not been set forth in the Act. The problems to be discussed in this study is on what legal basis the company filing for bankruptcy to effect by the FSA and is the concepts of Privileges Setting Supervision Authority in terms of the functions, duties and authority of the FSA on Bankruptcy Process Securities Company. This is a Normative Research. The results from this research is that the legal basis for the bankruptcy filing to the Securities Company by FSA is still not yet exist, so the FSA soon may have to implement regulations for the securities company bankruptcy so that there is no legal vacuum in that regard.
References
Peraturan Perundang-undangan:
Undang-Undang Nomor 8 Tahun 1995 tentang Pasar Modal, Lembaran Negara Tahun 1995 Nomor 64, Tambahan Lembaran Negara Nomor 3608.
Undang-Undang Nomor 37 Tahun 2004 tentang Kepailitan dan Penundaan Kewajiban Pembayaran Utang, Lembaran Negara Tahun 2004 Nomor 131, Tambahan Lembaran Negara Nomor 4443.
Undang-Undang Nomor 21 Tahun 2011 tentang Otoritas Jasa Keuangan, Lembaran Negara Tahun 2011 Nomor 111, Tambahan Lembaran Negara Nomor 5253.
Buku:
Fuady, Munir, 2010, Hukum Pailit dalam Teori dan Praktek, Bandung: Citra Aditya Bakti.
Marzuki, Peter Mahmud, 2016, Penelitian Hukum, Edisi Revisi, Jakarta: Kencana Prenada Media Group.
Sinaga, Syamsudin M., 2012, Hukum Kepailitan Indonesia, Jakarta: Tatanusa.
Subhan, M. Hadi, 2008, Hukum Kepailitan: Prinsip, Norma, dan Praktik di Peradilan, Jakarta: Kencana Prenada Media Group.
Sutedi, Adrian, 2009, Hukum Kepailitan, Bogor: Ghalia Indonesia.
Tavinayati dan Yulia Qamariyanti, 2009, Hukum Pasar Modal di Indonesia, Jakarta: Sinar Grafika.
Website:
http://www.ojk.go.id/id/Pages/FAQ-Otoritas-Jasa-Keuangan.aspx, diakses pada tanggal 31 Maret 2017.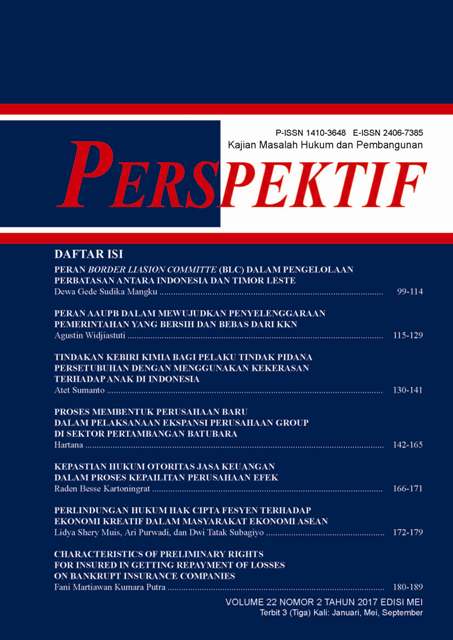 Downloads
License
Authors who publish with this journal agree to the following terms:
Authors retain copyright and grant the journal right of first publication with the work simultaneously licensed under a Attribution-ShareAlike 4.0 International (CC BY-SA 4.0) License that allows others to share the work with an acknowledgement of the work's authorship and initial publication in this journal.
Authors are able to enter into separate, additional contractual arrangements for the non-exclusive distribution of the journal's published version of the work (e.g., post it to an institutional repository or publish it in a book), with an acknowledgement of its initial publication in this journal.
Authors are permitted and encouraged to post their work online (e.g., in institutional repositories or on their website) prior to and during the submission process, as it can lead to productive exchanges, as well as earlier and greater citation of published work (See The Effect of Open Access).
The Authors submitting a manuscript do so on the understanding that if accepted for publication, copyright of the article shall be assigned to jurnal PERSPEKTIF and Research Institutions and Community Service, Wijaya Kusuma Surabaya University as publisher of the journal.