PROSES MEMBENTUK PERUSAHAAN BARU DALAM PELAKSANAAN EKSPANSI PERUSAHAAN GROUP DI SEKTOR PERTAMBANGAN BATUBARA
Keywords:
pengaturan ekspansi, pelaksanaan ekspansi, pembentukan perusahaan baru, expansion regulation, expansion practice, the new company establishment
Abstract
Sepuluh tahun terakhir merupakan masa pertumbuhan perusahaan pertambangan batubara di Indonesia yang sangat pesat. Hal ini dikarenakan meningkatnya permintaan batubara sebagai pemasok energi di masa mendatang sehingga membuat industri ini memiliki daya tarik yang sangat besar bagi para investor dan banyak perusahaan batubara yang mengajukan Izin Usaha Pertambangan (IUP). Pemerintah telah menetapkan proyek pembangunan melalui proyek pembangkit listrik 35.000 MW. Metode penelitian yang digunakan bersifat yuridis empiris yaitu cara prosedur yang dipergunakan untuk memecahkan masalah penelitian dengan meneliti data sekunder terlebih dahulu untuk kemudian dilanjutkan dengan mengadakan penelitian terhadap data primer di lapangan. Dalam hasil penelitian, adapun cara yang digunakan oleh perusahaan pada sektor pertambangan dalam melakukan ekspansi adalah melalui cara pembentukan perusahaan baru. Ekspansi perushaaan pada sektor pertambangan tentunya memberikan beberapa implikasi yang bisa mengarah pada timbulnya praktek monopoli dan persaingan usaha tidak sehat, mengingat bertambahnya jumlah perusahaan. Adapun produksi yang dilakukan oleh empat group batubara terbesar, masing-masing belum mencapai nilai 75% dari produksi nasional, sehingga sesuai Undang-Undang No. 5 Tahun 1999 Pasal 4 ayat (2) ekspansi yang dilakukan oleh perusahaan group tersebut tidak terbukti berimplikasi terhadap adanya praktik monopoli dan persaingan usaha tidak sehat.
The past ten years, coal mining industry in Indonesia develop very rapidly. Coal mining industry becomes the strong magnet for investors and coal companies who submitted for the Mining License (IUP) as a result from high demand of coal supply to be used as energy supplier in the future. The Government has set up the development project of 35.000MW power plant. The method for the research is juridical empirical. It is a problem solving procedure by investigating secondary data first to be able to continue with the primary data. As the result, mining companies expand their business through the new company establishment. Of course those ways of company's expansion will lead to the implication of monopoly and unfair business competition, considering the increasing numbers of new companies. However, the total production forms the top 5 coal mining group companies has not reach 75% of national production, thus, according to the Law no. 5 Year 1999 article 4 paragraph 2, the company's expansion does not implicate on the monopoly and unfair business competition.
References
Peraturan Perundang Undangan:
Undang-Undang Nomor 40 Tahun 2007 tentang Perseroan Terbatas, Lembaran Negara Tahun 2007 Nomor 106, Tambahan Lembaran Negara Nomor 4756.
Undang-Undang Nomor 23 Tahun 2014 tentang Pemerintah Daerah, Lembaran Negara Tahun 2014 Nomor 244, Tambahan Lembaran Negara Nomor 5587.
Peraturan Pemerintah Nomor 23 Tahun 2010 tentang Pelaksanaan Kegiatan Usaha Pertambangan Mineral dan Batubara.
Peraturan Pemerintah Pengganti Undang-Undang (Perppu) Nomor 2 Tahun 2014.
Peraturan Menteri Negara Agraria/Kepala BPN Nomor 2 Tahun 1999 tentang Izin Lokasi.
Buku:
Irwandy, Arif, 2014, Batubara Indonesia, Jakarta: Gramedia Pustaka Utama.
D. Bailey, Kanneth, 1982, Methods of Social Research, New York: A Division of Macmillan Publishing Co. Inc.
Kansil dan Cristine, 1995, Hukum Perusahaan Indonesia, Jakarta: Pradnya Paramita, Jakarta.
Murjianto R., 2002, Pengantar Hukum Dagang: Aspek-aspek Hukum Perusahaan dan Larangan Praktek Monopoli, Yogyakarta: Liberty.
Neuman, W. Lawrence, 2003, Social Research Methods (Qualitative and Quantitative Approaches), Ed. 5th. Boston: Allyn and Bacon.
Pusat Sumber Daya Mineral Batubara dan Panas Bumi, Executive Summary Pemutakhiran Data dan Neraca Sumber Daya Energi Tahun 2015.
Riyanto, Bambang, 1999, Dasar-dasar Pembelanjaan Perusahaan, Edisi Keempat. Yogyakarta: BPFE.
Simanjuntak, Emmy Pangaribuan, 2008, Hukum Perusahaan Kelompok dan Globalisasi Usaha (Concern), Bahan Ajar Mata Kuliah Hukum Dagang Internasional, Yogyakarta: Universitas Gadjah Mada.
Soekanto, Soerjono dan Sri Mamudji, 1985, Penelitian Hukum Normatif Suatu Tinjauan Singkat, Jakarta: Rajawali Pers.
Sulistiowati, 2010, Aspek Hukum dan Realitas Bisnis Perusahaan Group di Indonesia, Jakarta: Erlangga.
_______, 2011, "Limited Liability dalam Limited Liability pada Konstruksi Perusahaan Kelompok Piramida", Mimbar Hukum, Volume 23, Universitas Gadjah Mada.
Website:
National Institute of Statistics and Economic Studies, Group of companies, diakses dari: http://www.insee.fr/en/methodes/default.asp?page=definitions/group -societes-entreprises.htm pada tanggal 2 Juli 2017.
The South African Institute of Chartered Accountants (SAICA), The Definition of a Group of Companies as per The New Companies Act has Changed, diakses dari: https://www.saica.co.za/tabid/1444/itemid/1784/The-definition-of-a- group -of-companies-as- per-the.aspx. pada tanggal 1 Juli 2017.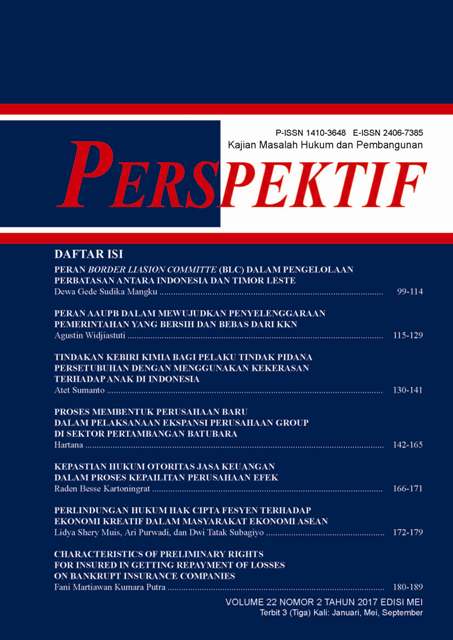 Downloads
License
Authors who publish with this journal agree to the following terms:
Authors retain copyright and grant the journal right of first publication with the work simultaneously licensed under a Attribution-ShareAlike 4.0 International (CC BY-SA 4.0) License that allows others to share the work with an acknowledgement of the work's authorship and initial publication in this journal.
Authors are able to enter into separate, additional contractual arrangements for the non-exclusive distribution of the journal's published version of the work (e.g., post it to an institutional repository or publish it in a book), with an acknowledgement of its initial publication in this journal.
Authors are permitted and encouraged to post their work online (e.g., in institutional repositories or on their website) prior to and during the submission process, as it can lead to productive exchanges, as well as earlier and greater citation of published work (See The Effect of Open Access).
The Authors submitting a manuscript do so on the understanding that if accepted for publication, copyright of the article shall be assigned to jurnal PERSPEKTIF and Research Institutions and Community Service, Wijaya Kusuma Surabaya University as publisher of the journal.