REORIENTASI PENGUATAN KEKUASAAN KEHAKIMAN MELALUI INDEPENDENSI
Keywords:
Reorientasi, Kekuasaan Kehakiman, Independensi, Komisi Yudisial, judicial authorities, Independence, Judicial Commission
Abstract
Reorientasi penguatan kekuasaan kehakiman melalui independensi komisi yudisial mengurai dan menjelaskan persoalan penguatan fungsi pengawasan kepada aktor utama penegakan wibawa hukum dan keadilan. Komisi Yudisial yang lahir melalui amandemen UUD 1945 adalah lembaga negara yang independen, memiliki fungsi dan wewenang pengawasan terhadap hakim. Komisi Yudisial secara kelembagaan memang independen, tetapi fungsi wewenang dan tugas pokoknya lebih pada persoalan wilayah penjagaan citra kehormatan dan perilaku hakim, yang justru persoalan inti dari pengawasan yang secara filsofis paradigmatis perlu selalu diupayakan oleh seluruh lembaga pelaku dalam penegakan hukum bahkan oleh setiap pejabat, lembaga negara juga masyarakat. Komisi yudisial dibentuk sebagai diskursus dari pemikiran fungsi pengawasan yang sebenarnya bagian dari kewenangan di Mahkamah Agung untuk melakukannya. Persoalan pengawasan intern terhadap hakim yang dulu dilakukan oleh eksekutif/pemerintah (melalui departemen kehakiman) adalah merupakan pemotongan wewenang kekuasaan yudisial oleh pemerintah orde baru. Kemudia melalui UU MA segala fungsi dan Wewenang yang memberikan jaminan independensi MA dikembalikan, akan tetapi fungsi pengawasan ini sudah lemah sejak masih ketika berada di tangan eksekutif.
Reorientation of strengthening the independence of judicial power through the judicial commission to parse and explain issues to the strengthening of the oversight function main actors of law and justice enforcement authority. Judicial Commission that was born through the 1945 amendment is an independent state institution, has the function of supervision and authority of the judge. Institutionally Judicial Commission is independent but functions substantially more authority and duty to question the image of the honor guard and the behavior of judges, just the core issues of oversight that philosophically paradigmatic should always try by all actors in the law enforcement agencies and even by any officials, state agencies community as well. Judicial Commission of mind discourse dibentuksebagai actual function of this part of the supervisory authority in the Supreme Court to do so. Internal control issues to the judge who once performed by the executive / government (through the Justice Department) is the authorized withholding judicial power by the government of the new order. Then through the Supreme Court Act all the functions and authority that guarantees MA indepensi restored, but the oversight function has been weakened since died while in the hands of the executive.
References
A Ahsin Thohari, (2004). Komisi Yudisial dan Reformasi Peradilan, ELSAM, Jakarta.
Bagir Manan dan Kuntana Magnar (1997), Beberapa Masalah Hukum Tata Negara, Alumni, Bandung.
Balai Pustaka-Depdiknas, (2007). Kamus Besar Bahasa Indonesia, Edisi Ketiga-Cet-IV, Jakarta.
Ibrahimsyah Amirudin, (2008). Kedudukan KPU dalam Struktur Ketatanegaraan Republik Indonesia Pasca Amandemen UUD 1945, Laksbang Mediatama, Palangkaraya.
Jimly Asshidiqie, (2007). Pokok-Pokok Hukum Tata Negara Indonesia Pasca Reformasi, Bhuana Ilmu Populer, Jakarta.
Sirajudin-Zulkarnain-Sugianto, (2007). Komisi Pengawas Penegak Hukum - Mampukah Membawa Perubahan, MCW-YAPPIKA, Malang.
Sjachran Basah, (1999). Perlindungan Sikap Tindak Administrasi Negara, Alumni, Bandung.
Undang-Undang Dasar Negara Republik Indonesia Tahun 1945.
Undang-Undang Republik Indonesia No. 22 Tahun 2004 tentang Komisi Yudisial.
Undang-Undang Republik Indonesia No. 14 Tahun 1985 tentang Mahkamah Agung.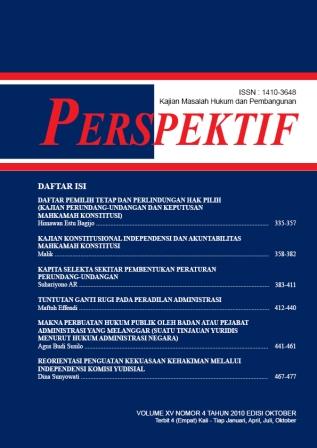 Downloads
License
Authors who publish with this journal agree to the following terms:
Authors retain copyright and grant the journal right of first publication with the work simultaneously licensed under a Attribution-ShareAlike 4.0 International (CC BY-SA 4.0) License that allows others to share the work with an acknowledgement of the work's authorship and initial publication in this journal.
Authors are able to enter into separate, additional contractual arrangements for the non-exclusive distribution of the journal's published version of the work (e.g., post it to an institutional repository or publish it in a book), with an acknowledgement of its initial publication in this journal.
Authors are permitted and encouraged to post their work online (e.g., in institutional repositories or on their website) prior to and during the submission process, as it can lead to productive exchanges, as well as earlier and greater citation of published work (See The Effect of Open Access).
The Authors submitting a manuscript do so on the understanding that if accepted for publication, copyright of the article shall be assigned to jurnal PERSPEKTIF and Research Institutions and Community Service, Wijaya Kusuma Surabaya University as publisher of the journal.