KEMAJEMUKAN DALAM POLITIK ETNIS MASYARAKAT URBAN (Studi Pada Masyarakat Multi Etnik dan Agama di Kota Metro)
Keywords:
pluralisme, etnik politik, masyarakat perkotaan, Pluralism, Ethnic Politics, Urban Society
Abstract
Dapat dikatakan bahwa politik adalah upaya untuk menentukan aturan yang dapat diterima oleh beberapa warga negara untuk membawa orang ke dalam kehidupan yang harmonis. Dalam menyusun penelitian ini, penulis menggunakan jenis penelitian lapangan. Karakteristik masyarakat sosial-politik para pendatang di Kota Metro masih cenderung membuat kelompok-kelompok berdasarkan ikatan emosional, ini terjadi karena kesamaan yang mereka miliki, tetapi proses pembauran dengan interaksi lingkungan sosial berjalan dengan baik. Tetapi kesadaran akan jumlah mereka masih belum bisa bersaing dalam perebutan kursi di parlemen. Di Kota Metro di mana pluralisme etnis tinggi, posisi kekuatan politik sentral masih dipegang oleh masyarakat adat. Kehadiran mereka dalam politik telah menunjukkan upaya untuk dapat bersaing dan dengan masyarakat adat memajukan Kota Metro dalam berbagai aspek kehidupan.
It can be said that politics is an attempt to determine the rules that can be accepted by some citizens to bring people into a harmonious life. In preparing this research, the authors use the type of field research. Characteristics of sociopolitical societies of immigrants in Metro City still tend to make groups based on these emotional bonds occur because of the similarity they have, but the process of intermingling with the interaction of the social environment goes well. But the awareness of the amount of quantity they still cannot compete in the seizure of seats in parliament. In Metro City where ethnic pluralism is high, the position of central political power is still held by indigenous people. Their presence in politics has demonstrated an effort to be able to compete and with indigenous peoples advancing the Metro City in various aspects of life.
References
Buku:
Ali Imron. (2005). Pola Perkawinan Saibatin. Bandar Lampung: Universitas Lampung.
Alo Liliweri. (2005). Prasangka dan Konflik. Yogyakarta: LKiS.
Amin Abdullah. (2005). Pendidikan Multikultural. Yogyakarta: Pilar Media.
B. Ahmad Soebani. (2009). Metode Penelitian Hukum. Bandung: Pustaka Setia.
Depdikbud. (1981/1982). Upacara Tradisional Daerah Lampung, Proyek Inventarisasi dan Dokumentasi Daerah Lampung. Bandar Lampung: Kanwil Propinsi Lampung.
Efriza. (2012). Political Explore: Sebuah Kajian Ilmu Politik. Bandung: Alfabeta.
Hilman Hadikusuma. (1989). Masyarakat dan Adat Budaya Lampung. Bandung: Mandar Maju.
Irawan Soehartono. (1999). Metode Penelitian Sosial Suatu Teknik Penelitian Bidang Kesejahteraan Sosial Lainnya. Bandung: Remaja Rosda Karya.
James D. Fearon. (2004). Ethnic Mobilization and Ethnic Violence. Departement of Political Science Stanford University.
Jean Kristiadi. (2006). Pemilihan Umum dan Perilaku Pemilih di Indonesia. Jakarta: Prisma.
Leo Suryadinata. (2005). Pemikiran Politik Etnis Tionghoa Indonesia. Jakarta: LP3ES.
Lexy Moleong. (2000). Metodologi Penelitian Kualitatif. Bandung: Remaja Rosda Karya.
Muhammad Asfar. (2006). Pemilu dan Perilaku Memilih 1955-2004. Surabaya: Pustaka Eureka.
Noeng Muhajir. (1989). Metode Penelitian Kuantitatif. Jakarta: Rake Sarasin.
Oka Mahendra. (2005). Pilkada di Tengah Konflik Horizontal. Jakarta: Millenium Publisher, h. 41.
Rusmin Tumanggor dkk. (2010). Ilmu Sosial dan Budaya Dasar. Jakarta: Kencana.
Samuel P. Hutington dkk. (2010). Partisipasi Politik di Negara Berkembang. Jakarta: Rineka.
Jurnal:
Parsudi Suparlan. (1985). "Kebudayaan dan Pembangunan". Media IKA. Vol. 14 No. 11. Jurusan Antropologi Universitas Indonesia.
Makalah dan Wawancara:
Parsudi Suparlan. "Masyarakat Majemuk, Masyarakat Multikultural dan Minorotas". Makalah. Dalam Workshop Yayasan Interseksi "Hak-hak Minoritas dalam Landscape Multikultural" pada tanggal 5 Desember 2016.
Wawancara dengan Bapak Basuki salah satu caleg terpilih dari wilayah Iringmulyo Metro Timur pada 2 Juni 2017.
Wawancara dengan Bapak Lilik selaku tokoh masyarakat di Iring Mulyo Metro Timur pada 1 Juni 2017.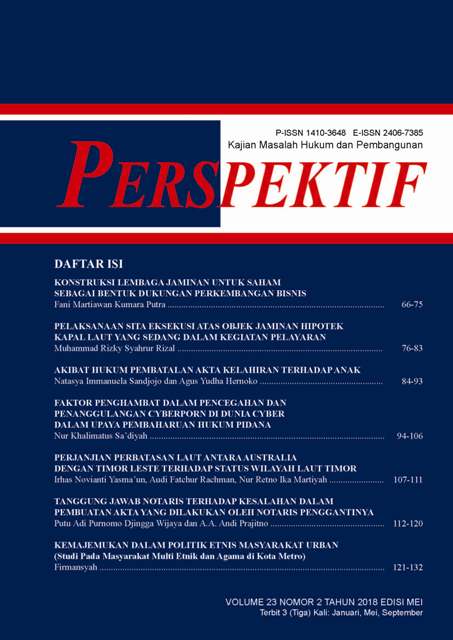 Downloads
License
Authors who publish with this journal agree to the following terms:
Authors retain copyright and grant the journal right of first publication with the work simultaneously licensed under a Attribution-ShareAlike 4.0 International (CC BY-SA 4.0) License that allows others to share the work with an acknowledgement of the work's authorship and initial publication in this journal.
Authors are able to enter into separate, additional contractual arrangements for the non-exclusive distribution of the journal's published version of the work (e.g., post it to an institutional repository or publish it in a book), with an acknowledgement of its initial publication in this journal.
Authors are permitted and encouraged to post their work online (e.g., in institutional repositories or on their website) prior to and during the submission process, as it can lead to productive exchanges, as well as earlier and greater citation of published work (See The Effect of Open Access).
The Authors submitting a manuscript do so on the understanding that if accepted for publication, copyright of the article shall be assigned to jurnal PERSPEKTIF and Research Institutions and Community Service, Wijaya Kusuma Surabaya University as publisher of the journal.