PERLINDUNGAN HUKUM TERHADAP ANAK YANG TERLANTAR PADA YAYASAN PANTI ASUHAN
Keywords:
anak terlantar, yayasan, panti asuhan, perlindungan hukum, abandoned child, foundation, orphanage, legal protection
Abstract
Masalah penelantaran yang dialami oleh bayi dan anak-anak semakin meningkat. Persoalan anak terlantar bukan semata tanggung jawab pemerintah, tetapi masyarakat, baik secara individu maupun kelompok memiliki kewajiban moral untuk peduli dan berperan serta dalam mengentaskan anak-anak terlantar sesuai dengan kemampuan masing-masing. Oleh sebab itu, didirikan suatu wadah untuk menampung, mendidik dan memelihara anak-anak tersebut yang disebut dengan panti asuhan. Merujuk pada putusan Pengadilan Negeri Pekanbaru Nomor 333/Pid.Sus/2017/PN.Pbr, Yayasan Panti Asuhan Tunas Bangsa diketahui bahwa Panti Asuhan Tunas Bangsa tidak menjalankan yayasan sesuai Standar Operasional Prosedur yang berlaku. Dinas Sosial selaku instansi yang menaungi Yayasan Panti Asuhan Tunas Bangsa belum pernah mengeluarkan izin baru untuk Panti Asuhan Tunas Bangsa, tetapi izin yang dikeluarkan hanya sebatas izin perpanjangan saja. Selain itu, panti asuhan tersebut belum melakukan penyesuaian anggaran dasar sehingga hanya menggunakan izin yang telah kadaluarsa untuk melakukan kegiatannya. Sehingga anak-anak yang terdapat di panti asuhan tersebut tidak dapat menggunakan fasilitas tersebut dan membutuhkan kepastian hukum untuk dapat menjamin masa depan anak yang terlantar tersebut. Hasil yang didapatkan dari penulisan ini adalah status hukum yayasan panti asuhan yang tidak memiliki anggaran dasar dan izin yang sudah kadaluarsa sudah tidak dapat lagi diteruskan sebagai badan hukum, sehingga secara hukum, yayasan panti asuhan Tunas Bangsa tidak dapat menggunakan kata "yayasan". Sehingga anak-anak yang ada dalam panti asuhan tersebut harus dikembalikan kepada Negara.
The neglect problems experienced by infants and children are increasing. The problem of neglected children is not merely the responsibility of the government, but the community, both individually and in groups, has a moral obligation to care and participate in alleviating neglected children according to their respective abilities. Therefore, a forum was established to accommodate, educate and care for these children, called orphanages. Referring to the decision of the Pekanbaru District Court Number 333 / Pid.Sus / 2017 / PN.Pbr, the Yayasan Tunas Bangsa Orphanage found that the Tunas Bangsa Orphanage did not run the foundation in accordance with the applicable Standard Operating Procedure. The Office of Social Affairs as the agency that houses the Tunas Bangsa Orphanage Foundation has never issued a new permit for the Tunas Bangsa Orphanage, but the permit issued is only limited to an extension permit. In addition, the orphanage has not made adjustments to the articles of association so that it only uses permits that have expired to carry out its activities. So that the children in the orphanage cannot use the facility and need legal certainty to be able to guarantee the future of the displaced child. The results obtained from this paper are the legal status of an orphanage foundation that does not have a constitution and permits that have expired cannot be continued as legal entities, so that legally, Tunas Bangsa orphanage foundations cannot use the word "Yayasan". So that the children in the orphanage must be returned to the State.
References
Peraturan Perundang-undangan:
Undang-Undang Dasar Negara Republik Indonesia Tahun 1945.
Burgelijk Wetboek.
Undang-Undang Republik Indonesia Nomor 16 Tahun 2001 tentang Yayasan.
Undang-Undang Republik Indonesia Nomor 23 Tahun 2002 tentang Perlindungan Anak.
Undang-Undang Republik Indonesia Nomor 28 Tahun 2004 tentang Perubahan Atas Undang-Undang Republik Indonesia Nomor 16 Tahun 2001 tentang Yayasan.
Undang-Undang Republik Indonesia Nomor 35 Tahun 2014 tentang Perubahan Atas Undang-Undang Nomor 23 Tahun 2002 tentang Perlindungan Anak.
Buku:
Abdul Rachmad Budiono. (2008). Hukum Pekerja Anak. Malang: UM Press.
Bima Siregar. (1986). Keadilah Hukum dalam Berbagai Aspek Hukum Nasional. Jakarta: Rajawali.
http://www.am-um.org/pengertian-panti-asuhan-dan-yatim-piatu/, diakses pada tanggal 03 April 2018 jam 06:15 WIB.
Maidin Gultom. (2010). Perlindungan Hukum Terhadap Anak. Cetakan Kedua. Bandung: Refika Aditama.
Peraturan Menteri Pemberdayaan Perempuan dan Perlindungan Anak RI Nomor 15 Tahun 2010. Pedoman Umum Penanganan Anak Yang Berhadapan Dengan Hukum. Jakarta: Kementerian Pemberdayaan Perempuan dan Perlindungan Anak RI.
Subekti dan Tjitrisudibio. (2002). Kitab Undang-Undang Hukum Perdata. Jakarta: Pradnya Paramita.
Website:
Fani Martiawan Kumara Putra. (2015). "Paksaan Ekonomi dan Penyalahgunaan Keadaan Sebagai Bentuk Cacat Kehendak Dalam Perkembangan Hukum Kontrak". Jurnal Yuridika. Fakultas Hukum Universitas Airlangga Surabaya. 30(2), h. 195-221.
Website:
Muliyawan. www.pn-palopo.go.id/paradigma baru hukum perlindungan anak pasca perubahan undang-undang perlindungan anak. 22 Januari 2015.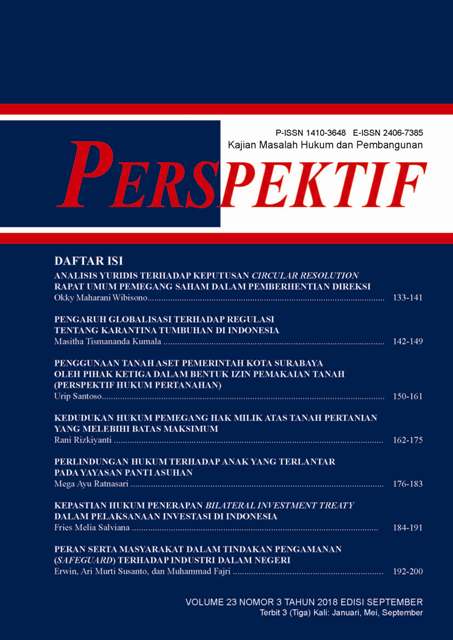 Downloads
License
Authors who publish with this journal agree to the following terms:
Authors retain copyright and grant the journal right of first publication with the work simultaneously licensed under a Attribution-ShareAlike 4.0 International (CC BY-SA 4.0) License that allows others to share the work with an acknowledgement of the work's authorship and initial publication in this journal.
Authors are able to enter into separate, additional contractual arrangements for the non-exclusive distribution of the journal's published version of the work (e.g., post it to an institutional repository or publish it in a book), with an acknowledgement of its initial publication in this journal.
Authors are permitted and encouraged to post their work online (e.g., in institutional repositories or on their website) prior to and during the submission process, as it can lead to productive exchanges, as well as earlier and greater citation of published work (See The Effect of Open Access).
The Authors submitting a manuscript do so on the understanding that if accepted for publication, copyright of the article shall be assigned to jurnal PERSPEKTIF and Research Institutions and Community Service, Wijaya Kusuma Surabaya University as publisher of the journal.