PERJANJIAN PERBATASAN LAUT ANTARA AUSTRALIA DENGAN TIMOR LESTE TERHADAP STATUS WILAYAH LAUT TIMOR
Keywords:
UNCLOS 1982, Perjanjian, Teritorial, Agreements, Territory
Abstract
Negara Indonesia selaku negara pantai diwajibkan meletakkan batas teritorial laut yang sesuai dengan UNCLOS 1982 demi menjamin kepastian wilayah laut, darat, dan udara. Australia dan Indonesia mengadakan perjanjian mengenai batas wilayah laut. Pada tahun 2002 Timor Leste merdeka menjadi negara baru. Timor Leste tak punya batas laut permanen sementara Indonesia dan Australia berbagi kekayaan alam di Celah Timor. Pada tahun 2004 Timor Leste memulai kembali negoisasi dengan Australia. Pemerintah Indonesia menyatakan belum bisa mengambil sikap atas kesepakatan perbatasan maritim antara Timor Leste dengan Australia. Australia dan Timor Leste merupakan dua negara yang secara geografis berdekatan dengan Indonesia. Untuk itu, perlu adanya regulasi yang jelas agar status wilayah laut masing-masing negara dapat dipertanggungjawabkan. Kesepakatan perbatasan maritim antara Australia dan Timor Leste akan berimplikasi bagi wilayah laut Indonesia. Implikasi kesepakatan itu dapat memicu sengketa baru antara Indonesia dan Australia. Untuk mengetahui dampak perjanjian tersebut diperlukan analisa sesuai UNCLOS 1982 dan Hukum Internasional. Penelitian ini merupakan penelitian normatif.
Indonesia as a coastal state is obliged to place a territorial sea boundary in accordance with UNCLOS 1982 in order to guarantee the certainty of sea, land and air. Australia and Indonesia have agreements on maritime boundaries. In 2002 East Timor became an independent state. Timor Leste has no permanent sea boundary while Indonesia and Australia share natural resources in the Timor Gap. In 2004 Timor Leste restarted negotiations with Australia. The Indonesian government says it has not been able to take a stand on the maritime boundary agreement between Timor Leste and Australia. Australia and Timor Leste are two countries geographically adjacent to Indonesia. Therefore, there needs to be a clear regulation so that the status of marine areas of each country can be accounted for. The maritime border agreement between Australia and Timor Leste will have implications for Indonesia's marine territory. The implications of the agreement could trigger a new dispute between Indonesia and Australia. To find out the impact of the agreement requires analysis according to UNCLOS 1982 and international. This is a normative research.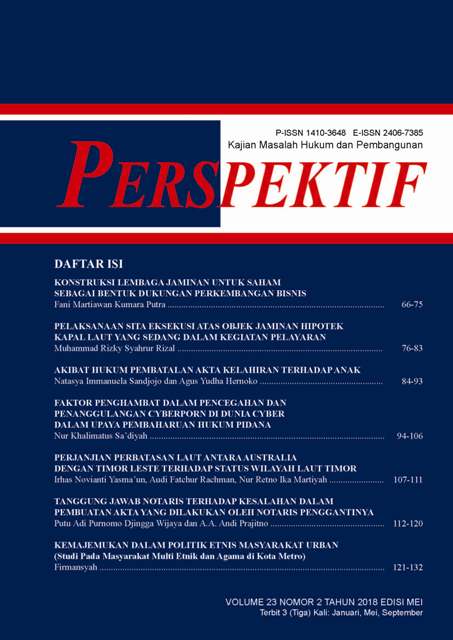 Downloads
License
Authors who publish with this journal agree to the following terms:
Authors retain copyright and grant the journal right of first publication with the work simultaneously licensed under a Attribution-ShareAlike 4.0 International (CC BY-SA 4.0) License that allows others to share the work with an acknowledgement of the work's authorship and initial publication in this journal.
Authors are able to enter into separate, additional contractual arrangements for the non-exclusive distribution of the journal's published version of the work (e.g., post it to an institutional repository or publish it in a book), with an acknowledgement of its initial publication in this journal.
Authors are permitted and encouraged to post their work online (e.g., in institutional repositories or on their website) prior to and during the submission process, as it can lead to productive exchanges, as well as earlier and greater citation of published work (See The Effect of Open Access).
The Authors submitting a manuscript do so on the understanding that if accepted for publication, copyright of the article shall be assigned to jurnal PERSPEKTIF and Research Institutions and Community Service, Wijaya Kusuma Surabaya University as publisher of the journal.