DEREGULASI DAN DEBIROKRATISASI PENYELENGGARAAN PELAYANAN PERIJINAN
Keywords:
Deregulasi, Debirokratisasi, Pelayanan Perizinan, deregulation, debureaucracyzation, licensing service
Abstract
Desentralisasi pelayanan publik untuk mewakili upaya pemerintah setempat untuk membuat debirokratisasi. Melalui konsep menemukan kembali pemerintah yang dapat digunakan untuk reformasi birokrasi dalam pengelolaan pelayanan publik. Debirokratisasi publik dan deregulasi bahwa spesifikasi manajemen orientasi umum pelayanan publik dan juga panduan untuk menilai kinerja pelayanan publik. Deregulasi pelayanan perizinan dengan mengorganisir layanan perijinan terpadu di pemerintah daerah.
Decentralize the public service to local government represent the effort to do the debureaucracyzation. Through concept of Reinventing Government can be used for the reform of bureaucracy in public service management. Debureaucracyzation and deregulation public service as specifying of common guidance of public service management and also guidance of public service performance assessment. Deregulation to management of licensing service as arranging of inwrought licensing service in local government. 
References
Fanani, (2010) Ahmad Zaenal Optimalisasi Pelayanan Publik: Perspektif David Osborne dan Ted Gaebler, didownload dari http:// www.badilag.net/data/ARTIKEL.
JPIP (The Jawa Pos Institute of Pro-Otonomi), (2007). Paparan Hasil Monitoring Otonomi Daerah di Jatim, Memutus Rantai Panjang Layanan Publik.
Osborne, David dan Ted Gaebler, (1996), Mewirausahakan Birokrasi, terjemahan Abdul Rasyid, Pustaka Binaman Pressindo, Jakarta.
Undang-Undang Nomor 25 Tahun 2009 tentang Pelayanan Publik.
Peraturan Pemerintah Nomor 41 Tahun 2007 tentang Organisasi Perangkat Daerah.
Keputusan Menpan Nomor: 63/KEP/ M.PAN/7/2003 tentang Pedoman Umum Penyelenggaraan Pelayanan Publik.
Peraturan Menteri Dalam Negeri (Permendagri) Nomor 24 Tahun 2006 tentang Pedoman Pe-nyelenggaraan Pelayanan Terpadu Satu Pintu (PPTSP).
Permendagri Nomor 20 Tahun 2008 tentang Pedoman Organisasi Dan Tatakerja Unit Pelayanan Perijinan Terpadu Di Daerah.
Peraturan Menteri Negara Pendayagunaan Aparatur Negara dan Reformasi Birokrasi Nomor 7 Tahun 2010 tentang Pedoman Penilaian Kinerja Unit Pelayanan Publik.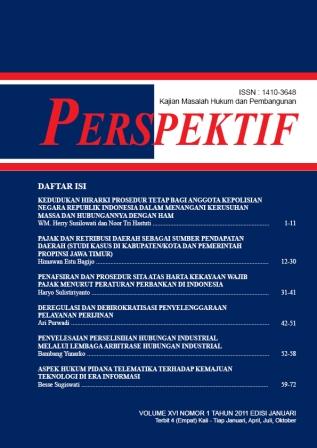 Downloads
License
Authors who publish with this journal agree to the following terms:
Authors retain copyright and grant the journal right of first publication with the work simultaneously licensed under a Attribution-ShareAlike 4.0 International (CC BY-SA 4.0) License that allows others to share the work with an acknowledgement of the work's authorship and initial publication in this journal.
Authors are able to enter into separate, additional contractual arrangements for the non-exclusive distribution of the journal's published version of the work (e.g., post it to an institutional repository or publish it in a book), with an acknowledgement of its initial publication in this journal.
Authors are permitted and encouraged to post their work online (e.g., in institutional repositories or on their website) prior to and during the submission process, as it can lead to productive exchanges, as well as earlier and greater citation of published work (See The Effect of Open Access).
The Authors submitting a manuscript do so on the understanding that if accepted for publication, copyright of the article shall be assigned to jurnal PERSPEKTIF and Research Institutions and Community Service, Wijaya Kusuma Surabaya University as publisher of the journal.