TANGGUNG JAWAB NOTARIS TERHADAP KESALAHAN DALAM PEMBUATAN AKTA YANG DILAKUKAN OLEH NOTARIS PENGGANTINYA
Keywords:
Tanggung Jawab Notaris, Notaris Pengganti, Responsibility of The Notary, Substitute Notary
Abstract
Suatu kenyataan bahwa notaris maupun notaris pengganti adalah pejabat umum, yang diberikan kewenangan oleh Undang-Undang untuk membuat akta otentik, sejauh pembuatan akta tersebut tidak dikhususkan bagi pejabat umum lainnya. Dengan adanya persamaan kedudukan hukum antara notaris dengan notaris pengganti tersebut, maka tidak ada keragu-raguan lagi bahwa akta-akta yang dibuat oleh notaris pengganti mempunyai kekuatan hukum yang sama dengan akta-akta notaris, artinya bahwa akta-akta yang dibuat oleh atau dihadapan notaris pengganti bersifat otentik dan mempunyai kekuatan pembuktian yang sempurna sebagaimana dimaksud dalam Pasal 1870 KUHPerdata. Permasalahan timbul saat akta yang dibuat oleh Notaris tersebut terdapat kesalahan. Penelitian ini merupakan penelitian dengan metode normatif. Hasil yang didapatkan adalah Notaris maupun notaris pengganti dapat dituntut ganti rugi bilamana mempunyai kesalahan substantif dalam akta yang dibuatnya, yang tidak sesuai dengan kehendak para pihak akta tersebut merupakan tanggung jawab dari masing-masing pejabatnya. Notaris yang digantikan tidak bertanggung jawab atas kesalahan notaris penggantinya, karena notaris maupun notaris pengganti masing-masing mempunyai hak dan kewajiban masing-masing dalam jabatannya, dan telah disumpah secara pribadi.
A fact that a notary or a notary substitute is a public official, who is given the authority by law to make an authentic deed, insofar as the deed is not specified for other public officials. With the existence of legal equality between the notary and the substitute notary, there is no doubt that the deeds made by the substitute notary have the same legal force as the notary deeds, meaning that the deeds made by or before the notary substitutes are authentic and have perfect proof power as referred to in Article 1870 of the Civil Code. Problems arise when the deed made by the Notary has an error. This research is a research with normative methods. The results obtained are a Notary or a substitute notary can be sued for compensation when having a substantive error in the deed made, which is not in accordance with the wishes of the parties the deed is the responsibility of each of its officials. The notary who is replaced is not responsible for the error of the successor notary, because the notary and notary substitute each have their respective rights and obligations in their positions, and have been sworn in person.
References
Peraturan Perundang-undangan:
Undang-Undang Nomor 2 Tahun 2017 tentang Jabatan Notaris.
Kitab Undang-Undang Hukum Perdata.
HIR/Rbg.
Buku:
A.A. Andi Prajitno. (2015). Pengetahuan Praktis Tentang Apa dan Siapa Notaris di Indonesia? Sesuai UUJN Nomor 2 Tahun 2014. Surabaya: Perwira Media Nusantara.
Habib Adjie. (2014). Hukum Notaris Indonesia (Tafsir Tematik Terhadap UU No. 30 Tahun 2004 tentang Jabatan Notaris). Bandung: Refika Aditama.
Nico. (2003). Tanggungjawab Notaris Selaku Pejabat Umum. Yogyakarta: CDSBL.
Jurnal/Tesis/Website:
Eka Dwi Lasmiatin. (2018). "Tanggungjawab Notaris Pengganti Dalam Hal Notaris Yang Diganti Meninggal Dunia Sebelum Cuti Berakhir". Tesis. Universitas Islam Indonesia.
Fani Martiawan Kumara Putra. (2012). "Surat Kuasa Memasang Hipotek Dalam Jaminan Kapal Laut". Jurnal Perspektif. 17(2), 98-107.
Henny Saida Flora. (2012). "Tanggung Jawab Notaris Pengganti Dalam Pembuatan Akta". Kanun Jurnal Ilmu Hukum. XIV(57), 179-199.
https://notariscimahi.co.id/notaris/sumpah-janji-jabatan-notaris, diunduh Selasa, 8 Maret2018 Pukul 13:20 WIB.
Keterangan A.A. Andi Prajitno pada hari Senin tanggal 25 Maret 2018.
Siska Natalia. "Hak Ingkar Notaris Pengganti Setelah Berakhir Masa Jabatannya Pada Proses Peradilan Pidana dan Perdata". Jurnal. Universitas Sriwijaya.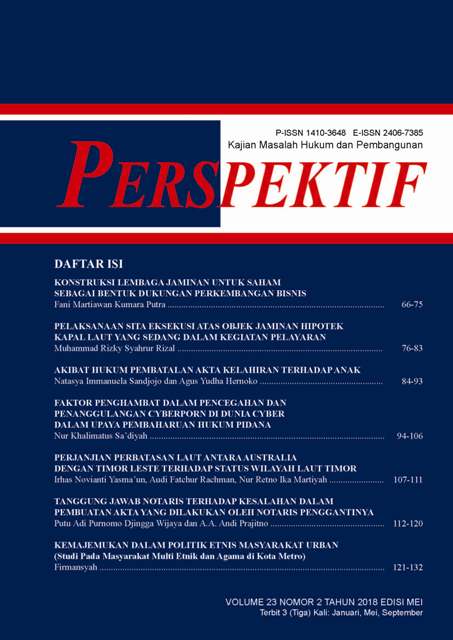 Downloads
License
Authors who publish with this journal agree to the following terms:
Authors retain copyright and grant the journal right of first publication with the work simultaneously licensed under a Attribution-ShareAlike 4.0 International (CC BY-SA 4.0) License that allows others to share the work with an acknowledgement of the work's authorship and initial publication in this journal.
Authors are able to enter into separate, additional contractual arrangements for the non-exclusive distribution of the journal's published version of the work (e.g., post it to an institutional repository or publish it in a book), with an acknowledgement of its initial publication in this journal.
Authors are permitted and encouraged to post their work online (e.g., in institutional repositories or on their website) prior to and during the submission process, as it can lead to productive exchanges, as well as earlier and greater citation of published work (See The Effect of Open Access).
The Authors submitting a manuscript do so on the understanding that if accepted for publication, copyright of the article shall be assigned to jurnal PERSPEKTIF and Research Institutions and Community Service, Wijaya Kusuma Surabaya University as publisher of the journal.