PENDAFTARAN ONLINE JAMINAN FIDUSIA SEBAGAI SUATU FASILITAS KREDIT DENGAN POTENSI LEMAHNYA PERLINDUNGAN KREDITOR
Keywords:
Kreditor, Fidusia, Pendaftaran, Online, Creditor, Fiduciary, Registration
Abstract
Perkembangan Hukum Jaminan, juga membawa perkembangan atas lembaga jaminannya, antara lain lembaga jaminan yang merupakan bentuk perkembangan Hukum Jaminan adalah Fidusia. Fidusia sebagai lembaga jaminan yang cukup diminati, pengaturannya juga dikembangkan demi kemudahan dalam keseluruhan prosesnya, antara lain yaitu dengan diadakannya pendaftaran online untuk lembaga jaminan Fidusia. Pendaftaran online yang tentunya memiliki mekanisme yang berbeda dengan pendaftaran biasa, sudah barang tentu memiliki karakter perlindungan yang berbeda untuk kreditornya. Tentunya saat beranjak dari konsep pendaftaran online, kedudukan kreditor bukannya cenderung membaik, namun berpotensi menjadi rawan. Tujuan dari penelitian ini adalah menemukan cara agar kedudukan baik itu kreditor dan debitor dalam pendaftaran online Fidusia itu tidak menjadi rawan dan sama-sama terlindungi oleh hukum yang baik. tidak Penelitian ini merupakan penelitian normatif. Hasil dari penelitian ini adalah adanya rekomendasi bagi pemerintah, untuk membuat suatu aturan lanjutan terkait pendaftaran jaminan Fidusia yang dilakukan secara online, khususnya mengenai pemenuhan asas spesialitas pada Sertifikat Fidusia.
The development of the Security Law, also brought the development of its security law institution, among others institution which is the form of the development of the Security Law is Fiduciary. Fiduciary as a security institution is quite attractive, the arrangement is also developed for ease in the whole process, such as online registration. Online registration that certainly has a different mechanism with regular registration, it certainly has a different protection character for its creditors. Surely when starting from the concept of online registration, the position of creditors rather than tend to improve, but potentially become prone. The purpose of this study is to find a way for both creditors and debtors who register the Fiduciary online, not to be vulnerable and equally protected by law. This research is a normative study. The result of this research is a recommendation for the government, to make a follow-up regulation related to registration of Fiduciary done online, especially regarding the fulfillment of speciality principle on Fiduciary Certificate.
References
Peraturan Perundang-undangan:
Burgerlijk Wetboek.
Herzien Inlandsch Reglement (HIR).
Undang-Undang Nomor 42 Tahun 1999 tentang Jaminan Fidusia.
Peraturan Presiden Republik Indonesia Nomor 9 Tahun 2009 tentang Lembaga Pembiayaan.
Peraturan Pemerintah Nomor 21 Tahun 2015 tentang Tata Cara Pendaftaran Jaminan Fidusia dan Biaya Pembuatan Akta Jaminan Fidusia.
Keputusan Menteri Keuangan Republik Indonesia Nomor 1251/KMK.013/1988 tentang Ketentuan dan Tata Cara Pelaksanaan Lembaga Pembiayaan.
Surat Edaran Ditjen AHU No. AHU-06.OT.03.01 Tahun 2013 tentang Pemberlakuan Sistem Administrasi Pendaftaran Jaminan Fidusia Secara Elektronik (Online System).
Peraturan Otoritas Jasa Keuangan Nomor 29/POJK.05/2014 tentang Penyelenggaraan Usaha Perusahaan Pembiayaan.
Buku:
Munir Fuady. (2000). Hukum Jaminan Utang. Jakarta: Erlangga.
Rachmadi Usman. (2008). Hukum Jaminan Keperdataan. Jakarta: Sinar Grafika.
Jurnal:
Kashadi. (2016). "Pelaksanaan Pendaftaran Jaminan Fidusia Melalui Online Oleh Kreditor Penerima Fidusia (Studi Kasus di Bank Perkreditan Rakyat Kota Semarang)". Diponegoro Law Journal. Volume 5 Nomor 3 Tahun 2016. Semarang: Universitas Diponegoro.
Nizar Apriansyah. (2018). "Keabsahan Sertifikat Jaminan Fidusia yang Didaftarkan Secara Elektronik". Jurnal Ilmiah Kebijakan Hukum. Volume 12 Nomor 3 November 2018. Jakarta: Badan Penelitian dan Pengembangan Hukum dan HAM, Kementerian Hukum dan HAM RI.
Sundhari. (2018). "Pelaksanaan Pendaftaran Jaminan Fidusia Secara Elektronik (Online)". Jurnal Morality. Volume 4 Nomor 2 Desember 2018. Palangkaraya: Universitas PGRI Palangkaraya.
Website:
https://fidusia.ahu.go.id/ diakses tanggal 7 Januari 2019 pukul 15.43 WIB.
https://ahu.go.id/pencarian/fidusia diakses tanggal 7 Januari 2019 pukul 16.09 WIB.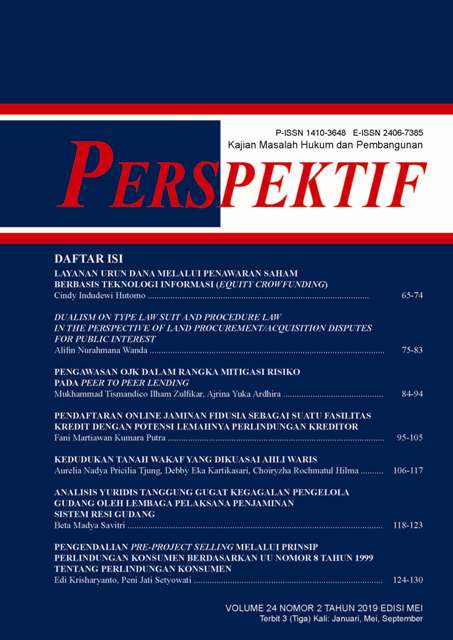 Downloads
License
Authors who publish with this journal agree to the following terms:
Authors retain copyright and grant the journal right of first publication with the work simultaneously licensed under a Attribution-ShareAlike 4.0 International (CC BY-SA 4.0) License that allows others to share the work with an acknowledgement of the work's authorship and initial publication in this journal.
Authors are able to enter into separate, additional contractual arrangements for the non-exclusive distribution of the journal's published version of the work (e.g., post it to an institutional repository or publish it in a book), with an acknowledgement of its initial publication in this journal.
Authors are permitted and encouraged to post their work online (e.g., in institutional repositories or on their website) prior to and during the submission process, as it can lead to productive exchanges, as well as earlier and greater citation of published work (See The Effect of Open Access).
The Authors submitting a manuscript do so on the understanding that if accepted for publication, copyright of the article shall be assigned to jurnal PERSPEKTIF and Research Institutions and Community Service, Wijaya Kusuma Surabaya University as publisher of the journal.