REKONSTRUKSI SURAT KUASA MEMASANG HIPOTEK DENGAN PENCANTUMAN KLAUSULA KEWAJIBAN PENGIKATAN SISTER SHIP MANAKALA JALUR PELAYARAN DOMINAN LINTAS BATAS NEGARA
Keywords:
Hipotek, Eksekusi, Sister Ship, Mortgage, Execution
Abstract
Jaminan Hipotek saat ini dapat dikatakan sebagai lembaga jaminan yang paling dibutuhkan dan diminati oleh masyarakat yang merupakan pelaku usaha di bidang transportasi laut. Kendati demikian aturan mengenai Hipotek ini keberadaannya tersebar dalam beberapa peraturan perundang-undangan. Saat ini Hipotek diatur dalam Undang-Undang Nomor 17 Tahun 2008 Tentang Pelayaran, dan Peraturan Menteri Perhubungan Nomor 39 Tahun 2017 Tentang Pendaftaran dan Kebangsaan Kapal. Mengenai perlindungan hukum bagi pihak kreditor dan debitor, salah satunya adalah dihadirkan lembaga eksekusi manakala pihak debitor sudah dinilai wanprestasi. Pada penelitian dan penulisan yang dilakukan penulis sebelumnya, telah dibahas dan ditemukan bahwa guna mengakomodir kebutuhan aturan hukum akibat tidak diratifikasinya konvensi Arrest of Ships 1999, adalah dengan mencantumkan klausula Sister Ship dalam salah satu dokumen penjaminan Hipotek kapal, dokumen yang yang tepat dalam hal ini adalah SKMH. Kendati demikian walaupun hal ini dipraktekkan, tetap ada hambatannya karena SKMH bukanlah merupakan kewajiban. Hasil yang didapatkan dari penulisan ini adalah perlu adanya campur tangan pemerintah untuk memfasilitasi, baik itu berupa Undang-Undang, Peraturan Pemerintah, ataupun Peraturan Menteri Perhubungan. Isinya adalah kewajiban untuk menggunakan klausula sister ship manakala kapal debitor yang akan dijaminkan itu berlayar melintasi yurisdiksi Indonesia.
The current mortgage guarantee can be said as the most needed and sought-after guarantee institution by the people who are business actors in the field of sea transportation. However, the rules regarding mortgages are spread in several laws and regulations. Currently Mortgages are regulated in Law Number 17 of 2008 concerning Shipping, and Minister of Transportation Regulation Number 39 of 2017 concerning Registration and Nationality of Ships. Regarding legal protection for creditors and debtors, one of them is the execution institution when the debtor has been judged as default. In the previous research and writing by the author, it was discussed and found that in order to accommodate the needs of the rule of law due to the ratification of the 1999 Arrest of Ships convention, is to include the Sister Ship clause in one of the ship's mortgage guarantee documents, the right document in this case SKMH. Nevertheless, even though this is practiced, there are still obstacles because SKMH is not an obligation. The results obtained from this writing are that there is a need for government intervention to facilitate, whether in the form of Laws, Government Regulations, or Minister of Transportation Regulations. Its contents are the obligation to use the sister ship clause when the debtor ship to be pledged sailing across the Indonesian jurisdiction.
References
Peraturan Perundang-undangan:
Undang-Undang Nomor 17 Tahun 2008 Tentang Pelayaran.
International Convention Relating to the Arrest of Seagoing Ships 1952.
Nieuw Burgerlijk Wetboek.
Wetboek van Burgerlijke Rechtsvordering.
International Convention on Maritime Liens and Mortgage 1993.
Arrest of Ships Convention 1999.
Peraturan Pemerintah Nomor 51 Tahun 2002 tentang Perkapalan.
Peraturan Menteri Perhubungan Nomor 39 Tahun 2017 tentang Pendaftaran dan Kebangsaan Kapal.
Buku:
Burgerlijk Wetboek.
Sri Soedewi. (2007). Hukum Jaminan di Indonesia, Pokok-Pokok Hukum Jaminan dan Perorangan. Yogyakarta: Liberty.
Kartini Muljadi dan Gunawan Widjaja. (2005). Hak Istimewa, Gadai dan Hipotek. Jakarta: Kencana.
Gianluca Kreuze, et.al. (2014). Ship Finance in Netherlands. First Edition. Rotterdam: Loyen & Loeff N.V.
Arnold J. van Steenderen. (2015). Getting the Deal Through Shipping 2015 Netherlands. London: Law Business Research.
Moch. Isnaeni. (2016). Pengantar Hukum Jaminan Kebendaan. Surabaya: Revka Petra Media.
Jurnal:
Muhammad Arfin Muhammad Salim. "Authenticating the Tourist Destination on the Official Tourism Website of Indonesia: A Multimodal Perspective". Astra Salvensis. VI 2018, Supplement no. 1 (2018).
Soeling Pantius D. "Enhancing Regional Competitiveness Through Village Owned Enterprise in East Priangan Indonesia". Astra Salvensis. VI 2018, Supplement no. 1 (2018).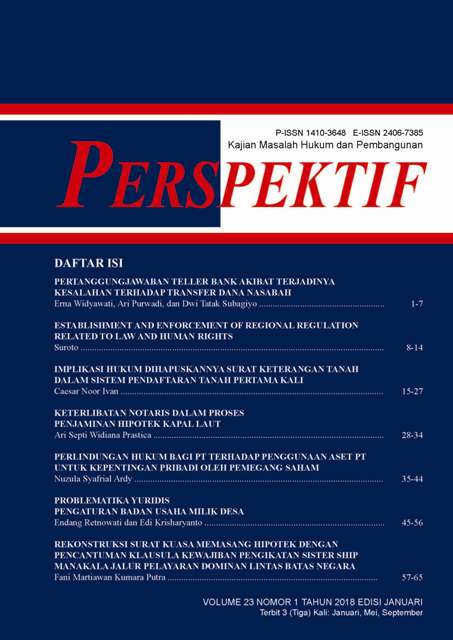 Downloads
License
Authors who publish with this journal agree to the following terms:
Authors retain copyright and grant the journal right of first publication with the work simultaneously licensed under a Attribution-ShareAlike 4.0 International (CC BY-SA 4.0) License that allows others to share the work with an acknowledgement of the work's authorship and initial publication in this journal.
Authors are able to enter into separate, additional contractual arrangements for the non-exclusive distribution of the journal's published version of the work (e.g., post it to an institutional repository or publish it in a book), with an acknowledgement of its initial publication in this journal.
Authors are permitted and encouraged to post their work online (e.g., in institutional repositories or on their website) prior to and during the submission process, as it can lead to productive exchanges, as well as earlier and greater citation of published work (See The Effect of Open Access).
The Authors submitting a manuscript do so on the understanding that if accepted for publication, copyright of the article shall be assigned to jurnal PERSPEKTIF and Research Institutions and Community Service, Wijaya Kusuma Surabaya University as publisher of the journal.