RATIO DECIDENDI MAHKAMAH AGUNG DALAM PUTUSAN NOMOR 50 P/HUM/2018
Keywords:
putusan Mahkamah Agung, pengangkatan notaris, organisasi notaris, supreme court verdict, assignment of notary public, notary public organization
Abstract
Pasca Putusan Mahkamah Agung Nomor 50 P/HUM/2018, Ujian Pengangkatan Notaris dihapus sebagai syarat untuk dapat diangkat menjadi notaris. Pengangkatan dan pemberhentian notaris tidak perlu menjadi kewenangan organisasi notaris sebab pada hakikatnya salah satu karakteristik notaris sebagai pejabat umum adalah diangkat dan diberhentikan oleh pemerintah. Tidak tepat apabila kewenangan tersebut dilimpahkan kepada organisasi notaris yang notabene bukan organ pemerintah karena akan menghilangkan karakteristik yang melekat pada notaris sebagai pejabat umum. Kewenangan untuk mengangkat dan memberhentikan notaris adalah kewenangan Menteri Hukum dan Hak Asasi Manusia, sedangkan organisasi notaris sendiri dibentuk dengan tujuan untuk meningkatkan kualitas profesi notaris melalui kegiatan pendidikan dan pelatihan, pertemuan ilmiah, ceramah, seminar, dan sebagainya.
Post Supreme Court verdict Number 50 P/HUM/2018, Notary Assignment Exam removed as one of the requirements to be assigned a notary. The assignment and dismissal of the notary public does not need to be Notary Public Organization authority for the fact that one of the characteristics of the notary public is assigned and dismissed by the government. Less precise when the authority delegated to the Notary Public Organization which is not an organ of the government because it will eliminate the characteristics inherent in a notary public. The authority to assign and dismiss notary public is in the hands of the Minister of Laws and Human Rights. While the presence of Notary Public Organization in general only aims to improve the quality of the profession of notary public through educational activities and training, scientific meetings, lectures, seminars, and so on.
References
Peraturan Perundangan-undangan:
Undang-Undang Republik Indonesia Nomor 30 Tahun 2004 tentang Jabatan Notaris.
Undang-Undang Republik Indonesia Nomor 2 Tahun 2014 tentang Perubahan Atas Undang-Undang Republik Indonesia Nomor 30 Tahun 2004 tentang Jabatan Notaris.
Peraturan Menteri Hukum dan Hak Asasi Manusia Republik Indonesia Nomor 62 Tahun 2016 tentang Perubahan Atas Peraturan Menteri Hukum dan Hak Asasi Manusia Republik Indonesia Nomor 25 Tahun 2014 tentang Syarat dan Tata Cara Pengangkatan, Perpindahan, Pemberhentian dan Perpanjangan Masa Jabatan Notaris.
Buku:
A.A. Andi Prajitno. (2015). Pengetahuan Praktis tentang Apa dan Siapa Notaris di Indonesia. Surabaya: Perwira Media Nusantara.
G.H.S. Lumban Tobing. (1982). Peraturan Jabatan Notaris. Jakarta: Erlangga.
Habib Adjie. (2009). Hukum Notaris Indonesia (Tafsir Tematik Terhadap UU No. 30 Tahun 2004 tentang Jabatan Notaris). Bandung: Refika Aditama.
Peter Mahmud Marzuki. (2011). Penelitian Hukum. Jakarta: Kencana.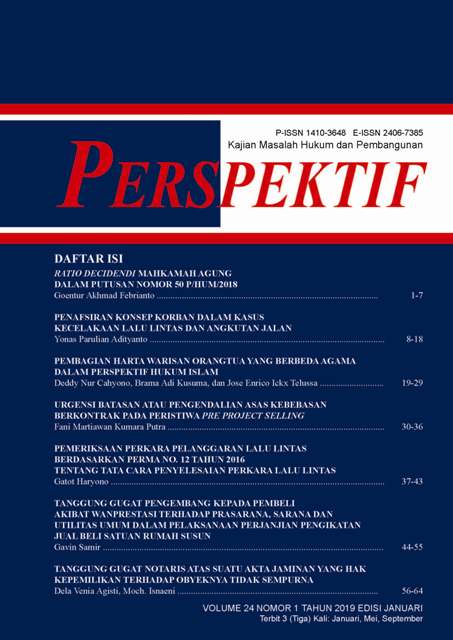 Downloads
License
Authors who publish with this journal agree to the following terms:
Authors retain copyright and grant the journal right of first publication with the work simultaneously licensed under a Attribution-ShareAlike 4.0 International (CC BY-SA 4.0) License that allows others to share the work with an acknowledgement of the work's authorship and initial publication in this journal.
Authors are able to enter into separate, additional contractual arrangements for the non-exclusive distribution of the journal's published version of the work (e.g., post it to an institutional repository or publish it in a book), with an acknowledgement of its initial publication in this journal.
Authors are permitted and encouraged to post their work online (e.g., in institutional repositories or on their website) prior to and during the submission process, as it can lead to productive exchanges, as well as earlier and greater citation of published work (See The Effect of Open Access).
The Authors submitting a manuscript do so on the understanding that if accepted for publication, copyright of the article shall be assigned to jurnal PERSPEKTIF and Research Institutions and Community Service, Wijaya Kusuma Surabaya University as publisher of the journal.