ABORSI BAGI KORBAN PEMERKOSAAN DALAM PERSPEKTIF ETIKA PROFESI KEDOKTERAN, HUKUM ISLAM DAN PERATURAN PERUNDANG-UNDANGAN
Keywords:
aborsi, pemerkosaan, perspektif, etika, hukum Islam, abortion, rape, perspective, ethics, Islamic law
Abstract
Aborsi adalah masalah klasik dalam dunia kesehatan yang selalu menimbulkan perdebatan sepanjang zaman. Dari segi istilah aborsi berarti pengakhiran kehamilan sebelum janin itu dapat tumbuh diluar tubuh ibunya. Aborsi dibedakan menjadi dua yaitu aborsi spontan dan aborsi buatan. Aborsi buatan dibagi lagi berdasarkan alasannya, yaitu aborsi kriminalis dan aborsi medisinalis. Selama ini aborsi pada kasus korban pemerkosaan dianggap sebagai tindak kejahatan. Namun dengan berlakunya UU No. 36 Thn. 2009 tentang Kesehatan, aborsi bagi korban pemerkosaan telah dilegalisasi. Kembali masalah ini menjadi kontroversi dan menimbulkan pro dan kontra pendapat dalam menyikapinya. Tulisan ini akan membahas tentang aborsi dalam berbagai perspektif yaitu etika profesi kedokteran, hukum Islam dan peraturan perundang-undangan di Indonesia. Dan aborsi bagi korban pemerkosaan memang bagai sembilu bermata dua. Tenaga kesehatan yang dihadapkan pada situasi tersebut akan mengalami dilema. Melakukan aborsi akan dihukum, tidak melakukan aborsi maka jiwa sang ibu hamil yang jadi taruhannya. Dengan memperhatikan bahwa pemerkosaan dapat menyebabkan trauma psikologis bagi korban, maka aborsi dilegalkan dengan memperhatikan pasal 75 ayat (2) huruf b UU No. 36 Tahun 2009 dan harus dilakukan oleh dokter professional sesuai dengan standar profesi serta memperhatikan ketentuan norma-norma dalam agama. Dalam tulisan ini akan dibahas tentang aborsi dalam perspektif etika profesi kedokteran, hukum Islam dan peraturan perundang-undangan dalam hukum positif Indonesia.
Abortion is a classic problem in the world of health that has always caused debate throughout the ages. In terms of the term abortion means the termination of pregnancy before the fetus can grow outside the mother's body. Abortion can be divided into two, namely spontaneous abortion and artificial abortion. Artificial abortion subdivided based on reason, namely abortion and abortion medisinalis criminalist. During this abortion in cases of rape victims are considered as a crime. But with the enactment of Law no. 36 years old. 2009 on health, abortion has been legalized for rape victims. Back problems are a matter of controversy, and raises the pros and cons of opinion in react. This paper will discuss about abortion in a variety of perspectives of professional ethics of medicine, Islamic laws and regulations inIndonesia. And abortion for rape victims is like a double-edged knife. Health workers who are faced with these situations will have a dilemma. Abortion will be punished, not doing abortion is the soul of the pregnant woman is at stake. Noting that rape can cause psychological trauma for the victim, then legalized abortion with respect to Article 75 paragraph (2) letter b Law No.36 of 2009 and should be done by a professional doctor in accordance with professional standards and observe the provisions of norms in religion. In this paper will discuss about abortion in the perspective of professional ethics of medicine, Islamic law and legislation in the positive law ofIndonesia.
References
Abdulkadir Muhammad, (2004). Hukum dan Penelitian Hukum, Citra Aditya Bakti, Bandung.
Abdul Wahid dan Muhammad Irfan, (2001). Perlindungan terhadap Korban Kekerasan Seksual, Refika Aditama, Bandung.
Bambang Sunggono, (2005). Metodologi Penelitian Hukum, Raja Grafindo Persada, Jakarta.
Bahder Johan Nasution, (2005). Hukum Kesehatan, Rineka Cipta, Jakarta.
Etty Indriati, (2005). Menulis Karya Ilmiah, Gramedia, Jakarta.
M. Jusuf Hanafiah dan Amri Amir, (1994). Etika Kedokteran dan Hukum Kesehatan, EGC, Jakarta
Pitono Soeparto, dkk (ed.), (2001). Etik dan Hukum di Bidang Kesehatan, Komite Etik Rumah Sakit, RSUD Dr. Soetomo, Surabaya.
Wila Chandrawila Supriadi, (2001). Hukum Kedokteran, Mandar Maju, Bandung.
Hand out kuliah:
Indrati Rini, (2006). Metodologi Penelitian Hukum, Program Magister Ilmu Hukum Universitas Wijaya Kusuma Surabaya.
Undang-Undang:
Undang-Undang Nomor 36 Tahun 2009 tentang Kesehatan.
Kitab Undang-Undang Hukum Pidana.
Jurnal/Seminar:
Yunahar Ilyas, (2009). Aborsi terhadap Perempuan Korban Perkosaan dalam Pandangan Hukum Islam, Seminar Nasional, Fakutas Hukum dan Fakultas Kedokteran, Universitas Wijaya Kusuma Surabaya.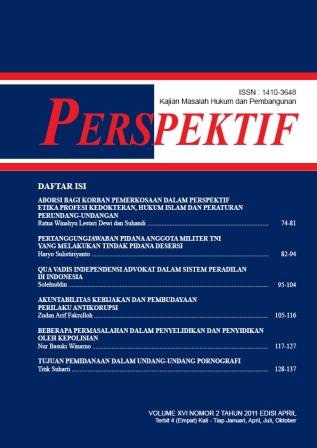 Downloads
License
Authors who publish with this journal agree to the following terms:
Authors retain copyright and grant the journal right of first publication with the work simultaneously licensed under a Attribution-ShareAlike 4.0 International (CC BY-SA 4.0) License that allows others to share the work with an acknowledgement of the work's authorship and initial publication in this journal.
Authors are able to enter into separate, additional contractual arrangements for the non-exclusive distribution of the journal's published version of the work (e.g., post it to an institutional repository or publish it in a book), with an acknowledgement of its initial publication in this journal.
Authors are permitted and encouraged to post their work online (e.g., in institutional repositories or on their website) prior to and during the submission process, as it can lead to productive exchanges, as well as earlier and greater citation of published work (See The Effect of Open Access).
The Authors submitting a manuscript do so on the understanding that if accepted for publication, copyright of the article shall be assigned to jurnal PERSPEKTIF and Research Institutions and Community Service, Wijaya Kusuma Surabaya University as publisher of the journal.