KEPASTIAN HUKUM PENERAPAN BILATERAL INVESTMENT TREATY DALAM PELAKSANAAN INVESTASI DI INDONESIA
Keywords:
Bilateral Investment Treaty, perlindungan hukum, kepastian hukum, law protection, law certaintly
Abstract
Bilateral Investment Treaty merupakan suatu perjanjian yang pada saat ini sering digunakan oleh pemerintah Republik Indonesia sebagai sarana guna mencari investor serta sebagai pelindungan hukum pada para pelaku usaha yang melakukan perjanjian investasi, meskipun demikian, ternyata Bilateral Investment Treaty juga banyak dijadikan dasar gugatan oleh pelaku usaha kepada pemerintah Republik Indonesia, diantaranya adalah kasus Churchill Mining yang mengajukan gugatan kepada pemerintah Provinsi Kutai Timur ataupun gugatan oleh PT. Newmont Nusa Tenggara terkait dengan dikeluarkan kebijakan pemerintah mengenai pengenaan bea eskpor biji timah. Sehingga perlu untuk mengetahui mengenai Karakteristik Hukum dari Bilateral Investment Treaty serta penerapan asas kepastian hukum dalam penerapan Bilateral Investment Treaty di Indonesia. Penelitian ini menggunakan penelitian normatif, dalam penulisan ini diketahui bahwa BIT merupakan suatu perjanjian internasional yang dilakukan oleh dua negara dan mengikat keduanya. Isi perjanjian dalam BIT termasuk dalam ruang lingkup investasi yang mengikat secara hukum kepada kedua belah pihak melalui pengesahan atau ratifikasi. Akan tetapi yang menjadi keistimewaan dari BIT adalah adanya akibat hukum bagi para pelaku usaha diantara kedua negara yang melakukan BIT untuk menuangkan isi perjanjian BIT dalam perjanjian yang dilakukan di antara mereka, dan dapat dijadikan dasar gugatan manakala ada salah satu pihak tidak melaksanakan isi BIT. BIT juga dapat dijadikan sebagai media untuk promosi dan memilih sarana penyelesaian sengketa.
Bilateral Investment Treaty is an agreement which often used by Indonesian Government as a media for finding investor and for protecting investor. But, Bilateral Investment Treaty also be made basis of the lawsuit by investor to Indonesian Government, among other is Churchill Mining Case which doing lawsuit to Kutai Timur Government or PT. Newmont Nusa Tenggara related to the issuance of government policies regarding the imposition of export duties on tin ore. So, it is need to know about legal characteristics of Bilateral Investment Treaty and the implementation of princple of legal certainty from Bilateral Investment Treaty in Indonesia. This is normative research, from this paper, knowing if BIT is an international aggreement which doing by two country and tie them up. The contents of the agreement in BIT are included in the scope of the investment and tie them by ratification. However, the speciality of BIT is the existence of legal consequences for all of bussiness actor from the two country and can be basic lawsuit if one of them broken the aggreement.
References
Peraturan Perundang-undangan:
Undang-Undang Nomor 24 Tahun 2000 tentang Perjanjian Internasional.
Undang-Undang Nomor 7 Tahun 2014 tentang Perdagangan.
Undang-Undang Nomor 25 Tahun 2007 tentang Penanaman Modal.
Buku:
Erman Radjaguguk. (2007). Hukum Investasi di Indonesia.Jakarta: UAI Press.
Henry Champbell Black. (1996). Black's Law Dictionary. St. Paul Minn: West Publishing.
Maria S.W. Sumardjono. (1997). Pedoman Pembuatan Usulan Penelitian Sebuah Panduan Dasar. Jakarta: PT. Gramedia Pustaka Utama.
Sam Suhaedi. (1968). Pengantar Hukum Internasional. Bandung: Alumni.
Sentosa Sembiring. (2007). Hukum Investasi. Cet 1. Bandung: Nuansa Aulia.
Jurnal :
Kenneth J. Vandevelde. (2000). The Economics of Bilateral Investment Treaties. 41 HARV. INT'L L.J.
Ryan J. Bubb dan Susan Rose-Ackerman. (2007). BITs and Bargains: Strategic Aspects of Bilateral and Multilateral Regulation of Foreign Investment. 27 Int'l Rev. L. & Econ. 291.
Website :
BKPM. Perjanjian Internasional. Diakses melalui http://www2.bkpm.go.id pada tanggal 3 Juli 2019.
Kelley Connoly. (2002). "Say What You Mean: Improved Drafting Resources as A Means for Increasing The Consistency of Interpretation of Bilateral Investment Treaties". Vanderbilt Journal of Transnational Law. Vanderbilt University Law School, h. 3. diakses dari http://wp0.iys.vanderbilt,edu/jotl/2012/07/say-waht-you-mean-improved-drafting-resources-as-a-means-for-increasing-the-consistency-of-interpretation-of-bilateral-investment-treaties pada tanggal 3 Juli 2019.
UNCTAD. Disputes Settlement, www.unctad.org diakses pada tanggal 3 Juli 2019.
UNCTAD. World Investment Report 2015: Reforming International Investment Governance.
Untad. BITs. http://www.untadxi.org diakses pada tanggal 3 Juli 2019.
Tesis/Disertasi:
Amanuel Debessay Gebregergis. (2015). "The Role of Bilateral Investment Treaties in Securing Foreign Investments in Ethiopia". Tesis. University of South Africa: International Economic Law.
Birkah Latief. (2009). "Kedudukan Bilateral Investment Treaty dalam Perkembangan Hukum Investasi di Indonesia". Tesis. Surabaya: Universitas Airlangga.
Dennis Manning and Cabrol, dalam Mahmul Siregar. (2005). "Perdagangan dan Penanaman Modal: Tinjauan Terhadap Kesiapan Hukum di Indonesia Menghadapi Persetujuan Perdagangan Multilateral yang Terkait dengan Peraturan Penanaman Modal". Disertasi. Medan: Fakultas Hukum Universitas Sumatera Utara.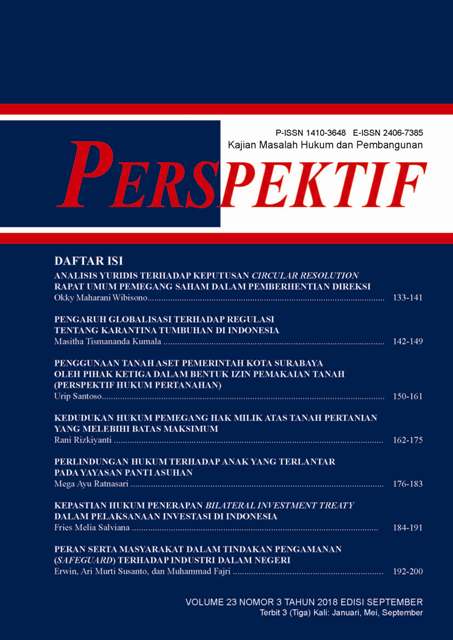 Downloads
License
Authors who publish with this journal agree to the following terms:
Authors retain copyright and grant the journal right of first publication with the work simultaneously licensed under a Attribution-ShareAlike 4.0 International (CC BY-SA 4.0) License that allows others to share the work with an acknowledgement of the work's authorship and initial publication in this journal.
Authors are able to enter into separate, additional contractual arrangements for the non-exclusive distribution of the journal's published version of the work (e.g., post it to an institutional repository or publish it in a book), with an acknowledgement of its initial publication in this journal.
Authors are permitted and encouraged to post their work online (e.g., in institutional repositories or on their website) prior to and during the submission process, as it can lead to productive exchanges, as well as earlier and greater citation of published work (See The Effect of Open Access).
The Authors submitting a manuscript do so on the understanding that if accepted for publication, copyright of the article shall be assigned to jurnal PERSPEKTIF and Research Institutions and Community Service, Wijaya Kusuma Surabaya University as publisher of the journal.