PERTANGGUNGJAWABAN HUKUM PEJABAT PEMBUAT KOMITMEN (PPK) DALAM PENGADAAN BARANG/JASA PEMERINTAH
Keywords:
Tanggung Jawab, Pejabat Pembuat Komitmen, Penyimpangan Pengadaan Barang/Jasa, Responsibility, Committing Officer (PPK), Deviations Procurement of Government Goods/Services
Abstract
Ketidakjelasan hukum Pejabat Pembuat Komitmen (PPK) terkait pertanggungjawaban hukum atas penyimpangan dalam pengadaan barang/jasa pemerintah, yang menimbulkan ketidakadilan hukum berdasarkan Peraturan Pemerintah tentang Pengadaan Barang/Jasa, terlihat bahwa dalam proses pengadaan barang/jasa, tidak hanya melibatkan PPK saja namun juga ada pihak lain yang berperan dalam pengadaan barang/jasa yang saling berkaitan yaitu PA dan KPA. Jurnal ini akan membahas mengenai kedudukan KPA dalam kontrak pengadaan barang/jasa; tanggung jawab pribadi PPK; batas tanggung jawab PPK. Penelitian ini adalah penelitian normatif. Hasil dari penelitian ini kedudukan PPK dalam kontrak pengadaan barang/jasa pemerintah dimulai dari menetapkan rancangan kontrak, mengendalikan Kontrak dan penyelesaian Kontrak. Sehingga PPK turut bertanggungjawab terhadap tuntutan jika terjadi kesalahan. Tanggung jawab pribadi PPK dalam pengadaan barang/jasa pemerintah adalah tanggung jawab pribadi yang timbul atas tindakan maladministrasi PPK dalam penggunaan wewenang sebagai pejabat pelaksana dan tindakan maladministrasi tersebut melahirkan tanggung jawab pidana. Sedangkan tanggung jawab jabatan PPK dalam pengadaan barang/jasa pemerintah adalah tanggung jawab keabsahan (legalitas) penggunaan wewenang dalam pengadaan oleh PPK yang bertumpu pada wewenang, prosedur dan substansi, dan melahirkan tanggung gugat pemerintah/negara.
Legal ambiguity of Commitment Making Officials (PPK) related to legal responsibility for irregularities in the procurement of government goods/services, which causes legal injustice based on Government Regulations on the Procurement of Goods/Services, it is seen that in the process of procuring goods/services, it does not only involve PPK but also exists other parties that play a role in the procurement of goods/services that are interrelated, namely PA and KPA. This journal will discuss the position of KPA in the goods/services procurement contract; PPK personal responsibility; KDP's limit of responsibility. This research is a normative study. The results of this research are the position of PPK in government procurement contracts of goods/services starting from determining the contract design, controlling the contract and contract completion. So that the PPK is also responsible for the charges if something goes wrong. PPK's personal responsibility in the procurement of government goods/services is personal responsibility that arises from the PPK's maladministration in the use of authority as an executing officer and the maladministration act creates criminal responsibility. Meanwhile, the responsibility of the PPK position in the procurement of government goods/services is the responsibility of legality (legality) of the use of authority in procurement by PPK which rests on the authority, procedure and substance, and creates accountability for the government/state.
References
Peraturan Perundang-Undangan:
Peraturan Presiden Nomor 16 Tahun 2018 tentang Pengadaan Barang/Jasa Pemerintah.
Keputusan Presiden Nomor 80 Tahun 2003 tentang Pedoman Pelaksanaan Pengadaan Barang/ Jasa Pemerintah.
Buku:
Adrian Sutedi. (2012). Aspek Hukum Pengadaan Barang & Jasa. Jakarta: Sinar Grafika.
Arsyad Nurdjaman. (1992). Keuangan Negara. Jakarta: Intermedia.
Mudjisantoso. (2014). Memahami Kontrak Pengadaan Pemerintah Indonesia. Yogyakarta: Primaprint.
Peter Mahmud Marzuki. (2005). Penelitian Hukum. Jakarta: Kencana.
Roscoe Pound. (2000). "Introduction to The Phlisophy of Law" dalam Romli Atmasasmita, Perbandingan Hukum Pidana. Cet. II. Bandung: Mandar Maju.
S.R. Sianturi. (1996). Asas-asas Pidana di Indonesia dan Penerapannya. Jakarta: Alumni Ahaem-Petehaem.
Y. Sogar Simamora. (2013). Hukum Kontrak-Kontrak Pengadaan Barang dan Jasa Pemerintah di Indonesia. Surabaya: Kantor Hukum "WINS & Partners Law Firm" bekerjasama dengan Laksbang Justitia Surabaya, Edisi Kedua, Maret.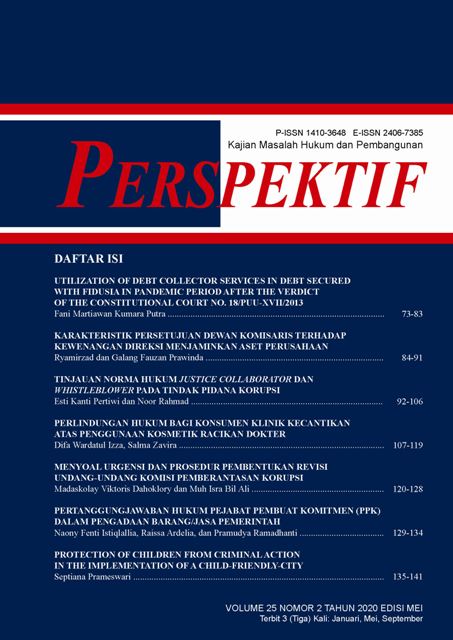 Downloads
License
Authors who publish with this journal agree to the following terms:
Authors retain copyright and grant the journal right of first publication with the work simultaneously licensed under a Attribution-ShareAlike 4.0 International (CC BY-SA 4.0) License that allows others to share the work with an acknowledgement of the work's authorship and initial publication in this journal.
Authors are able to enter into separate, additional contractual arrangements for the non-exclusive distribution of the journal's published version of the work (e.g., post it to an institutional repository or publish it in a book), with an acknowledgement of its initial publication in this journal.
Authors are permitted and encouraged to post their work online (e.g., in institutional repositories or on their website) prior to and during the submission process, as it can lead to productive exchanges, as well as earlier and greater citation of published work (See The Effect of Open Access).
The Authors submitting a manuscript do so on the understanding that if accepted for publication, copyright of the article shall be assigned to jurnal PERSPEKTIF and Research Institutions and Community Service, Wijaya Kusuma Surabaya University as publisher of the journal.