TANGGUNG GUGAT NOTARIS ATAS SUATU AKTA JAMINAN YANG HAK KEPEMILIKAN TERHADAP OBYEKNYA TIDAK SEMPURNA
Keywords:
tanggung gugat, Notaris, kepemilikan, liability, Notary, ownership
Abstract
Dalam utang piutang seyogyanya perjanjian utang piutang dibuat secara tertulis. Beberapa lembaga jaminan mensyaratkan untuk menggunakan akta notaris. Walaupun tidak dipersyaratkan, perjanjian utang piutang itu tetap dapat dibuat oleh atau di hadapan notaris. Suatu akta jaminan yang dibuat oleh notaris sesuai yang dipersyaratkan sudah barang tentu menyebutkan pula obyeknya. Terdapat potensi klaim oleh orang lain atas obyek yang sedang dijaminkan tersebut sebagaimana kerap terjadi bukti kepemilikan yang ganda. Permasalahannya adalah bagaimana tanggung gugat notaris manakala terjadi hal demikian. Penelitian ini merupakan penelitian normatif. Hasil dari penelitian ini adalah notaris harus mempertanggungjawabkan segala isi dalam aktanya, termasuk keabsahan kepemilikan objeknya.
In this accounts receivable debt, the debt payable agreement should be made in writing. Some guarantee institutions require the use of a notarial deed. Althought not required, the loan agreement can still be made by or before a notary in accordance with the requirements, of course also mentions the object. There are potential claims by others for the object being pledged as proof of multiple ownership is often the case. The problem is how notary accountability occurs when such things occur. This research is a normative research. The results of this study are the notary must be able to take responsibility for all contents in the deed, including the validity of ownership of the object.
References
Peraturan Perundang-undangan:
Burgerlijk Wetboek.
Undang-Undang Nomor 4 Tahun 1996 tentang Hak Tanggungan.
Undang-Undang Nomor 10 Tahun 1998 Perubahan Atas Undang-Undang Nomor 7 Tahun 1992 tentang Perbankan.
Undang-Undang Nomor 2 Tahun 2014 tentang Perubahan Atas Undang-Undang Nomor 30 Tahun 2004 tentang Jabatan Notaris.
Buku:
Adrian Sutedi. (2010). Peralihan Hak Atas Tanah dan Pendaftarannya. Jakarta: Sinar Grafika.
Arista Nurul Shofa, Suhariningsih, dan Amelia Sri Kusuma. (2014). "Perlindungan Hukum bagi Kreditor atas Sengketa Jaminan yang dibebani Tanggungan". Kumpulan Jurnal Mahasiswa, Serial Online, hukum.studentjournal.ub.ac.id, diakses pada tanggal 19 Oktober 2018, pukul 13.00.
Habib Adjie. (2015). Tafsir Tematik Hukum Notaris Indonesia berdasarkan Undang-Undang Nomor 2 Tahun 2014 tentang Jabatan Notaris. Bandung: Refika Aditama.
_______. (2017). Sanksi Perdata dan Administratif Terhadap Notaris sebagai Pejabat Publik. Bandung: Refika Aditama.
Mariam Darus Badrulzaman. (1983). Mencari Sistem Hukum Benda Nasional. Bandung: Alumni.
Moch. Isnaeni. (2016). Hukum Benda Dalam Burgelijk Wetboek. Surabaya: Revka Petra Media.
_______. (2016). Pengantar Hukum Jaminan Kebendaan. Surabaya: Revka Petra Media.
Retnowulan Sutantio dan Iskandar Oeripkartawinata. (1989). Hukum Acara Perdata Dalam Teori dan Praktek. Jakarta: Mandar Maju.
Soetan Malikoel Adil. (1962). Hak-Hak Kebendaan. Jakarta: Pembangunan.
Sri Soedewi Masjchoen Sofwan. (1980). Hukum Jaminan di Indonesia, Pokok-Pokok Hukum Jaminan dan Jaminan Perorangan. Yogyakarta: Liberty.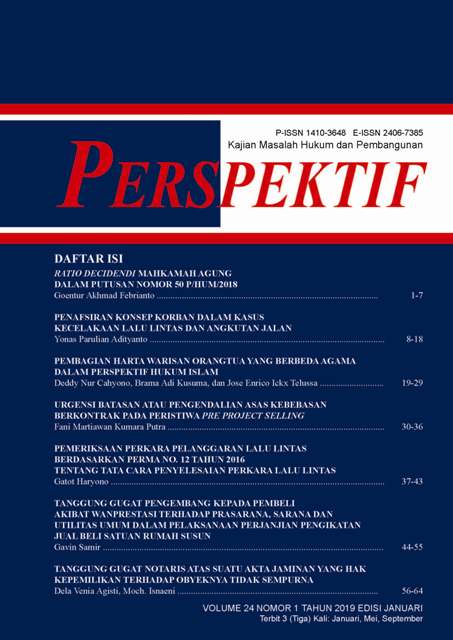 Downloads
License
Authors who publish with this journal agree to the following terms:
Authors retain copyright and grant the journal right of first publication with the work simultaneously licensed under a Attribution-ShareAlike 4.0 International (CC BY-SA 4.0) License that allows others to share the work with an acknowledgement of the work's authorship and initial publication in this journal.
Authors are able to enter into separate, additional contractual arrangements for the non-exclusive distribution of the journal's published version of the work (e.g., post it to an institutional repository or publish it in a book), with an acknowledgement of its initial publication in this journal.
Authors are permitted and encouraged to post their work online (e.g., in institutional repositories or on their website) prior to and during the submission process, as it can lead to productive exchanges, as well as earlier and greater citation of published work (See The Effect of Open Access).
The Authors submitting a manuscript do so on the understanding that if accepted for publication, copyright of the article shall be assigned to jurnal PERSPEKTIF and Research Institutions and Community Service, Wijaya Kusuma Surabaya University as publisher of the journal.