CHARACTERISTICS OF PRELIMINARY RIGHTS FOR INSURED IN GETTING REPAYMENT OF LOSSES ON BANKRUPT INSURANCE COMPANIES
Keywords:
insurance, insolvency, insured
Abstract
In the business world and all its competition, debt is not a bad thing for businesses whether small, medium, or even large businesses, as long as the debt can still be paid back. A company is also not immune to the events of debts, and the accounts of these debts are companies called solvable, which means they are able to pay their debts, there is also a company called insolvency, which means the company is unable to pay its debts. For companies that cannot afford to pay their debts, the law has provided instruments for settlement, among others, can follow the rule of law guarantees, or the rule of bankruptcy when the conditions are met. Both of these instruments have their own characteristics. Based on the bankruptcy law, the debtor who is determined to be bankrupt will become ineligible for his property until the bankruptcy is over, also not for the insurance company. Insurance companies that have decided bankruptcy will experience payment constraints for the insured party filing a claim, especially when it is not based on the existence of norms or understanding of good norms. This research is a normative study. The results obtained in this study are the insured party can still get the rights through his claim, and its nature can precede with certain conditions.
References
Ali, Hasan, 2004, Asuransi dalam Perspektif Hukum Islam, Jakarta: Kencana.
Ali, Hasyimi, 2002, Pengantar Asuransi, Jakarta: Bumi Aksara.
Asikin, Zainal, 1994, Hukum Kepailitan dan Penundaan Pembayaran di Indonesia, Edisi Revisi, Jakarta: PT. Raja Grafindo Persada.
Hoff, Jerry, 2000, Undang-Undang Kepailitan Indonesia (Indonesian Bankrupcty), Jakarta: Tatanusa.
Irawan, Bagus, 2007, Aspek-Aspek Hukum Kepailitan, Perusahaan, dan Asuransi, Bandung: Alumni.
Ismanto, Kuat, 2009, Asuransi Syariah: Suatu Tinjauan Asas-Asas Hukum Islam, Cetakan Pertama, Yogyakarta: Pustaka Pelajar.
Muhammad, Abdulkadir, 2002, Hukum Asuransi Indonesia, Bandung: Citra Aditya Bakti.
Muljadi, Kartini, 2005, Prosiding Masalah Kepailitan Dari Wawasan Hukum Bisnis, Jakarta: Pusat Pengkajian Hukum.
Nating, Imran, 2005, Peranan dan Tanggungjawab Kurator Dalam Pengurusan dan Pemberesan Harta Pailit, Jakarta: Rajawali Press.
Radjagukguk, Eman, 1996, Instrumen Hukum Ekonomi Untuk Mewujudkan Perilaku Ramah Lingkungan, Seminar Nasional Hukum Lingkungan di Jakarta Tanggal 1-2 Mei 1996.
Sastrawidjaja, H. Man. dan Endang, 2004, Hukum Asuransi, Perlindungan Tertanggung, Asuransi Depositi, Usaha Perasuransian, Bandung: Alumni.
Shubhan, Hadi, 2008, Hukum kepailitan: Prinsip, Norma dan Praktik di Peradilan, Jakarta: Kencana Prenada Media Grup.
Situmorang, Victor M. dan Hendri Soekarso, 1994, Pengantar Hukum Kepailitan Di indonesia, Jakarta: Rineka Cipta.
Umam, Khotibul, 2011, Memahami dan Memilih Produk Asuransi, Yogyakarta: Pustaka Yustisia.
Usman, Rachmadi, 2004, Dimensi Hukum Kepailitan di Indonesia, Jakarta: Gramedia Pustaka Utama.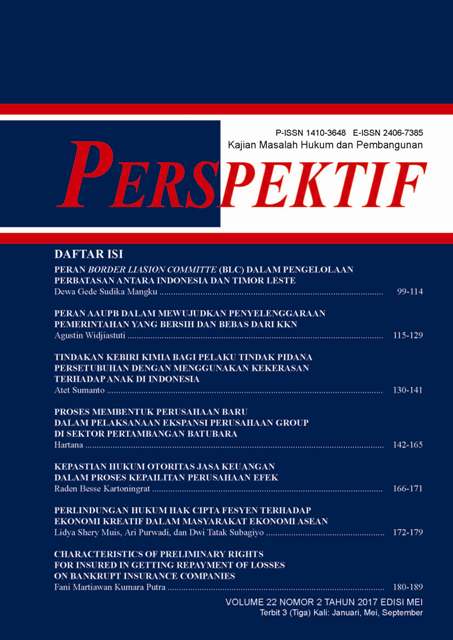 Downloads
License
Authors who publish with this journal agree to the following terms:
Authors retain copyright and grant the journal right of first publication with the work simultaneously licensed under a Attribution-ShareAlike 4.0 International (CC BY-SA 4.0) License that allows others to share the work with an acknowledgement of the work's authorship and initial publication in this journal.
Authors are able to enter into separate, additional contractual arrangements for the non-exclusive distribution of the journal's published version of the work (e.g., post it to an institutional repository or publish it in a book), with an acknowledgement of its initial publication in this journal.
Authors are permitted and encouraged to post their work online (e.g., in institutional repositories or on their website) prior to and during the submission process, as it can lead to productive exchanges, as well as earlier and greater citation of published work (See The Effect of Open Access).
The Authors submitting a manuscript do so on the understanding that if accepted for publication, copyright of the article shall be assigned to jurnal PERSPEKTIF and Research Institutions and Community Service, Wijaya Kusuma Surabaya University as publisher of the journal.