HUBUNGAN KERJA KPU DENGAN KPPS DALAM PENYELENGGARAAN PEMILIHAN UMUM TAHUN 2019
Keywords:
KPU, Hubungan Kerja, KPPS, Perlindungan Hukum, General Election Commission, Work Relationship, The Voting Organizer Group, Legal Protection
Abstract
onesia, sekaligus memberikan kenangan pahit tentang dinamika politik Indonesia.Momentum yang dilaksanakan setahun sekali ini bukannya menjadi suatu ajang yang khidmad dengan kegembiraan melainkan membawa duka yang mendalam bagi Negara. Dalam pelaksanaan pesta demokrasi tersebut tercatat 554 anggota KPPS yang meninggal. Komisi Pemilihan Umum sebagai penyelenggara Pemilu seharusnya bisa memberikan perlindungan hukum terhadap aparat penyelenggara yang berada di tingkat bawah. Tipe penelitian dalam penulisan ini menggunakan penelitian Hukum Normatif dengan melakukan pendekatan perundang-undangan dan pendekatan konseptual. Tujuan penelitian dalam penulisan adalah Mengetahui karakteristik hubungan lembaga KPU dengan KPPS. Dalam hal ini hubungan KPU dengan KPPS sebagai pemberi kerja dan penerima kerja untuk melaksanakan pekerjaan tertentu. Bentuk perlindungan hukum bagi KPPS diwujudkan dengan keberadaan hak atas jaminan sosial. Jaminan sosial baik itu jaminan kecelakaan kerja, jaminan kematian dan jaminan pemeliharaan kesehatan.
The implementation paradigm of general election 2019 is to be the biggest democracy party in the Indonesia history, and giving a bad memory about the Indonesia political dynamic. That moment is implemented on 17th April 2019 to be a gray day to the several members of the voting organizer group. Recorded 554 members of the voting organizer group is passed away. The commission of general election as the election organizer should be able to give the legal protection to its members in the low-end level. This research is using the normative law research and doing the legislative approach and conceptual approach. The aim research is to know the relationship characteristic between the commission of general election and the voting organizer group. In this case, both institution having a relationship as the employee and employer. The shapes of the legal protection to the members of the voting organizer group are the social security rights such as the accident insurance, life insurance and health insurance.
References
Peraturan Perundang-Undangan:
Undang-Undang Nomor 13 Tahun 2003 tentang Ketenagakerjaan.
Undang-Undang Nomor 15 Tahun 2011 tentang Penyelenggara Pemilu.
Undang-Undang Nomor 7 Tahun 2017 tentang Pemilu.
Peraturan Komisi Pemilihan Umum Nomor 3 Tahun 2013 tentang Pembentukan dan Tata Kerja Panitia Pemilihan Kecamatan Panitia Pemungutan Suara, dan Kelompok Penyelenggara Pemungutan Suara dalam Penyelenggaraan Pemilu Umum Anggota Dewan Perwakilan Rakyat, Dewan Perwakilan Daerah, dan Dewan Perwakilan Rakyat Daerah Tahun 2014.
Buku:
Janedjri M. Gaffar. (2013). Demokrasi dan Pemilu di Indonesia. Jakarta: KONpress.
Johni Ibrahim. (2007). Teori dan Metodologi Penelitian Hukum Normatif. Cet. III. Malang: Bayumedia Publisshing, Malang.
Sri Sumantri. (1989). Tentang Lembaga-Lembaga Negara Menurut UUD 1945. Cetakan ke-IV. Bandung: Citra Aditya Bakti.
Terry C. M. Hutchinson. (2010). Researching and Writing in Law. Sydney, Australia: Lawbook Company (Thomson Reuters).
Zainuddin Ali. (2009). MetodePenelitian Hukum. Jakarta: Sinar Grafika.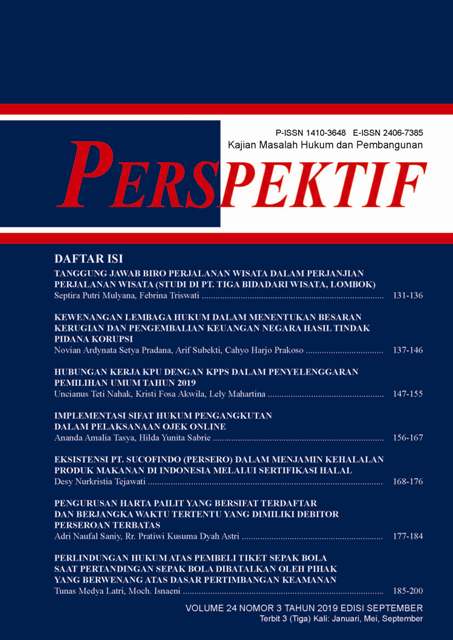 Downloads
License
Authors who publish with this journal agree to the following terms:
Authors retain copyright and grant the journal right of first publication with the work simultaneously licensed under a Attribution-ShareAlike 4.0 International (CC BY-SA 4.0) License that allows others to share the work with an acknowledgement of the work's authorship and initial publication in this journal.
Authors are able to enter into separate, additional contractual arrangements for the non-exclusive distribution of the journal's published version of the work (e.g., post it to an institutional repository or publish it in a book), with an acknowledgement of its initial publication in this journal.
Authors are permitted and encouraged to post their work online (e.g., in institutional repositories or on their website) prior to and during the submission process, as it can lead to productive exchanges, as well as earlier and greater citation of published work (See The Effect of Open Access).
The Authors submitting a manuscript do so on the understanding that if accepted for publication, copyright of the article shall be assigned to jurnal PERSPEKTIF and Research Institutions and Community Service, Wijaya Kusuma Surabaya University as publisher of the journal.