AKUNTABILITAS KEBIJAKAN DAN PEMBUDAYAAN PERILAKU ANTIKORUPSI
Keywords:
akuntabilitas kebijakan, korupsi, budaya anti korupsi, policy accountability, corruption, anti corruption
Abstract
Korupsi merupakan fenomena sosial yang sudah tua, seiring bersama dengan peradaban masyarakatnya. Semakin luasnya kekuasaan negara dalam mengatur kehidupan bermasyarakat-negara seperti sekarang ini, menyebabkan semakin kompleks pula bentuk dan modus korupsi. Dalam rangka pemberantasan korupsi, berbagai upaya telah dilakukan, mulai di era Orde Lama, Orde Baru, maupun Orde Reformasi. Berbagai model kebijakan pemberantasan telah dilakukan termasuk pembentukan Lembaga Ektra (Extra Ordinary Bodies) sebagaimana Komisi Pemberantasan Korupsi (KPK), sampai pada tataran pembentukan budaya anti korupsi melalui Pacta Integritas. Namun demikian masih saja korupsi tetap menggurita, sehingga pemberantasan korupsi dianggap saja Quo Vadis. Perilaku antikorupsi hanya akan terwujud manakala setiap individu masyarakat maupun pejabat lebih takut kepada Tuhan Yang Maha Tahu dibandingkan takut kepada Komisi Pemberantasan Korupsi.
Corruption represent the old social phenomenon, along along its society civilization. Progressively broadness of state power in arranging life go into society the state of like this time, causing complex progressively also form and corruption modus. In order to corruption eradication, various effort have been conducted, start in Old Order era, New Order, and also Reform Order. Various model of eradication policy have been conducted by the inclusive of forming Extra Ordinary Bodies as Commission of Corruption Eradication, come up with forming the anti corruption culture through Integrity Pacta. But that way just still be corruption remain to baby-abdominal belt, so that assumed it the just by corruption eradication of  Quo Vadis. Anti corruption behavior will only be existed when every individual of society and also functionary more fear to God Which The most Know compared to  fear to Commission of Corruption Eradication.
References
Alatas, S.H., (1987). Corruption: Its Nature, Causes and Functions, Terjemahan oleh Nirwono, LP3ES, Jakarta.
Arief, Basrief, (2006). Korupsi dan Upaya Penegakan Hukum, Adika Remaja Indonesia.
Departemen Pendidikan dan Kebudayaan, (1990). Kamus Besar Bahasa Indonesia, Balai Pustaka, Jakarta.
Echols, John M. (2002) An English-Indonetion Dictionary, PT Gramedia Pustaka Utama, Jakarta.
Komarudin, (2006). Etika PNS, Bahan Ajar DIKLAT Pengembangan Perilaku dalam Mencegah Kerugian Keuangan Negara, Badan Diklat Dedagri.
Kusuma, Mulyana W. (2001). Tegaknya Supremasi Hukum, PT Remadja Rosda Karya, Bandung.
Lubis, Mukhtar, et.al, (1995). Bunga Rampai Korupsi, LP3ES, Jakarta.
Nurdjana, IGM, (2010). Sistem Hukum Pidana dan Bahaya Laten Korupsi, Pustaka Pelajar, Yogyakarta.
Thermorshuzan, Marjanne, (2002) Kamus Belanda-Indonesia, Penerbit Jambatan, Bandung.
World Bank, (2004). Memerangi Korupsi di Indonesia, Memperkuat Akuntabilitas untuk Kemajuan.
___, (2001). Partnership for Governance Reform in Indonesia, A National Survey of Corruption in Indonesia, Final Report.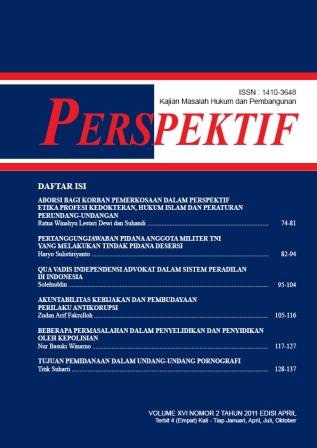 Downloads
License
Authors who publish with this journal agree to the following terms:
Authors retain copyright and grant the journal right of first publication with the work simultaneously licensed under a Attribution-ShareAlike 4.0 International (CC BY-SA 4.0) License that allows others to share the work with an acknowledgement of the work's authorship and initial publication in this journal.
Authors are able to enter into separate, additional contractual arrangements for the non-exclusive distribution of the journal's published version of the work (e.g., post it to an institutional repository or publish it in a book), with an acknowledgement of its initial publication in this journal.
Authors are permitted and encouraged to post their work online (e.g., in institutional repositories or on their website) prior to and during the submission process, as it can lead to productive exchanges, as well as earlier and greater citation of published work (See The Effect of Open Access).
The Authors submitting a manuscript do so on the understanding that if accepted for publication, copyright of the article shall be assigned to jurnal PERSPEKTIF and Research Institutions and Community Service, Wijaya Kusuma Surabaya University as publisher of the journal.