BEBERAPA PERMASALAHAN DALAM PENYELIDIKAN DAN PENYIDIKAN OLEH KEPOLISIAN
Keywords:
Polisi, profesional, penegakan hukum, Police, professional, law enforcement
Abstract
Ada beberapa isu hukum berkenaan dengan tugas-tugas dan fungsi-fungsi polisi Indonesia. Dalam rangka memecahkan permasalahan rumit, polisi profesional diperlukan. Adalah penting bagi polisi untuk memahami aturan hukum, konsep hukum dan doktrin hukum, yang telah dikembangkan. Tujuan ini akan menghindari kesesatan dalam penegakan hukum.
There are many legal issues relating to the duties and functions of Indonesian police. In order to solve complicated problems, professional police is needed.  It is important for police officers to understand the rule of law, the concepts of law  and legal doctrines  as well, which have already developed. The purpose of this is to avoid mislead in law enforcement.
References
Arief, Barda Nawawi, (l996). Bunga Rampai Kebijakan Hukum Pidana, Citra Aditya Bakti, Bandung.
------, (2001). Masalah Penegakan Hukum dan Kebijakan Penanggulangan Kejahatan, Citra Aditya, Bandung.
Bruggink,J.J.H., (l996). Rechtsreflecties, alih bahasa Arief Sidharta, Citra Aditya Bakti, Bandung.
Hadjon, Philipus M. dan Tatiek Sri Djatmiati, (2005). Argumentasi Hukum, Gajah Mada University Press.
Hamzah, Andi, (2005). Asas-Asas Hukum Pidana, Yarsif Watampone, Jakarta.
J. Noyon-G.E. Langemeyer, (l954). Het Wetboek van Strafrecht, Arnhem : S.Gonda-Quint
Lamintang, PAF, (l997). Dasar-Dasar Hukum Pidana Indonesia, Citra Aditya Bakti, Bandung.
Moeljatno, (l983). Asas-Asas Hukum Pidana, Bina Aksara, Jakarta.
Packer, H.L. (1968). The Limits of the Criminal Sanction, Stanford University Press, California.
Poernomo, Bambang, (l985). Asas-Asas Hukum Pidana, Terbitan kelima, Ghalia, Jakarta.
Prodjohamidjojo, Martiman, (2002). Memahami Dasar-Dasar Hukum Pidana Indonesia 2, Pradnya Paramita, Jakarta.
Remmelink, Jan, (2003). Hukum Pidana Komentar atas Pasal-Pasal Terpenting dari Kitab Undang-Undang Hukum Pidana Belanda dan Padanannya dalam Kitab Undang-undang Hukum Pidana Indonesia, Gramedia Pustaka Utama, Jakarta.
Sahetapy, J.E. (l995). (editor penerjemah), Hukum Pidana, Kumpulan Bahan Penataran Hukum Pidana Prof. Dr. D. Schaffmeister, Prof. Dr. Nico Keijzer dan Mr. E. PH. Sutorius, Liberty, Yogjakarta.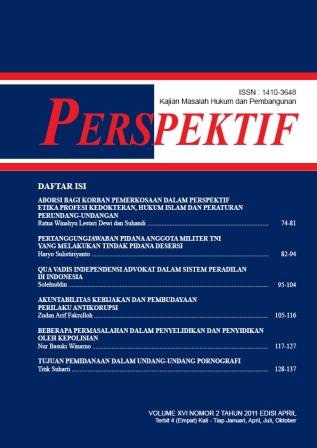 Downloads
License
Authors who publish with this journal agree to the following terms:
Authors retain copyright and grant the journal right of first publication with the work simultaneously licensed under a Attribution-ShareAlike 4.0 International (CC BY-SA 4.0) License that allows others to share the work with an acknowledgement of the work's authorship and initial publication in this journal.
Authors are able to enter into separate, additional contractual arrangements for the non-exclusive distribution of the journal's published version of the work (e.g., post it to an institutional repository or publish it in a book), with an acknowledgement of its initial publication in this journal.
Authors are permitted and encouraged to post their work online (e.g., in institutional repositories or on their website) prior to and during the submission process, as it can lead to productive exchanges, as well as earlier and greater citation of published work (See The Effect of Open Access).
The Authors submitting a manuscript do so on the understanding that if accepted for publication, copyright of the article shall be assigned to jurnal PERSPEKTIF and Research Institutions and Community Service, Wijaya Kusuma Surabaya University as publisher of the journal.