THE URGENCY OF ENACTING PERSONAL DATA PROTECTION LAW AS A PATRONAGE FROM THE DEVELOPMENT OF COMMUNICATION AND INFORMATION TECHNOLOGY IN INDONESIA
Keywords:
personal data protection, cyber crime, privacy
Abstract
The development of information technology might control the pattern of people's behavior in digital era. The presence of internet as the main platform for online activities, including electronic transactions, was now increasingly attracting the interest of Indonesian people although it was vulnerable to be hacked by irresponsible parties as a cyber-attack. One cyber-attack targets individual's personal data. This study, therefore, took some issues related to that matter. First, it discussed the regulation of personal data protection in Indonesia applied in recent days, and second, it proposed an appropriate law to regulate such issue in the future.This study was a normative research with statute and case approaches. The result showed that, first, the existing regulation for personal data protection was less effective as it was still scattered in some sectorial setting, and thus, the system of appropriate regulation under a comprehensive law was considerably important. Second, the disharmony of regulatory legislation in regulating people personal data protection needed to be solved through a specific regulation which particularly regulated on personal data protection.
References
Books:
Daniel J. Solove. (2004). The Digital Person - Technology and Privacy in the Information Age. New York: New York University Press.
Edmond Makarim. (2010). Tanggung Jawab Hukum Penyelenggara Sistem Elektronik. Jakarta: Raja Grafindo Persada.
Peter Mahmud Marzuki. (2011). Penelitian Hukum. Jakarta: Kencana Pernada Media Group.
Sinta Dewi Rosadi. (2009). Perlindungan Privasi atas Informasi Pribadi dalam E-Commerce menurut Hukum Internasional. Bandung: Widya Padjadjaran.
Wahyudi Djafar dan Asep Komarudin. (2014). Perlindungan Hak Atas Privasi di Internet. Jakarta: Elsam.
Journals:
Laurel J. Harbour, Ian D. MacDonald, and Eleni Gill. (2003). "Protection of Personal Data The United Kingdom Perspective". Defense Counsel Journal, h. 104.
Rasiah D. (2010). "Review of Literature and Theories of Determinants of Commercial Bank Profitability". Journal of Performance Management, h. 23.
Samuel Warren and Louis D. Brandeis. (1890). "The Right To Privacy". Harvard Law Review, 4 (1), 212.
Sonny Zulhuda dan Iwan Satriawan. (2007). "The Integration of Islamic Law Into Indonesian Legal System: The Issues and Developments". Jurnal Media Hukum, 1(1), h. 3.
Ualikhan A. Akhatov, et.all. (2017). "Digital Goverment Model: Theory and Practice of Modern Public Administration". Journal of Legal, Ethical and Regulatory Issues, 20(3),1-10.
Ualikhan A. Akhatov, et.all. (2018). "Harmonization of Enviromental Legislation". Journal of Legal, Ethical and Regulatory Issues, 21(1), 1-6.
Others:
APJIL. (2016). Hasil Survei Penetrasi dan Perilaku Pengguna Internet Indonesia 2016. https://apjii.or.id/survei2016.
Gupinder Assi. (2013). "South East Asia: Data Protection Update". http:// www.bryancave.com/bulletins.
Wawan Wardiana. (2002). "Perkembangan Teknologi Informasi di Indonesia". disampaikan dalam Seminar dan Pameran Teknologi Informasi 2002. tanggal 9 Juli. Bandung: Universitas Komputer Indonesia (UNIKOM).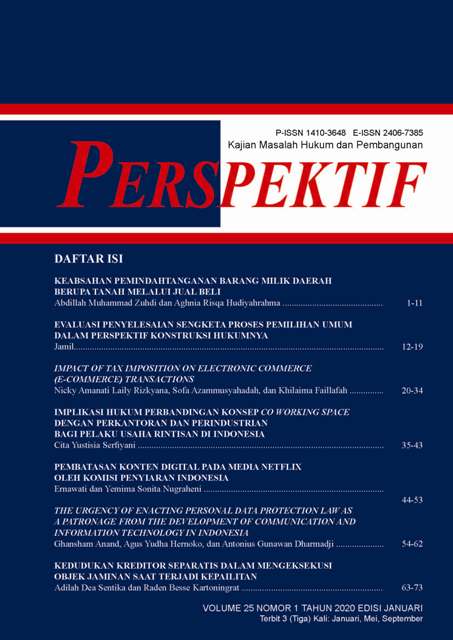 Downloads
License
Authors who publish with this journal agree to the following terms:
Authors retain copyright and grant the journal right of first publication with the work simultaneously licensed under a Attribution-ShareAlike 4.0 International (CC BY-SA 4.0) License that allows others to share the work with an acknowledgement of the work's authorship and initial publication in this journal.
Authors are able to enter into separate, additional contractual arrangements for the non-exclusive distribution of the journal's published version of the work (e.g., post it to an institutional repository or publish it in a book), with an acknowledgement of its initial publication in this journal.
Authors are permitted and encouraged to post their work online (e.g., in institutional repositories or on their website) prior to and during the submission process, as it can lead to productive exchanges, as well as earlier and greater citation of published work (See The Effect of Open Access).
The Authors submitting a manuscript do so on the understanding that if accepted for publication, copyright of the article shall be assigned to jurnal PERSPEKTIF and Research Institutions and Community Service, Wijaya Kusuma Surabaya University as publisher of the journal.