UTILIZATION OF DEBT COLLECTOR SERVICES IN DEBT SECURED WITH FIDUSIA IN PANDEMIC PERIOD AFTER THE VERDICT OF THE CONSTITUTIONAL COURT NO. 18/PUU-XVII/2019
Keywords:
Fiduciary, Pandemic, Debt Collector, Constitutional Court
Abstract
Fiduciary guarantee institutions are guarantee institutions that are in great demand in Indonesia, in fact it is very possible that Fiduciary is currently the most widely used guarantee institution besides three other security institutions in Indonesia, namely Gadai, Hipotek and Hak Tanggungan. Determination when the default debtor, has its own rules, can not be interpreted arbitrarily, then in a pandemic like this, determining the default debtor certainly also needs to consider the economic conditions of many parties that decline, then it means, whether the use of debt collectors is still a matter that is worthy of attention to these two aspects. This is a normative legal research. The result of this research is that the Constitutional Court's ruling drew many interpretations, one form of which was that the Fiduciary guarantee was no longer familiar with parate executies, and sales were underhanded, but had to go through the court. Even though the decree also emphasized default. This decision must be interpreted in full, not only related not to execute it, but also to understand about the default. Thus, will be clear what the purpose of the ruling of the constitutional court. This will also be useful for law enforcement on the civil debt relationship during this pandemic. Leasing as an institution that provides credit to the public, still requires classification rules for customers who can apply for credit. So that cases of customers who are negligent in debt payments and have problems with debt collectors do not occur.
References
Legislation:
Law Number 42 of 1999 concerning Fiduciary Security.
Burgerlijk Wetbook.
The Constitutional Court No. 18/PUU-XVII/2019.
Regulation of the Minister of Finance of the Republic of Indonesia Number 130/PMK.010/2012 concerning Registration of Fiduciary Guarantees for Financing Companies.
Regulation of the Head of the National Police of the Republic of Indonesia Number 8 of 2011 concerning Securing the Execution of Fiduciary Security.
Constitutional Court Decision No. 18/PUU-XVII/2019.
Book:
Eka Astri Maerisa. (2013). Membuat Surat-Surat Bisnis dan Perjanjian. Jakarta: Transmedia Pustaka.
Herlien Budiono. (2012). Kumpulan Tulisan Hukum Perdata di Bidang Kenotariatan. Bandung: Citra Aditya Bakti.
HFA Vollmar. (1983). Pengantar Studi Hukum Perdata. Jakarta: Rajawali.
Moch. Isnaeni. (2017). Pengantar Hukum Jaminan Kebendaan. Yogyakarta: LaksBang PressIndo.
Rachmadi Usman.
Salim HS. (2004). Perkembangan Hukum Jaminan di Indonesia. Jakarta: Raja Grafindo Persada.
Sri Soedewi Masjchoen Sofwan. (1974). Hukum Perdata: Hukum Benda. Yogyakarta: Liberty.
Yahya Harahap. (2013). Ruang Lingkup Permasalahan Eksekusi Bidang Perdata. Jakarta: Sinar Grafika.
Yuzrizal. (2015). Aspek Pidana dalam Undang-undang No. 42 Tahun 1999 tentang Jaminan Fidusia. Malang: Media Nusantara Creative.
Journal:
Muhammad Ikhsan Awaljon Putra. (2016). "Eksekusi Terhadap Benda Jaminan Fidusia Yang Tidak Didaftarkan Pada PT. Capella Multidana". Jurnal JOM Fakultas Hukum, Vol. III No. 1 Riau, h. 8.
Taufiq Utomo, dkk. (2017). "Perlindungan Hukum Terhadap Penerima Kuasa Yang Aktanya Dicabut Sepihak Oleh Pemberi Kuasa". Jurnal Hukum, h. 4.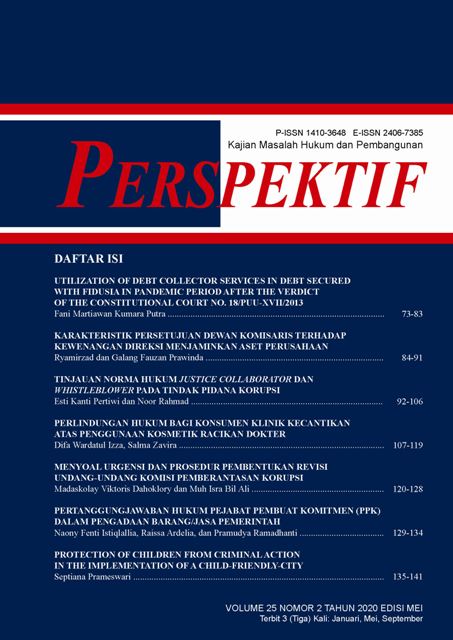 Downloads
License
Authors who publish with this journal agree to the following terms:
Authors retain copyright and grant the journal right of first publication with the work simultaneously licensed under a Attribution-ShareAlike 4.0 International (CC BY-SA 4.0) License that allows others to share the work with an acknowledgement of the work's authorship and initial publication in this journal.
Authors are able to enter into separate, additional contractual arrangements for the non-exclusive distribution of the journal's published version of the work (e.g., post it to an institutional repository or publish it in a book), with an acknowledgement of its initial publication in this journal.
Authors are permitted and encouraged to post their work online (e.g., in institutional repositories or on their website) prior to and during the submission process, as it can lead to productive exchanges, as well as earlier and greater citation of published work (See The Effect of Open Access).
The Authors submitting a manuscript do so on the understanding that if accepted for publication, copyright of the article shall be assigned to jurnal PERSPEKTIF and Research Institutions and Community Service, Wijaya Kusuma Surabaya University as publisher of the journal.