KARAKTERISTIK PERSETUJUAN DEWAN KOMISARIS TERHADAP KEWENANGAN DIREKSI MENJAMINKAN ASET PERUSAHAAN
Keywords:
Persetujuan Dewan Komisaris, Direksi, Fidusia, Board of Commissioners Approval, Directors, Fiduciary
Abstract
Menjaminkan aset perusahaan adalah kewenangan direksi, namun kewenangan tersebut memiliki karakteristik tersendiri di dalam anggaran dasar sebuah perusahaan. Notaris yang memiliki kewenangan membuat akta jaminan tentunya akan menerapkan prinsip kehati-hatian dalam membuat produk hukumnya. Salah satu prinsip kehati-hatian yang digunakan oleh Notaris sebelum membuat akta jaminan bagi perusahaan ialah meminta bukti persetujuan dewan komisaris dalam wujud akta autentik walaupun sebenarnya bentuk persetujuan tersebut dapat dibuat dalam bentuk persetujuan di bawah tangan. Mengingat aset perusahaan memiliki peran yang penting bagi suatu perusahaan, tentunya akan ada batasan-batasan tersendiri yang wajib diatur oleh seorang komisaris manakala seorang direksi akan menjaminkan aset suatu perusahaan. Batasan-batasan tersebut adalah batasan nilai aset yang tentunya adalah aset-aset perusahaan yang bernilai tinggi. Tentunya bentuk persetujuannya dibuat dengan memperhatikan aturan yang berlaku agar memberikan kepastian dan perlindungan hukum. Oleh karenanya dalam penelitian ini akan dicari karakteristik bentuk persetujuan komisaris kepada direksi ketika menjaminkan aset perusahaan sebagai rumusan permasalahannya. Penelitian ini merupakan penelitian normatif. Hasil yang didapatkan dari penelitian ini adalah bentuk persetujuan komisaris kepada direksi dengan akta otentik akan lebih dapat memberikan keamanan dalam kegiatan berbisnis.
Guaranteeing company assets is the authority of the board of directors, but this authority has its own characteristics in the articles of association of a company. Notaries who have the authority to make guarantee deeds will certainly apply the principle of prudence in making their legal products. One of the precautionary principles used by a notary before making a deed of guarantee for a company is to ask for proof of approval from the board of commissioners in the form of an authentic deed even though in fact the form of agreement can be made in the form of an underhand agreement. Given that a company has an important role for a company, of course there will be its own limitations that must be regulated by a commissioner when a director will pledge the assets of a company. These limits are limits on the value of assets which of course are high value company assets. Of course, the form of approval is made by taking into account the applicable rules in order to provide legal certainty and protection. Therefore, this research will look for the characteristics of the form of approval from the commissioners to the directors when pledging the company's assets as a formulation of the problem. This research is a normative research. The results obtained from this study are the form of commissioner approval to directors with an authentic deed will provide more security in doing business.
References
Peraturan Perundangan-undangan:
Undang-Undang Nomor 10 Tahun 1998 tentang Perubahan Atas Undang-Undang Nomor 7 Tahun 1992 tentang Perbankan.
Undang-Undang Nomor 42 Tahun 1999 tentang Jaminan Fidusia.
Undang-Undang Nomor 40 Tahun 2007 tentang Perseroan Terbatas.
Undang-Undang Nomor 2 Tahun 2014 Tentang Perubahan Atas Undang-Undang Nomor 30 Tahun 2004 tentang Jabatan Notaris.
Buku:
Burgerlijk Wetboek (BW).
Frans Satrio Wicaksono. (2009). Tanggung Jawab Pemegang Saham, Direksi, dan Komisaris Perseroan Terbatas. Malang: Visimedia.
Gunawan Widjaja dan Ahmad Yani. (2001). Seri Hukum Bisnis, Jaminan Fidusia. Jakarta: PT. Raja Grafindo Persada.
M. Yahya Harahap. (2009). Hukum Perseroan Terbatas. Jakarta: Sinar Grafika.
Moch. Isnaeni. (2017). Noktah Ambigu Norma Lembaga Jaminan Fidusia. Surabaya: Revka Petra Media.
Udin Silalahi. (2005). Badan Hukum dan Organisasi Perusahaan. Jakarta: Iblam.
Jurnal:
Fani Martiawan Kumara Putra. "Konstruksi Lembaga Jaminan Untuk Saham Sebagai Bentuk Dukungan Perkembangan Bisnis". Perspektif. Vol. 23 No. 2 Tahun 2018, Edisi Mei, h. 68.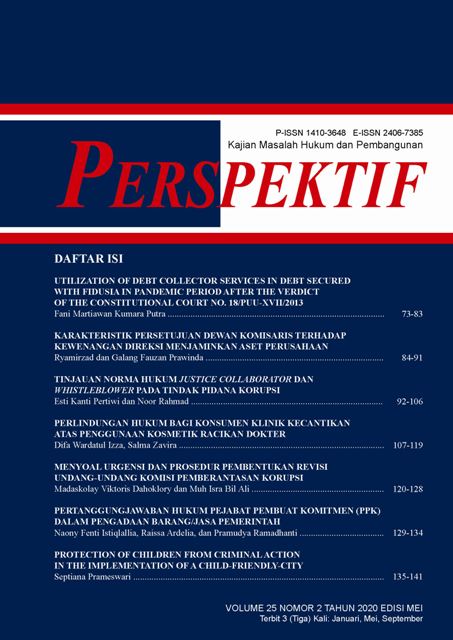 Downloads
License
Authors who publish with this journal agree to the following terms:
Authors retain copyright and grant the journal right of first publication with the work simultaneously licensed under a Attribution-ShareAlike 4.0 International (CC BY-SA 4.0) License that allows others to share the work with an acknowledgement of the work's authorship and initial publication in this journal.
Authors are able to enter into separate, additional contractual arrangements for the non-exclusive distribution of the journal's published version of the work (e.g., post it to an institutional repository or publish it in a book), with an acknowledgement of its initial publication in this journal.
Authors are permitted and encouraged to post their work online (e.g., in institutional repositories or on their website) prior to and during the submission process, as it can lead to productive exchanges, as well as earlier and greater citation of published work (See The Effect of Open Access).
The Authors submitting a manuscript do so on the understanding that if accepted for publication, copyright of the article shall be assigned to jurnal PERSPEKTIF and Research Institutions and Community Service, Wijaya Kusuma Surabaya University as publisher of the journal.